At a press conference, Koeman explained what he was talking about with Getafe coach José Bordalás after the match. "I warned him that his player number 12 (Nyom) did not treat me with respect and told me something ugly. I will not repeat it, but he insulted me," said Koeman, who suffered his first competitive defeat since joining Barcelona in August.
Barcelona's Sergino Dest (back) in a duel with Allan Nyom of Getafe during a Spanish Football League match. Nyom was also supposed to offend Barcelona coach Koeman during the match.
Manu Fernandez, ČTK / AP
"I told Bordalas that he had to talk to his player, because we cannot accept such behavior in modern football," added the retired successor Quique Setien.
Bordalas did not see the alleged exit of the Cameroonian representative against the Barcelona coach. "I know him well. He is very competitive, but also very polite. I do not tolerate bad behavior on my players. I doubt Nyom would offend him," said coach Getafe.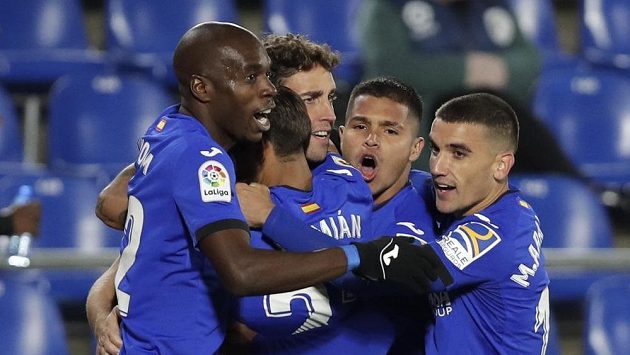 Jaime Mata (center) of Getafe celebrates his penalty goal in a duel with Barcelona together with his teammates.
Manu Fernandez, ČTK / AP
The match was decided in the 56th minute by Jaime Mat with a converted penalty after a duel by Djené Dakonam with the guest Frenki de Jong. "I don't know if it was supposed to be a penalty kick. It looked like they were going for him and we swallowed it. I don't even know if there was a video referee here," Koeman said.
Referee? Look at the number of fouls and cards dealt
Getafe players have made 20 fouls against Barcelona's ten. The team from the suburbs of Madrid were penalized with four yellow cards, the guests with three. "I don't like talking about referees, but if you've seen how many fouls they've had and how many cards they've received, you can make your own picture," Koeman said.
His charges had almost 73 percent possession of the ball against Getafe, but the result was only seven shots. "We knew it was very bad to play here, but we tried to work quickly with the ball. They kept interrupting our game with fouls," said the 55-year-old coach.
Barcelona is ninth in the incomplete La League table after four games played with seven points.
.