NEW DELHI, KOMPAS.com – Pandemic Covid-19 India is getting worse, and many of the patients are young.
Some doctors suspect that people under the age of 45 are susceptible to catching it because they go to work and eat out frequently, but there is no definite evidence.
Young children could also be more susceptible to the new double mutation variant, which was found in 60 percent of the sample in Maharashtra, a state with impact. corona in India worst.
Also read: Covid-19 in India is getting worse, surpassing 300,000 cases in a day
The country with a population of 1.3 billion is currently experiencing a new wave of recording 1 million Covid-19 cases a week. The local authorities were at a loss.
In a country where 65 percent of the population is under 35, there is growing concern about the impact on young people.
Medics take a sample from the mouth swab of a young man who tested for Covid-19, while other people queue up for tests at a hospital in Hyderabad, India, on Monday (19/4/2021).
New Delhi Chief Minister Arvind Kejriwal said 65 percent of the patients were new Covid-19 India are now under 45 years of age.
India's medical research agency did not have a demographic breakdown of its cases, but doctors in major cities confirmed more young patients were arriving at the hospital.
"We also saw children under the age of 12 and 15 being treated with symptoms in the second wave," said Khusrav Bajan consultant at Mumbai's PD Hinduja National Hospital, and a member of Maharashtra's Covid-19 task force.
"Last year there were practically no children," he continued AFP.
Also read: Covid-19 Transmission in India Reaches Highest Daily Rates, What Can Be Learned?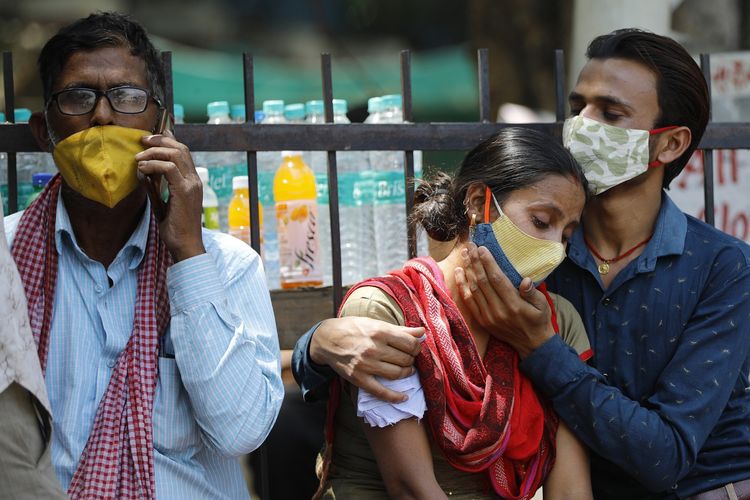 Relatives of patients who died of Covid-19 could not contain their sadness outside the Lok Nayak Jaiprakash Narayan hospital, New Delhi, India, on Wednesday (21/4/2021). India recorded the highest daily increase of cases, namely 314,000 on Thursday (22/4/2021).
In the state of Gujarat, pulmonologist Amit Dave said, people of younger ages are experiencing increased severity of corona virus in their lungs, heart, and kidneys.
States across India have also reported similar increases in young patients.
In Bangalore, for example, which is an IT center, in early April 58 percent of patients were under 40 years old, up 46 percent from a year ago, according to the data. Covid19india.org.
Earlier this year India thought it had beaten the pandemic and started its mass vaccinations.
Face mask and social distancing is beginning to be abandoned, with crowds flocking to religious festivals and election campaigns.
Also read: Videos of Thousands of People Joining Rituals on the Ganges River, Hundreds of Positive Covid-19 After
The local authorities then enforced lockdown weekends and curfews to stem the spread of the coronavirus in India.
But medical professionals say India's sluggish vaccination efforts and limited to people over 45 should also be open to everyone.
"Nowadays young people need more (vaccines) … I see every day people in their early 30s are hospitalized," pharmacist Muzammil Ahmed, 25, told AFP, about spike in India's Covid cases.
Also read: Learning from the Tsunami Covid-19 Case in India: Affected by Disaster
.