Tran To Nga's daughters would prefer if she moved in with one of them, one of whom lives in Vietnam and the other in Australia. Because of the pandemic, the diseases that plague them and, yes, also because of their age. The Franco-Vietnamese celebrated her 79th birthday in April.
But moving away from France is not an option for Tran To Nga. She has to stay here to fight what she says is her last fight.
Supported by various non-governmental organizations, she is suing 14 chemical companies in a court in Évry, a suburb of Paris, where she has lived for several years. All of them, including the US giant Dow Chemical and Monsanto, now part of the German Bayer Group, produced a highly toxic defoliant during the Vietnam War: Agent Orange, named after the orange labels on the barrels.
US Army planes spraying Agent Orange during the Vietnam War: "Coated with sticky liquid"
The US Army sprayed more than 40 million liters of it over Laos and Vietnam in the 1960s and 1970s. To destroy the harvest and above all so that the enemy could no longer hide in the thick jungle. A war tactic that would also change Tran To Nga's life.
In the mid-1960s, the Franco-Vietnamese worked as a journalist and teacher, joining the Communist Viet Cong, who were fighting against the Americans. One day she heard a plane circling over her group's hiding place.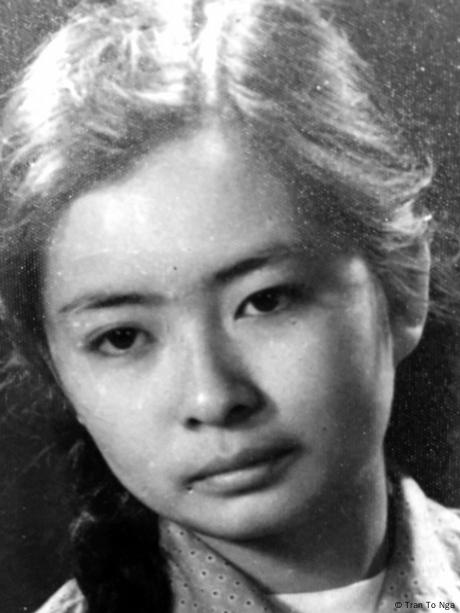 Tran To Nga as a young woman in Vietnam: "I almost suffocated"
At that time, out of curiosity, she left her shelter and saw a white cloud that quickly floated to the ground. "She enveloped me, I was completely covered in a liquid, a sticky liquid. I almost suffocated," says Tran To Nga.
She washes herself immediately and even if she knows that this liquid does not bode well, for years she is not clear what exactly happened to her. Like so many others in Vietnam.
Died at 17 months
About two years later, Tran To Nga's first daughter, Viet Hai, ("Sea of ​​Vietnam") was born with a serious heart defect. "She left me when she was just 17 months old," says the 79-year-old. "I always blamed myself for being a bad mother because I couldn't protect my child."
Tran To Nga is now certain that Agent Orange is responsible for the illness and thus also for the death of Viet Hai. Her two other daughters also suffer from serious health problems. Tran To Nga himself takes a variety of medications every day in order to be able to live with her various diseases such as cancer and diabetes. Expert opinion confirms that all of these diseases are linked to Agent Orange.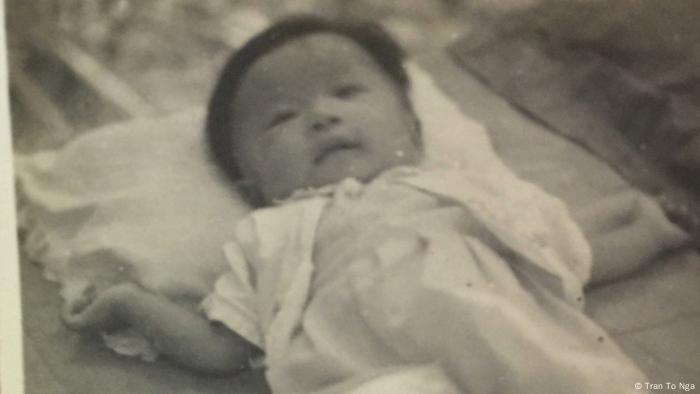 Daughter Viet Hai: Serious heart defect
From Tran To Nga's perspective, Agent Orange manufacturers must take responsibility for how they and many millions of other people are doing in their home country. The companies, however, reject the guilt. Dow Chemical, for example, writes on the company's website that the US government is responsible for its military actions, including the development and use of Agent Orange in Vietnam.
Dow Chemical goes on to say that studies have not established a causal link between Agent Orange and disease or birth defects. A claim that many victims will find a hard slap in the face.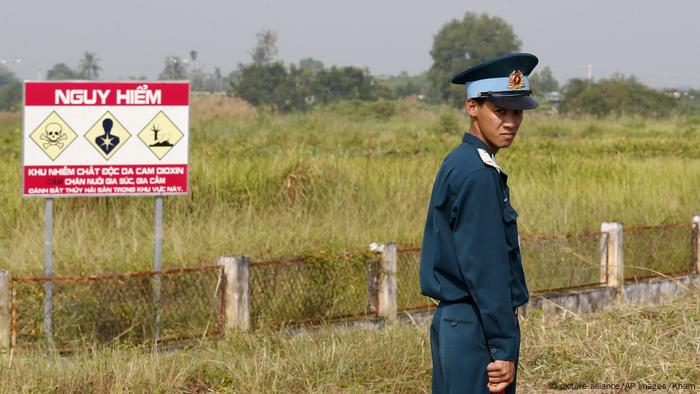 Dioxin-contaminated area in Vietnam (2018): Remnants of the highly toxic defoliant
After all, it has been proven that the toxic dioxin contained in Agent Orange still contaminates the soil and waters of Vietnam decades after the end of the war, as it does not degrade naturally. The herbicide finds its way into food through agriculture and fishing. The result is cancer and disabilities – for generations.
Fight against oblivion
Tran To Nga therefore also emphasizes that she does not fight this, her last fight for herself, but for the others. You couldn't tell that she was sick, she told DW. "But many others have lost their legs, their feet, their arms. Or they have marks all over their bodies. Many have severe disabilities, but they are brave, very brave."
When Tran To Nga begins to talk about all the people she has met on her numerous trips through Vietnam, tears come to her for the first time that afternoon. "All they want is a life of dignity."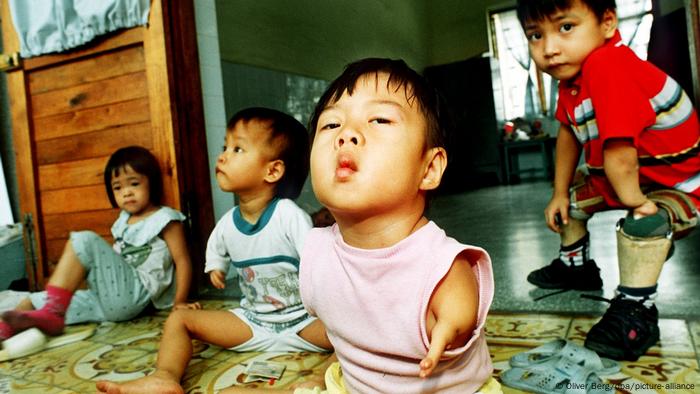 Children on care ward in Ho Chi Minh City (1993): "Many have lost their legs, their feet, their arms"
And Tran To Nga sees it as their task to stand up for this dignity. For years, mainly because she knows that she may be one of the very few Vietnamese women who even have the opportunity to do so. The French judiciary has been allowing civil actions for a number of years, even if the cases took place abroad. Anyone who has French citizenship and is directly affected can complain – like Tran To Nga.
If she doesn't take the case to court, the Agent Orange drama will be buried in the dust of the past. To forget. "Even if there were around four million victims in Vietnam," says Tran To Nga.
The court in Évry wants to make a decision this Monday. It is already clear that one of the two sides will appeal, no matter how it turns out. If Tran To Nga were to prove right, that would be a glimmer of hope – and a precedent – for many others affected. So far, only veterans have been compensated for the health effects of Agent Orange. But not the majority of those injured: generations of Vietnamese civilians.
.