In 2019, the rover Yutu-2 discovered a curious substance during its exploration of the far side of the Moon. The origin of this green and scintillating matter now seems to be better understood.
One year ago, the Rover Yutu-2 discovered a "mysterious glow gel" on the far side of the Moon. New work is now available to learn more about the origin of this amazing substance, spotted as part of the Chang'e 4 mission led by the Chinese National Space Administration (CNSA).
In a study of the magazine Earth and Planetary Science Letters, spotted by several media including ScienceAlert on July 8, 2020, researchers recall that " Chang'e 4 rover found an unusual substance at the bottom of a small crater during the eighth lunar day Of his mission. It was considered singular because it did not look like regolith blocks (a layer of volatile dust covering the ground of the Moon) by its shape, color and texture. " It is dark green and sparkling "Describe the authors.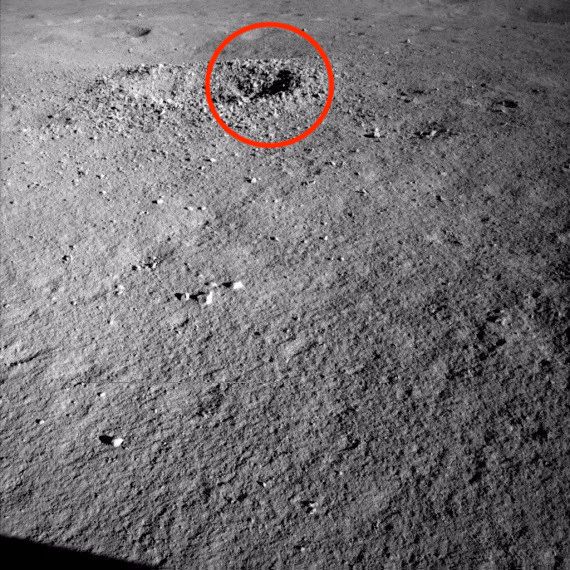 A sparkling impact gap
It seems that the Yutu-2 rover has simply discovered … rock. This rock could have formed due to a meteorite impact, the heat of which would have melted rocks together to give this green and shiny mass. " Chang'e 4 rover discovered a dark, scintillating greenish molten impact breccia Write the authors of the study. The size of this breach is estimated to be about 52 centimeters in length, 16 in width. Scientists note that it resembles samples that were reported during the Apollo missions.
Specifically, the researchers believe that this particular rock was " formed by impact welding, by cementing and agglutination of the lunar regolith and the breccia " Moreover, the wheels of the Yutu-2 rover have crushed the " clods "Which are located around the crater where the breach is located, which clearly shows that" the regolith can be slightly compacted and becomes brittle ».
A material that would have formed elsewhere?
It is not impossible that this material formed in a crater other than the one where it was found. He could have trained elsewhere and then been ejected to where Yutu-2 saw him. Scientists hypothesize that the ejectas may have come from the Finsen lunar crater, and perhaps also from the Alder crater (both located on the southern hemisphere of the Moon's hidden face).
The most likely scenario therefore seems to be that of an impact that would have " partially melted the local regolith " With cooling, this material became shiny. Unfortunately, scientists have no samples to analyze to verify this hypothesis, even if it seems serious. Since the discovery of this strange substance, Yutu-2 has moved and should therefore not have the opportunity to take a photo of this area.