Comment from AMD Chief Gaming Architect and Marketer Frank Azor that the new series of gaming graphics cards Radeon RX 6000 expect a "non-paper" announcement, yesterday picked up many specialized resources. One of them was Wccftech, to the publication of which Azor himself later responded, accusing the journalists of misinterpreting his words.
By the author of the publication Wccftech became senior editor Usman Pirzada. In the original article, he, referring to the words of Azor on Twitter, said that on October 28, not a formal or so-called "paper" announcement would take place, which is not related to the arrival of video cards on sale, but quite real – with the start of sales and a sufficient number of new products on counters. But after the publication of this publication, Azor himself appeared on Usman Pirzade's Twitter page. He stated that he did not say anything like that, as a result of which there was an altercation between the parties.
I didn't say it was. All I did was take a $10 bet from a friend that bet ours wouldn't be a paper launch. Pretty far stretch to say I made any guarantees of infinite supply availability but I enjoy the comedy.

— Frank Azor (@AzorFrank) September 25, 2020
According to Azor, his phrase about a "paperless" announcement does not mean "an infinite number of available video cards" after the announcement. To this, Pirzade replied that the start of sales of NVIDIA GeForce RTX 30 series video cards also cannot be called "paper", since the cards still appeared on sale, although not for long. The reason for this was not only their small circulation and high demand, but also the active work of bots, which were used by speculators. Pirzade noted that in this case he does not understand what Mr. Azor really meant.
Recall that the whole story with the "paper" and "non-paper" launch of the Radeon RX 6000 began with designer Andre Elijah, who complained that he could not order a GeForce RTX 3090 video card, since NVIDIA had prepared only a small circulation for the start of sales … He expressed his readiness to bet $ 10 on the fact that AMD will also have only a "paper" announcement. AMD's chief gaming architect and marketer responded to this tweet by stating that he is looking forward to the ten dollars from the designer, thereby making it clear that AMD will still arrange a full launch of its graphics cards sales soon after the presentation.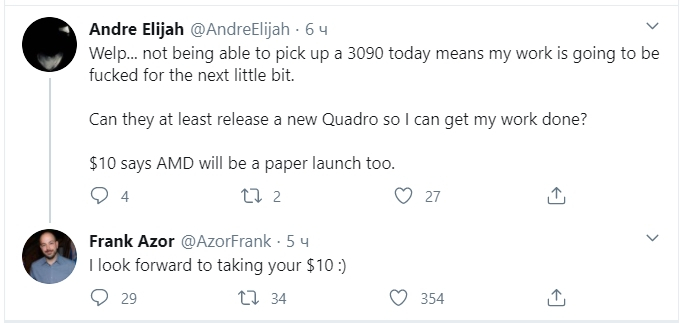 In general, as in the case of NVIDIA, AMD is likely to face a difficult launch of new graphics solutions of the Radeon RX 6000 series. These are the realities of 2020. And $ 10, Mr. Azor, still have to pay.
If you notice an error, select it with the mouse and press CTRL + ENTER.