Input 2021.03.05 18:33 | Revision 2021.03.05 19:38
It was reported that the impact of the semiconductor supply and demand crisis was relatively small as automakers began to cut production one after another due to the global automotive semiconductor crisis.
Hyundai Motor Company (005380)
And hunger (
Kia Motors (000270)
) Also begins to reduce production in earnest, such as canceling overtime work.
According to the industry on the 5th, Hyundai Motor Company and Kia decided to adjust the existing monthly overtime schedule on a weekly basis and adjust production according to the shortage of semiconductor supply for vehicles. Hyundai Motor's Ulsan Plant did not perform overtime work at all plants 1-5 on the 1st, and adjusted the production plan on the 6th, such as performing overtime only at some lines of Plants 2 and Plants 4 and 5.
Kia's Hwaseong plant in Gyeonggi-do is not going to carry out a special job for the production of finished cars this month. Kia Hwaseong Plant produces K series such as K5 and K7, Sorento and Mojave. Kia's Gwangju Plant 3, which produces 1 ton truck bongos, is also known to not be working overtime in March.
Hyundai Motor Company and Kia reorganized their systems in a way to diversify their supply chain by increasing the number of major component suppliers in the face of a shortage of Chinese-made wiring harnesses last year and the Japanese government's semiconductor export restrictions in 2019. As a result, the global automotive semiconductor supply and demand crisis, which began in earnest from the second half of last year, was not expected to have a significant impact for the time being, but the prolonged supply and demand shortages are disrupting production.
Hyundai Mobis, which supplies parts to Hyundai Motors and Kia (Kia Motors), also said, "We have started emergency response such as checking the stock status in real time by designating semiconductor items of some specifications as intensive management items." "The supply and demand situation is not good because they are looking for them," he explained.
Until now, Hyundai Motor Company and Kia have been negotiating directly with semiconductor makers to secure the quantity of semiconductors for vehicles, rather than leaving only the primary suppliers to secure inventory. In addition, it checks the stock of semiconductors for vehicles on a weekly basis, and operates a production line centering on models in stock.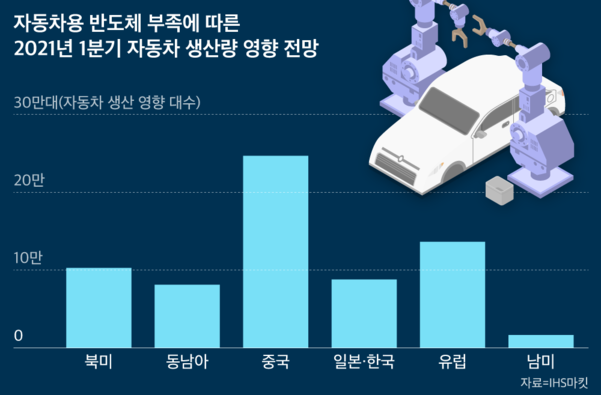 .