The highly controversial former Formula 1 world champion Nelson Piquet not only insulted Mercedes star Lewis Hamilton (37) in a racist but also homophobic manner in his scandalous interview. This is shown by other lapses by the Brazilian, which have now become public.
Piquet explained Hamilton's defeat in the fight for the world title against his former teammate Nico Rosberg in 2016 with, among other things, a homophobic statement. The 69-year-old said it was more important for the Brit to hold his own butt than worry about the World Cup. Piquet's statements degrading Hamilton because of his skin color had previously caused outrage in Formula 1.
---
news-der-woche-rund-um-den-hsv-kurz-zusammengefasst-direkt-per-mail-in-ihr-postfach-hier-klicken-und-kostenlos-abonnieren">What happened in Volkspark this week? What about HSV ahead of the next matchday? Every Friday, the Rautenpost provides you with analyses, updates and transfer rumours. Just in time for the weekend, you will receive a brief summary of all the latest news of the week about HSV from us – directly by e-mail to your inbox. Click here and subscribe for free.
---
Hamilton's driver colleagues around Sebastian Vettel (Heppenheim) stood by the side of the record world champion before the British Grand Prix (Sunday, 4 p.m. / RTL and Sky). "Any form of insult is wrong and I think it's great that the entire Formula 1 community reacted so quickly and expressed their support for Lewis," said Vettel.
Formula 1 stands behind Lewis Hamilton
World champion Max Verstappen, who is with Piquet's daughter Kelly, also condemned the statements. "In general, it's not correct to use such words anywhere in the world, not just in Formula 1," said the Dutchman: "It starts with education. Nowadays you have to learn from a young age, at home and at school, that you are not allowed to say such things or to use them in general – and we are working on that. And of course Formula 1 is working on it, also together with Lewis. And all drivers stand behind it. We all support that."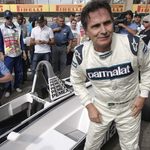 Hamilton was "incredibly grateful" for the support and said he had been exposed to "racism" and "discrimination" for a "long, long time": "So it's nothing particularly new to me." Society needs to change. "I think it's more about the big picture. It's not just about an individual, it's not just about a one-time use of that term," Hamilton said. "It's about the big picture."
You might also be interested in: Formula 1: Police warn of protests at the Silverstone race
Piquet's comments were made last November but were only publicly addressed ahead of Hamilton's home race at Silverstone. (sid/mvp)