By Marcelo Solari
Horacio Zeballos from Mar del Plata, who became number 3 in the world in the specialty, is considered the best Argentine doubles player in history. During his rest period before starting the preseason, he passed through this city and went through the preparations for the magnificent tribute that the Nautical Club will offer to his beloved son, Guillermo Vilas.
Precisely this year, the Edison Lawn Tennis left-hander surpassed the other left-hander and Mar del Plata in more titles in doubles (18). Quite an honor, without a doubt, especially since Zeballos does not hide his devotion to Vilas. In full maturity of his career and still with many goals and challenges ahead, this he told LA CAPITAL in an extensive exclusive interview:
-It may be difficult to classify it as the best of your career, but it ends in 2021 and it is impossible not to rate it as very good. How would you rate it?
-It really was a great year. Basically because we returned to repeat the qualification for the Doubles Masters, and that is the dream and goal of every tennis player when the season starts. You want to add up the amount of points needed to get to that point. It is a very special week, it is lived with another joy, a special joy. You see it on the faces of all the players, it shows in the way we walk and how we enjoy the tournament facilities and getting there.
-And having arrived is the consequence of very good results …
-Yes, of course. We were able to finish at Wimbledon, although obviously one is left with the desire and the thorn of not having been able to raise the glass, but the experience of that walk from the dressing room to the main court through those historical, beautiful and well-kept corridors, like everything that surrounds the tournament is inexplicable. Having reached the center court to play a final and having gone through that little corridor through which so many champions passed and through which I have seen Roger (Federer) so many times pass by, was another award for so much effort and sacrifice during so many years. We also won two other Masters 1000s, so it was definitely a great year.
-There was great talk about the London Masters. Now the headquarters has moved to Turin, but it seems that it has nothing to envy, right?
-Absolutely. It was a unique show. The Arena O2 stadium in London was amazing, so big. This one, the Pala Alpitur is a little smaller, but it has nothing to envy. They made a set of lights that I loved. I thought it was wonderful how the entire entrance was for us until the moment we got to the bench on the court. The music, the games of lights, which were turned off and on. Handsome. The whole organization was very good and despite being the first year, which is always the most difficult for a new headquarters. It was well done. And the good thing is that it was possible to play with the public. Not with 100%, but a 60% capacity was allowed and there was a nice climate. They are Italian, euphoric like us and it felt a lot. Even in the doubles, which always has less public, it was the same as for the singles.
-You said two years in a row at the Masters, and two years in a row reaching the semifinals. Is the feeling a bit bittersweet because they were playing to get to the final at least?
-If it can be. Obviously you want to win all the tournaments you play, and when they are important, even more so. But perhaps, what the Masters has, compared to other tournaments, is that the result remains in the background. Being there means playing all finals. From the first game to the last you play, regardless of the instance. In our second match, we played against the best couple of the year (N. del R .: Croatians Nikola Mektic and Mate Pavic) and we beat them. It was very cute. We reached the semifinals and logically we wanted to continue. We had already beaten the French (Pierre-Hugues Herbert and Nicolas Mahut) this year and we arrived with high expectations. But we find ourselves against some very tough rivals, who were having a great time, they had been scoring it in their last games. We were at the end gate, but happy with what we did that week.
-Of all the good things they have been doing as a binomial with Marcel Granollers, perhaps the pending account is a Grand Slam title. Is that the big goal for 2022?
-Yes Yes of course. It would be nice to fulfill it. But if I don't succeed, I'll still be calm.
-You are not obsessed …
-No not at all. Let's see, it will surely be among the objectives that we will set ourselves. Winning a Grand Slam, being able to be number one in the world, all material goals. But I am not obsessed, because I know that, from the first day I start the preseason until the day before the end of each year, I give everything. And I know I am doing my best to get the best results. Then, in practice, they may or may not occur.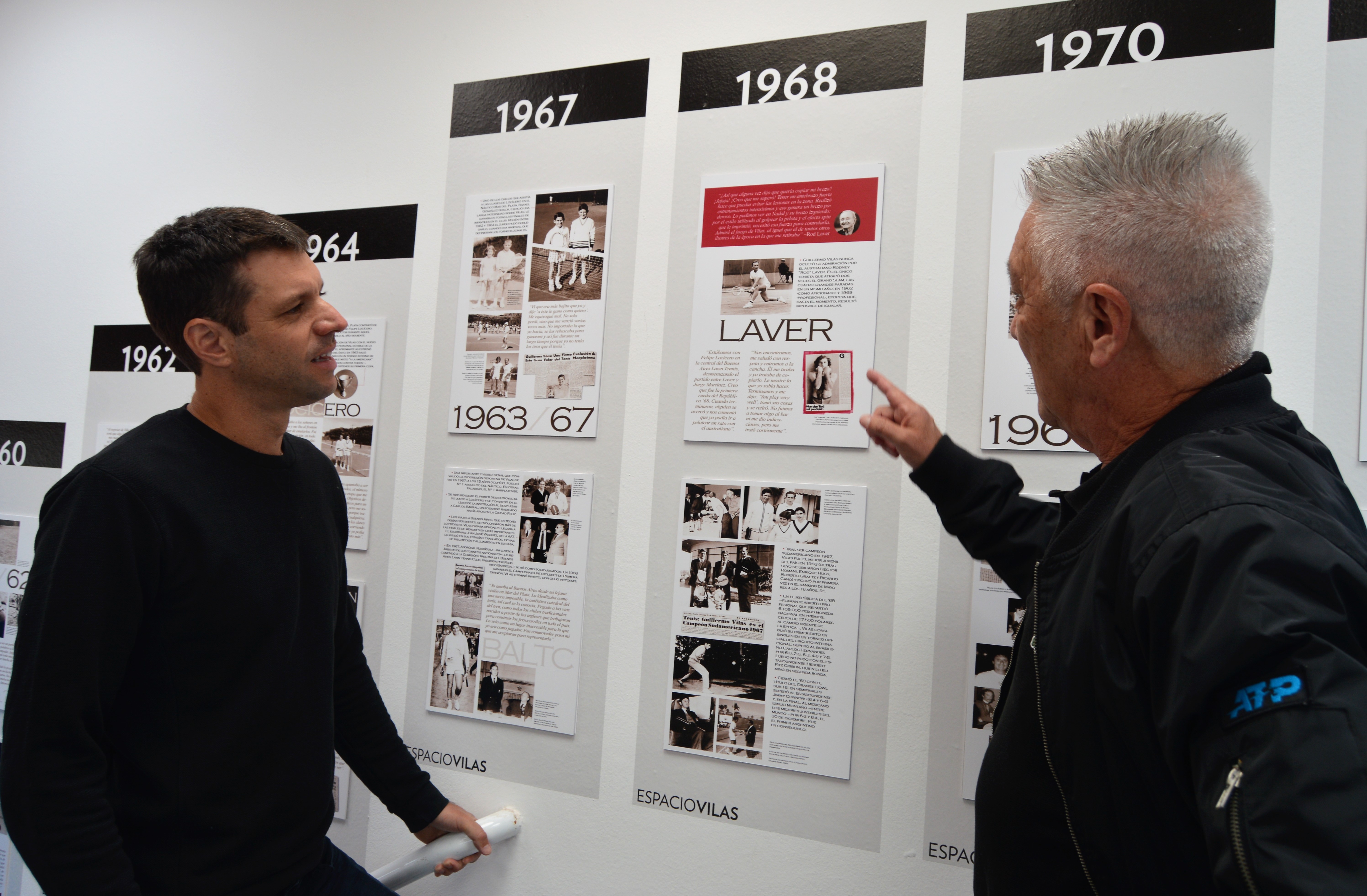 -Do you already have a budget for a number of tournaments to play for next year?
-Yes, we tried to play not as much as before, when we did it in singles. Don't go crazy with long tours. They are around 18 or 20 tournaments, although it will depend on the results. If we go straight to the Masters 1000 and Grand Slams, which are the toughest tournaments, and we're doing well, maybe we won't play some smaller tournaments. Or, if at any time we are lacking in confidence, or need to get a rhythm before a Grand Slam, we will play an extra tournament.
-Are you surprised that there are more and more really good couples, candidates or aspiring to win the tournaments? There are several …
-Yes, what surprises me nowadays is the number of singles who are also playing doubles. This year, for example, at the Masters 1000 in Cincinnati, in all rounds we played good singles, who are giving importance to doubles. Perhaps because they raised -minimally- the amount of the prizes, because there is still an abysmal difference. But it is seen that this also encourages singles to play doubles. And each tennis player who is dedicated to doubles, does it more and more professionally. And that makes the level rise and winning is increasingly difficult.
-They are not only those who usually reach the definitions, but suddenly some appear that are not taken into account and win many games …
-Nowadays tennis is being given a lot of importance in the universities of the United States. And there are many boys of 24 or 25 years who finish their studies, you never saw them on the Circuit and they start to dedicate themselves to doubles. They are great players that you do not know, they appear and hit an important result. It happened like this with the British Joe Salisbury. Now it is very consolidated. But I didn't know him, he came out of nowhere, he came from a university. Is a crack. He was not in Juniors, or Futures, or Challengers because he took another path. A path that today is very marked and is also very good.
– At the time you said that South American players, due to different factors, mature later than Europeans or North Americans. And then they peak at a different age, like 28 or 29 years old. Is that even more marked today?
-Yes I think so. Perhaps we are more temperamental and we learn more from experience than from youth. I see it all the time. Russian boys, at 21 or 22 years old, are already married and have children. It is another mentality. The important thing is to do a good job, endure it, be aware of that reality so as not to despair if the results are not seen when you are 20 or 21 years old.
-At this point in your career do you feel that your physique is not the same as before and do you replace it with more intelligence or experience to plan the matches?
-No way. Perhaps now I take great care of myself physically. Obviously doubles means less wear and tear, but I remember my last years of singles, that I was no longer a young man, and I had that mix between taking care of my physique and the experience of so many years. I'd say I played my best tennis, even. I had good results, perhaps not as impactful as that of Viña del Mar (N. del R .: he beat Spanish Rafael Nadal in the final), but I felt that I was playing better tennis than in 2013.
-Of all the good things that have happened to you during your career, nothing compares to having won that final against Rafael Nadal?
-It was something unique, for all that Nadal means and in brick dust. Perhaps today, in terms of results, winning a Masters 1000 title, I enjoy it a lot and I get just as nervous as when I had a match-point against "Rafa". But to have beaten him in a game for a title, it was something very big.
-Are you convinced by the new Davis Cup format?
-No, I do not like it very much. More than anything now, that we returned to play at home and I felt the atmosphere that was felt with the home team in favor. This format has lost all that climate, for or against, the participation of the people. With this new format it is very difficult for, for example, 2,000 or 3,000 Argentines to travel to see the Davis Cup. It is a pity that this has been lost. For me, I should have looked for the return on the other side. Nor could you continue with the previous format, because it is very strenuous for tennis players, but I don't think it helps too much either.

-Is it easier or more difficult to win now?
-I think it became more even because there are fewer points in dispute. Yes it is certain that the doubles became very important, decisive. And I like that. But it is also a very complicated date, at the end of the calendar, when the players are already tired, or come with an injury, and there is little time to rest before starting to prepare for the following season.