On Wednesday (March 29), farmers will sit down with the government to discuss support for those affected by Ukrainian grain in Polish warehouses. We talk with Wiesław Gryn, vice-president of the Zamojski Agricultural Society and a member of the "Fucked Wieś" association, about the postulates of the industry and the current situation of farmers.
The rest of the article under the video
See also: 17.03 Money.pl program | Mismanagement in PiS finances. "It is more expensive by PLN 1 billion"
Weronika Szkwarek, money.pl journalist: What postulates will you present during the meeting with the Minister of Agriculture, Henryk Kowalczyk?
Wieslaw Gryn: The first postulate is an immediate stop to imports from Ukraine, which can be done today. A thorough inspection of each vehicle should be implemented and stopped using the so-called Italian strike. Our minister should learn from the minister from the Czech Republic who blocked Polish beef a few years ago.
The second postulate is the introduction of customs duties on grain in Poland, as well as in countries such as Romania, Bulgaria and Hungary. We give the minister two weeks to do that.

The third issue is the creation of a separate port quay. This is not a process that will take several months, but several years. If Ukraine wants to transport its agricultural products through Poland, it should sell them at its own expense, because at the moment Ukrainian grain is displacing domestic grain in ports.
The fourth postulate is the purchase of grain by the Material Reserves Agency or by KOWR (National Support Center for Agriculture – editor's note) from farmers' warehouses or launching immediate purchase through Elewarr's warehouses. However, the most important thing for us is to continue exporting cereals to free up storage for future harvests and to introduce export subsidies.
Henryk Kowalczyk tweeted that farmers who were injured will receive PLN 600 million. How do you rate this help?
It depends on how many farmers apply and how many hectares it will be divided into. Farmers will lose between PLN 6 and 8 billion. They will get PLN 600 million for this, i.e. 10 percent. Farms that have more than 50 ha will get nothing, because the aid will be directed to those who have smaller areas. It's kind of pre-election stuff. The government fell asleep.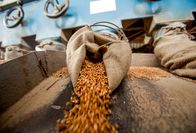 What problems does the Polish countryside face today?
This is primarily a sharp drop in prices and sales opportunities. At the meeting with the government, we want to focus on cereals, because if we add the prices of fertilizers and fuels to this, we will be accused of beating the foam.

What are Polish farmers facing apart from the problem of grain stockpiling in warehouses?
In the Polish countryside, every common-sense farmer wonders whether his work makes sense at all and whether his family farm – passed down from grandfather to great-grandfather – will have a chance to survive.
We have no chance to compete on the market with Ukraine, because our production is burdened with many prohibitions that generate costs. There is total liberalism in Ukraine, no restrictions on production that are required of us, which translates into the good quality of our products. We have a lot of withdrawn chemicals, we have more expensive fertilizers and fuel. Behind the eastern border there are huge spaces and subsidies from Western concerns.
Those farmers can get loans with an interest rate of two or three percent. And how is it with us? In January, Henryk Kowalczyk promised us interest-free loans from PKO BP. It turned out that they have an interest rate of 10-12 percent. and 4 percent commission – this is usury, not any help. We have no chance to compete with this market.

If you do not reach a common position during the round table, what next steps will you take?
Maybe we'll finally start hitting the minister with eggs. Seriously, we will be forced to escalate the protest. As happened in Belgium and the Netherlands, where tractors drove out to meet the rulers.
Were the problems you speak of caused by the war?
It's not just the war's fault. It started in the 1990s. The Agency for Restructuring and Modernization of Agriculture was established, which was only called that. There was no restructuring. We are not ready to compete with industrial agriculture. On Wednesday we go to the minister (agriculture – editorial note) and I already know what he will say – he will accuse us of a free market. Only that the government went to the elections with the slogan "family farms".
Today we are dealing with a crisis that has not been seen since World War II. Agriculture must change. If we were to re-industry, it would be with some funding, not with a bailiff on hand.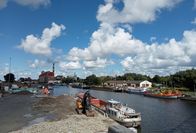 Are many farmers now facing bankruptcy?
The farms that received bonuses for young farmers, spent them on modernization, made their own contribution and got into debt are in the worst situation. These farmers have already started selling below cost of production. Now there is talk of subsidies for housing loans, but nothing is said about agricultural loans, when our income is nil and liabilities are growing.
How is the current situation affecting consumers?
Last year, rapeseed oil cost about PLN 7 per liter, and PLN 4,000 per ton of rapeseed. zloty. This year rapeseed costs 2 thousand. PLN per ton, and the price of oil increased to over PLN 9 per liter. Grain was cheaper by 30-40 percent. Has bread become cheaper? NO. The consumer got nothing. We don't make money from it, and the government tolerates it.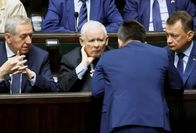 Can Law and Justice count on your vote in the elections?
Half of the people attending this protest voted yes PiS. They are the most disappointed.
This is not a political action this is a peasant rebellion – a popular veto. It shows people's real dissatisfaction. People in their 30s and 40s are protesting. These are people who consciously chose this profession and knew what to prepare for. But they did not expect such a collision with reality.
*Wiesław Gryn is a farmer, a member of the Zamość Agricultural Society and the "Deceived Wieś" Association, associating mainly farmers from eastern Polish voivodeships.
Weronika Szkwarek, money.pl journalist
If you want to keep up to date with the latest economic and business events, use our Chatbot by clicking here.

Rate the quality of our article:
Your feedback helps us create better content.