Max Verstappen and Lance Stroll did not receive a penalty on Friday after their collision during the second free practice of the GP of Portugal. Immediately after the practice session, the Dutchman stated that he was not to blame, but returned to this in conversation with the stewards.
Verstappen and Stroll hit each other in a corner during the second free practice at the Autódromo Internacional do Algarve. The Canadian sent in while the Dutchman tried to overtake him, after which both cars collided and ended up off the track.
Both drivers had to report to the stewards after the second free practice session in Portimão. After deliberation, both escaped punishment because the stewards believed that the incident was "based on a misunderstanding".
In a statement, the stewards said both drivers indicated in the conversation that they "could both have done more to prevent the incident." Therefore, the stewards ruled that "none of the drivers is wholly or largely responsible".
Red Bull team boss Christian Horner spoke words to that effect. "If I'm completely honest, you can say that both have a role in the incident. Max assumed that Lance would slow down, while Lance in turn might not see that Max was there. You could say it was fifty-fifty."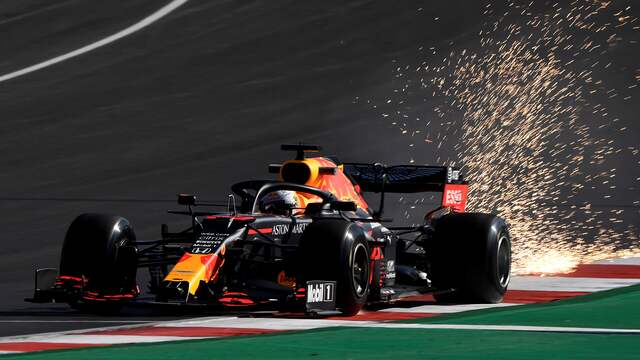 Max Verstappen in action during the second free practice of the GP of Portugal. (Photo: Pro Shots)
'No idea where I should have gone'
Immediately after the second free practice session in Portimão, Verstappen reacted angrily to the incident and at first thought that he could not be blamed for much.
"I was completely surprised, he just sent in without looking while I overtook him", Verstappen reflected on the incident. "I have no idea where I should have gone to avoid him."
The 22-year-old Limburger stated that he should have been given the space by Stroll to overtake the Racing Point driver. "I was just doing my fast lap, while he had just completed his. It's the second free practice and then something like that happens. It's a shame that we touched, and especially unnecessary. It's just stupid."
Despite the incident, Verstappen drove the second fastest time of the session, behind Mercedes driver Valtteri Bottas. The third free practice session of the GP of the Algarve starts on Saturday at 12 noon, followed three hours later by qualifying. The race in Portimão starts on Sunday at 2.10 p.m.
.