CLEVELAND, OHIO (VG) Dennis Hodges (50) has driven all the way from Dallas, Texas to sell Trump effects in Cleveland ahead of this year's first presidential debate. He believes in "a bloodbath."
– I think Trump will bite Biden, and he will not let go. He's going to tear him to shreds. It will be a bloodbath, says Hodges when VG meets him in the streets outside where the two presidential candidates tonight hold the first of three presidential debates.
Experts VG has also spoken to believes in an aggressive debate with a high level of conflict.
Normally during these debates, which are often held at universities, there are plenty of people and events that show their support for the two who are to meet on stage.
This year it is different due to the coronation situation. In the morning hours, local time, it was quiet in the streets around the debate room.
Around midnight Norwegian time, three hours before the debate kicks off, more and more people start coming to show their support for their candidate. A little later, a demonstration train also started its journey through the streets of Clevland. In the 0130s, it was reported that things were going smoothly.
There are a lot of police around the debate arena and the National Guard is also in place. Several streets are also blocked off for security reasons.
Keep yourself updated: Get the latest news on the presidential election here
Only a handful of people had turned up to show their support for one of the candidates. Dennis Hodges was one of them.
– I do not think Biden has a chance. He's not at his full five. "I think he's on medication to deal with these things," he says, reproducing what Donald Trump has repeatedly said without any evidence.
The Biden campaign has also denied this.
The night's debate can be watched on VGTV from 03 o'clock.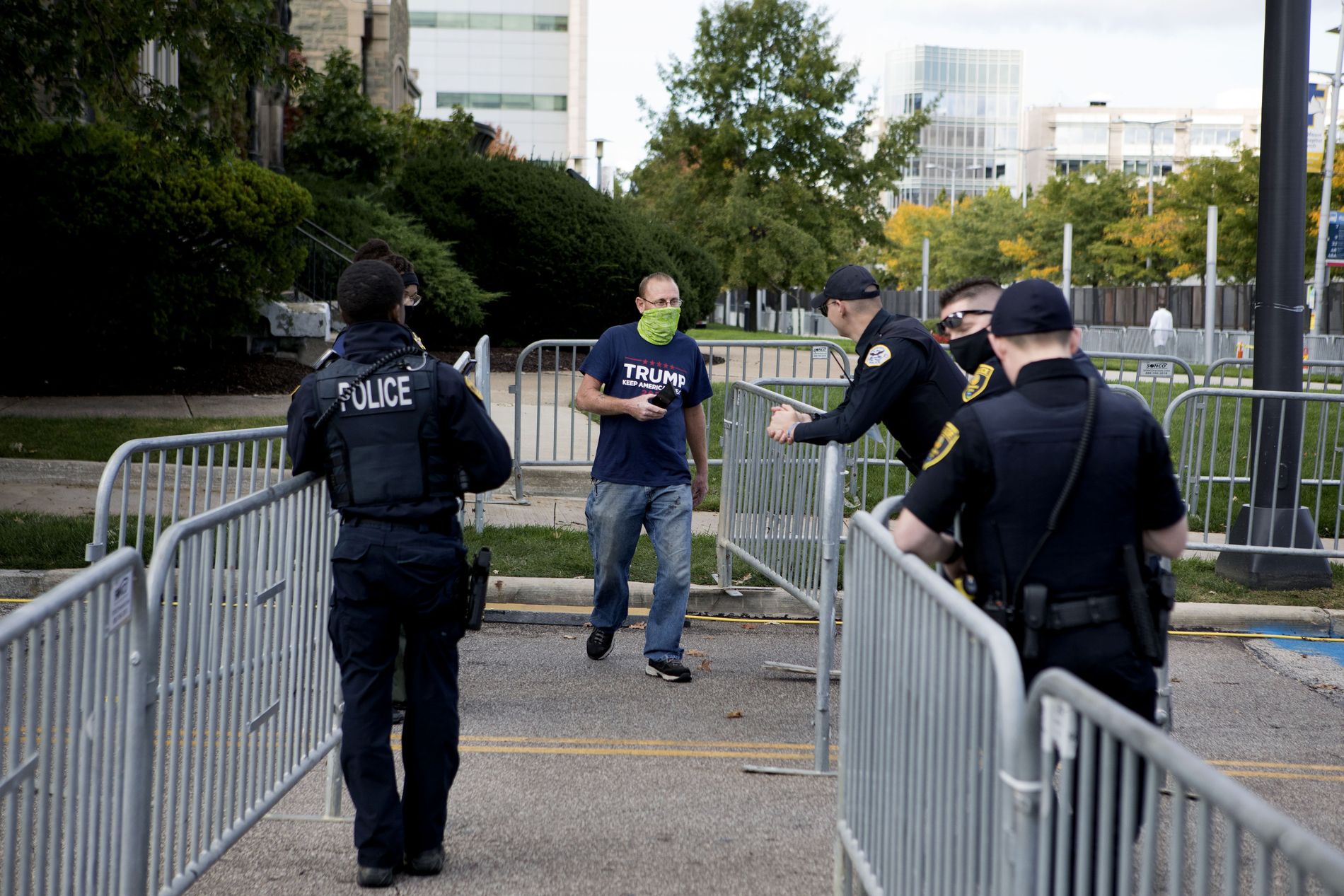 Wednesday morning there will be a broadcast with highlights and reactions – from both voters in Ohio and experts. In addition, VG's commentators are rolling the dice in the podcast "Giæver og gjengen".
Blame the corona crisis on Trump
Surgeon Susan Stephens also walks the streets, dragging on a trolley with skeletons in it and carrying a poster that tells of over 200,000 corona-dead Americans. She says she wants to show how badly she thinks the president has handled the virus.
– There did not have to be so many dead. It is completely his fault that this is the case, she says.
Gain insight: This is how Trump has changed the United States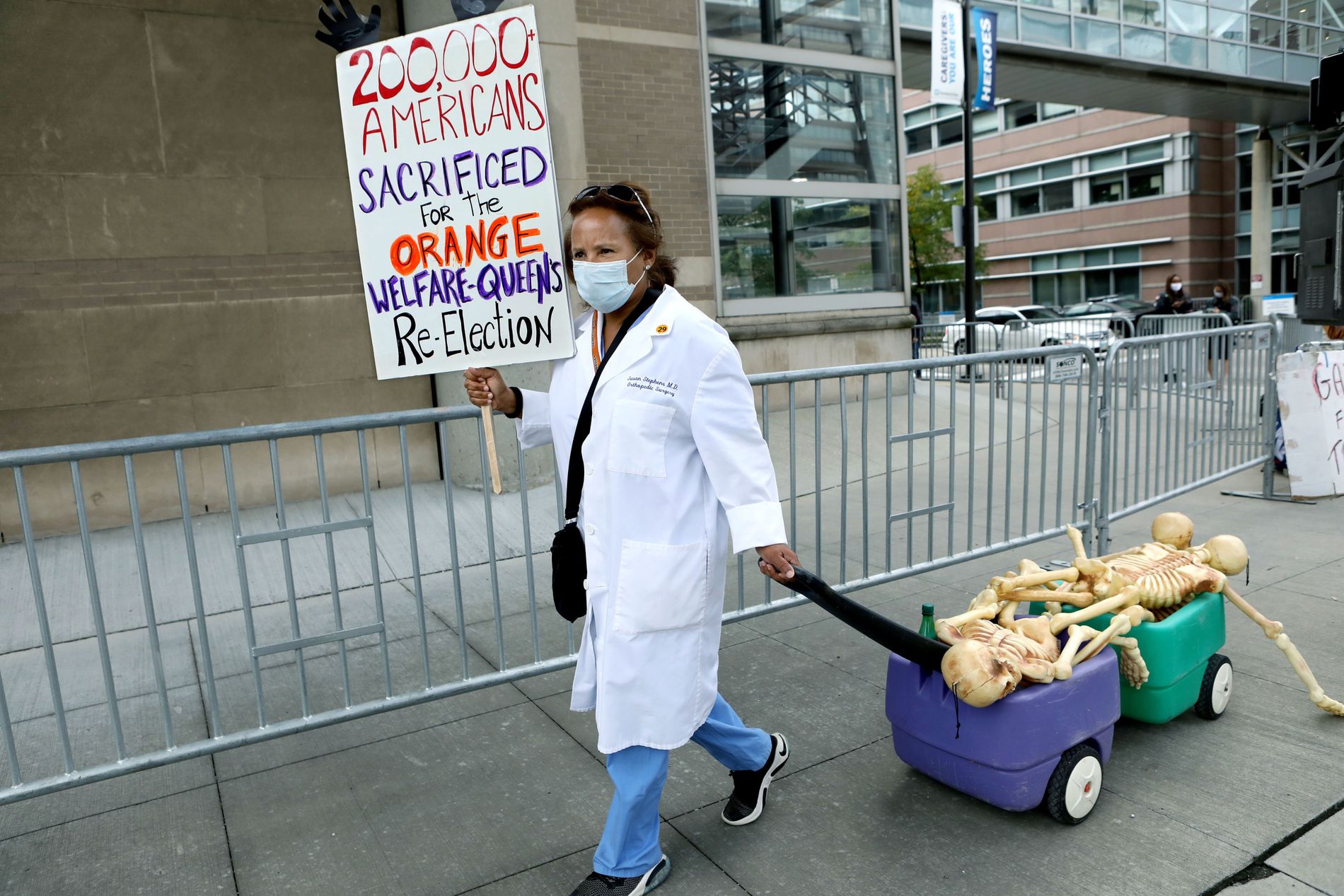 Stephens says that her expectation for the debate is that "Trump will show his true self", and that people will realize that the corona situation will not improve if Trump is re-elected.
– And then I hope that Biden gets to show who he is. A man with character who cares about people, and that he cares about the 200,000 who have lost their lives.
Debbie Clawson (60) also supports Biden. She hopes he can prove he is not demented, as Trump likes to portray him.
– I'm not so afraid that Trump will dominate the debate too much. Biden has self-confidence, so I think he will do well, she says.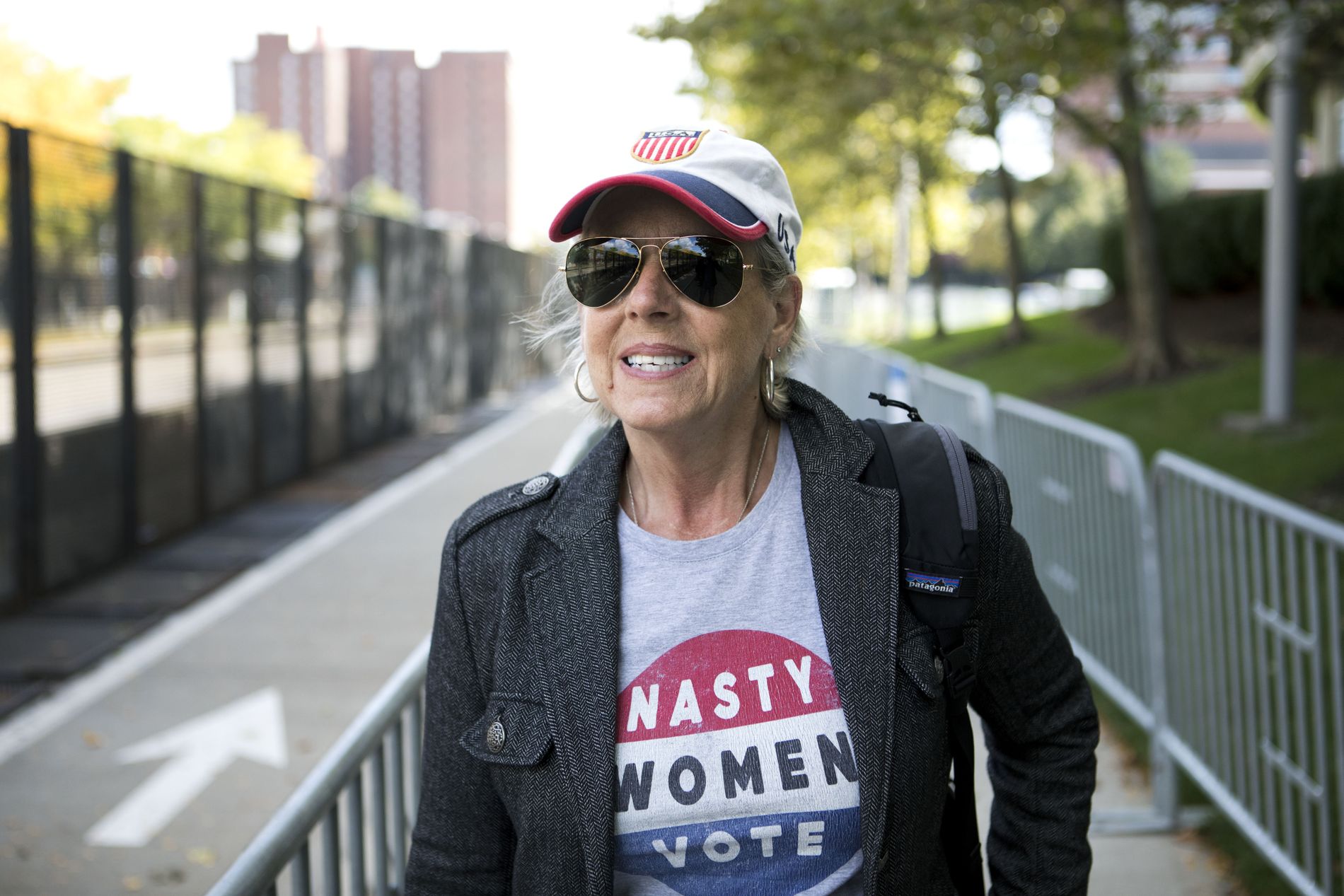 Not surprised by tax case
When asked what she thinks of the recent days' revelation from the New York Times that Trump has barely paid federal income tax for the past 15 years, she replies that she is not surprised at all.
– If he had nothing to hide, he would have shown his tax papers a long time ago, she says.
Trump calls it all "fake news" and claims he pays taxes. He has for several years said he will present the tax return as soon as he is no longer under the audit of the tax authorities. Critics say it is an excuse that is not good enough, and points out that he could in any case show only exactly the piece that shows what he has paid in taxes.
Joe Biden shared their tax figures today.
Dennis Hodges, for his part, believes that the president deserves to pay less in taxes.
– A president who donates his salary, something I have never heard anyone do before, deserves tax breaks, is his comment.
That despite most of the years the New York Times has been going through is about before he became president.
Blame it on China
Just outside the press center in Cleveland, 78-year-old Robert Kunst from Florida has strategically sat down with his posters, one says that Hillary Clinton was a disaster, but that Joe Biden is even worse.
Also read: Therefore, they have not decided who to vote for
Throughout the day, he has received a lot of media attention as almost all journalists pass by him. His location is hardly a coincidence. He tells VG that he has been to 185 different Trump events in the last five years.
Now he is cursed at people like Susan Stephens, who blames the president for so many people losing their lives to the coronavirus.
– It is China that is behind it. This is their fault, he believes, and expresses that the Democrats are playing dirty game to put the blame on Trump.
– I think he will win the election anyway, but I am nervous because they are doing so much mischief, says Kunst, who states that he is a registered Democrat, but has not voted for any of their presidential candidates since Bill Clinton in the 90s.
Published: 29.09.20 at 23:35
Updated: 30.09.20 at 01:39
VG Discount Codes
A commercial collaboration with kickback.no