The shooting took place at around 5:35 p.m. in the mall Field's on Amager Island, located between Copenhagen city center and the airport.
After it was unclear for a long time how many victims had been killed, police commissioner Søren Thomassen announced during a press conference on Sunday night that three people had been killed. The victims are a man in his forties and a young man and young woman. Police were still trying to identify them and inform their relatives on Sunday night.
"We also have three injured people who are in critical condition. In addition, we have several injured," said Thomassen.
According to the Danish broadcaster DR At least three people are being treated in the Rigshospitalet hospital, where extra staff are said to have been called.
22-year-old perpetrator arrested
Thirteen minutes after the police were called, at 5:48 p.m., the suspected perpetrator was arrested "at the highway exit", the police said. It concerns a 22-year-old "ethnic Danish" man. There is currently no evidence that he collaborated with others. "Until we are absolutely certain that that hypothesis is correct, we will have a massive survey and mass presence in Copenhagen," Thomassen said.
(Read more below the tweets)
Here is inserted content from a social media network that wants to write or read cookies. You have not given permission for this.
Here is inserted content from a social media network that wants to write or read cookies. You have not given permission for this.
Earlier there was talk of a "massive search operation" in the Zeeland region, the island on which most of Copenhagen is located. Thomassen had said: "We have to be completely sure that we have this situation under control."
The suspect will be brought before a judge on Monday. He is charged with manslaughter, but that qualification could change depending on the investigation. According to police commissioner Thomassen, "it cannot be ruled out that it is an act of terrorism". However, the commissioner declined to comment on the perpetrator's motive. He said he could not confirm rumors circulating on social media that the shooting had a racist or anti-Muslim motive.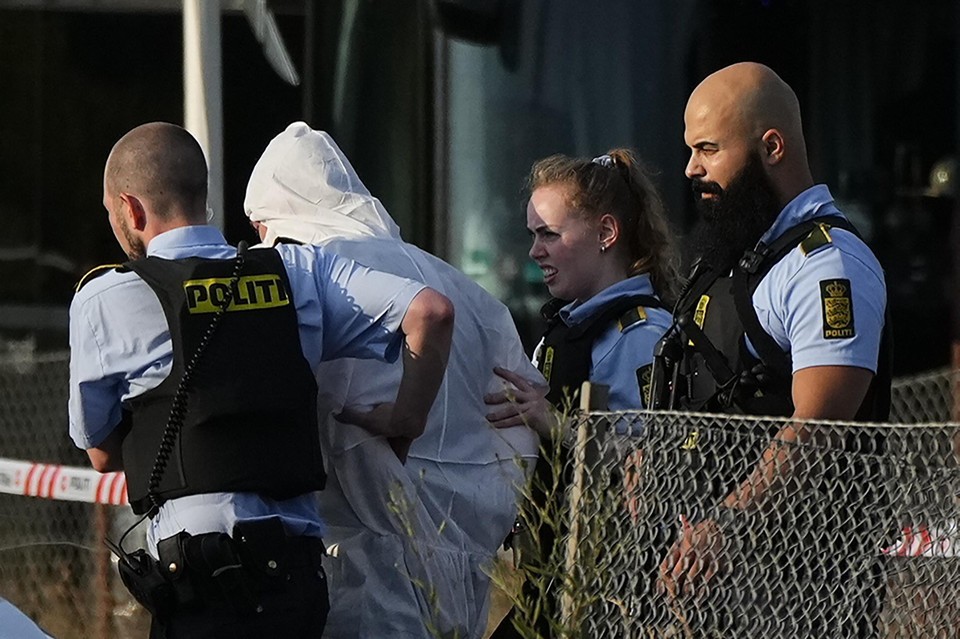 The terror threat in Denmark was "serious", according to the latest report from Danish intelligence, with the greatest threat from "militant Islamism", and a "general" threat from right-wing extremism.
According to Commissioner Thomassen, the suspect was known to the police, but only "on the periphery". "It's not someone we know for anything in particular."
Here is inserted content from a social media network that wants to write or read cookies. You have not given permission for this.
The gunman was in possession of a rifle and ammunition at the time of his arrest, according to police. According to eyewitnesses and images from the mall, the man – dressed in military shorts with a dark tank top on top – was carrying a shotgun. Photos and videos show people fleeing the mall in panic after the shots. An eyewitness told NRK that she saw children, pregnant women and the elderly fall, and even saw someone fall from an escalator in the chaos.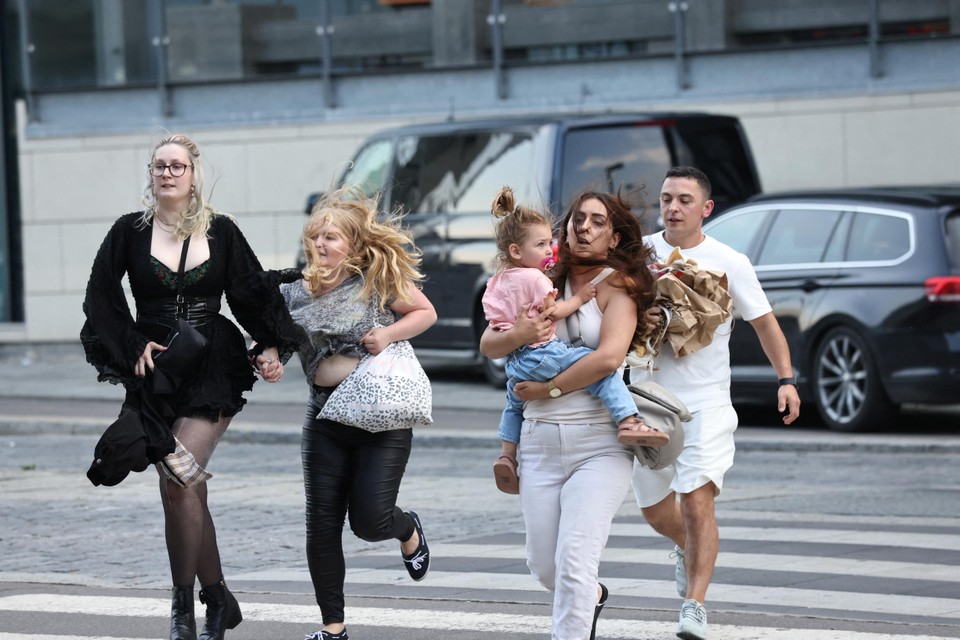 "People first thought it was a thief," eyewitness Rikke Levandovski told the Danish TV channel. TV2† "Then I heard the shots, and hid myself behind the counter in a store. He just shot into the crowd, not at the ceiling or the floor."
"He was psychopathic enough to start hunting people, but he didn't run," a witness told DR. A video shows the man walking around quietly at one point and putting his gun to his neck.
Other witnesses said the suspect tricked people into thinking his gun was fake to get them closer. Mahdi Al-Wazni, who went looking for his 2.5-year-old daughter while everyone was running away, says he saw the suspect with a shotgun and the man repeatedly yelled that he wasn't really shooting. It was only after two hours that Al-Wazni was finally reunited with his daughter, who had been taken by strangers into a shop where they were hiding.
Youtube-video's
Danish media discovered some YouTube videos on Sunday evening in which a person can be seen who resembles the perpetrator. They were uploaded to Youtube a few days ago. The videos – in which the young man shows different weapons and puts them against his head – are titled "I don't' care".
The man also refers to the drug Quetiapine, an antipsychotic used to treat schizophrenia, among other things. He said that wouldn't work.
The videos – which were removed from YouTube on Sunday evening – were also spotted by the Danish police. He informed Danish media that the videos and content had been added to the investigation into the shooting. The police would not confirm or deny whether it was indeed the arrested suspect.
Police ask for pictures
People who were present in (near) the shopping center were asked to contact their families to reassure them, but preferably via text message, because the local telephone network was overloaded. A relatives center was set up and psychological assistance was offered.
Police are asking "anyone who has seen, heard or filmed anything" to contact authorities. Shops in and near the mall are also "encouraged by the police to provide photo and video surveillance from Sunday". The shopping center will remain closed for at least a week while the police investigate the case.
Here is inserted content from a social media network that wants to write or read cookies. You have not given permission for this.
In the meantime, the army has taken over the surveillance assignments from the police. This measure should allow more police officers to be released for the investigation into the shooting.
Harry Styles concert cancelled, just like Tour de France event
British singer Harry Styles – who said via social media that he was "shocked" by the events – would give a concert in a nearby hall on Sunday evening, the performance would first continue after consultation with the police. It was canceled later in the evening.
An event in southern Denmark, where the Tour de France was to be celebrated in the country in the presence of Danish Crown Prince Frederik and Prime Minister Mette Frederiksen, was cancelled.
The Danish royal family has called for unity. "The situation calls for unity and care. We thank the police, emergency services and health services for their prompt and effective response over the past few hours," said a statement issued by Queen Margrethe II and the Crown Prince and Crown Princess Frederik and Mary on Sunday evening. The royal family also said they were deeply moved by the "shocking news" of the shooting. "Our thoughts and deepest condolences go out to the victims, their families and everyone affected by the tragedy."
Danish Prime Minister Mette Frederiksen has condemned the shooting as a "horrific attack". In a statement, she calls on the population to support each other. "We were all brutally snatched from the radiant summer we had just started," says Frederiksen. "It is incomprehensible. Heartbreaking. Pointless. Our beautiful and otherwise safe capital was changed in a split second." Frederiksen thanked the police, the emergency services and all other people who offered help.
The mayor of Copenhagen, Sophie H. Andersen, said in a first reaction that she was shocked by the events. "It's terrible. We don't know yet how many people have been injured or died, but it is very serious," it said on Twitter.
Denmark last saw a terror attack in 2015, when two people were killed and six police officers were injured when a lone gunman shot and killed a man outside a cultural center where a debate over freedom of expression was going on, and later killed a second victim at a Jewish synagogue in the center of Copenhagen. The gunman was later killed in a shooting with the police.