Even at night in the United States, people were outraged by the death of the African American George Floyd.
Demonstrations, some of them violent, took place in dozens of US cities.
US President Donald Trump blames radical leftists for the riots.
After the death of African-American George Floyd in a brutal police operation in Minneapolis, riots in US cities have continued for the fifth consecutive night.
Tear gas against demonstrators
In Minneapolis, Minnesota, demonstrators again passed a curfew at night. CNN broadcaster reported that security forces used tear gas to push demonstrators back. There have been riots and looting in numerous other cities, as CNN reported.
Authorities in a total of 25 cities in 16 U.S. states have issued curfews. Nevertheless, protests arose in many places.
Curfew also in Los Angeles
The authorities also imposed a curfew at night in the California metropolis of Los Angeles. Mayor Eric Garcetti said the measure was necessary to "restore peace". According to the police, there were "big and violent protests" in the city center.
Charges of murder against police officers
George Floyd was killed in a police operation in Minneapolis on Monday. One of the four police officers involved in the operation was charged with the murder yesterday. According to the laws in Minnesota, he faces up to 35 years in prison.
He is the white cop who had pressed his knee against Floyd's neck for several minutes. Floyd had pleaded for help several times before losing consciousness, as a video recorded. The 46-year-old black man was pronounced dead when he arrived at the hospital.
The arrest warrant released on Friday said he had pressed his knee on Floyd's neck for a total of eight minutes and 46 seconds. In the last two minutes and 53 seconds, Floyd had shown no signs of life. Based on their training, police officers should know that this way of holding a suspect is fundamentally dangerous.
Protesters did not adhere to the curfew. Television pictures showed how shops in Los Angeles were looted.
Demo in front of the White House and Trump Tower
In front of the White House in Washington, security forces on Saturday evening prevented demonstrators from gathering there again. A black protester carried a sign that said, "Am I next?" Washington TV pictures showed a building burning in the city center. "This is a country in chaos," said a CNN moderator. In New York, demonstrators moved outside the President's Trump Tower.
In Minneapolis there has been a curfew since 8 p.m. on Saturday evening (local time / 3.00 CEST Sunday). Minnesota's governor Tim Walz urged all residents to stay at home. Because of the protests, Walz mobilized the entire state's national guard for the first time since World War II on Saturday.
Thousands of national guards in action
The National Guard announced that around 2500 of a total of up to 10,000 mobilized soldiers would be deployed at night to keep order in and around Minneapolis. The other soldiers would be ready for the coming days.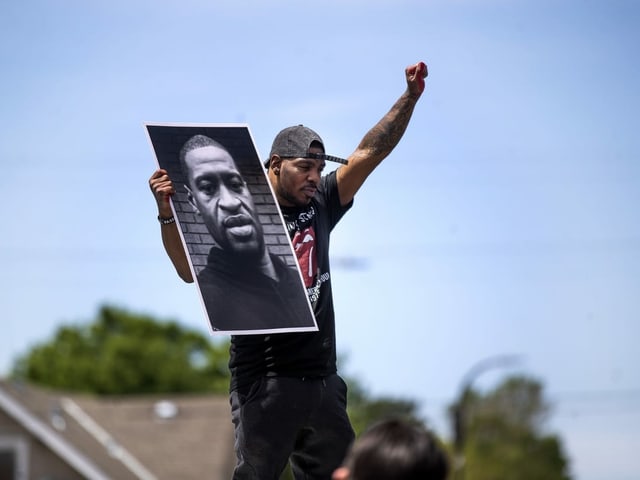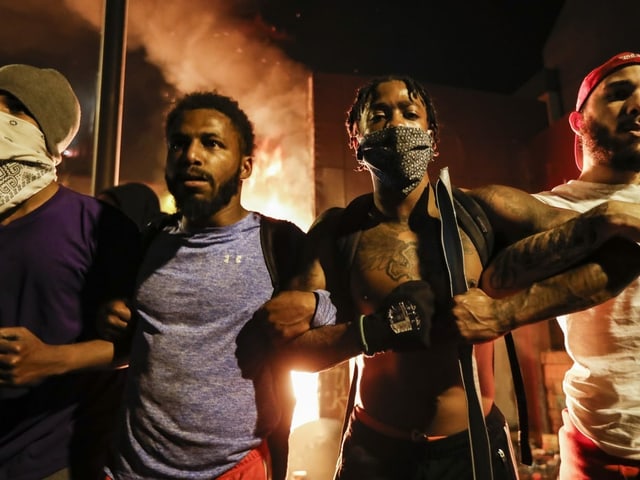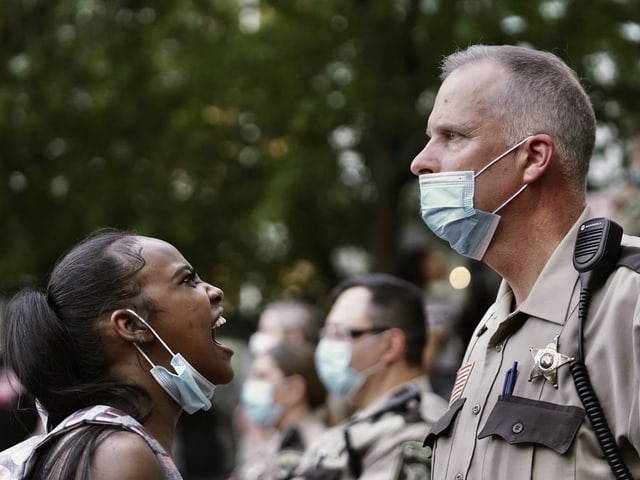 In Los Angeles alone, more than 500 people were arrested in Saturday's protests after Floyd's death. Arrests were also made in other major cities. Media reports of at least 1,400 arrests in 17 cities.
Trump: Left wing leads protests
US President Donald Trump blamed leftist groups for riots in American cities. "The violence and vandalism are led by Antifa and other violent left-wing groups," Trump said. "Leftist criminals, criminals and others in our country and around the world will not be allowed to set our communities on fire."
Trump accused violent protesters of dishonoring the memory of George Floyd. "What we see on our streets now has nothing to do with justice or peace," said Trump. "My government will end mob violence." And the US President continued: "I stand before you as a friend and ally of every American who strives for justice and peace." But he was strictly against those who wanted to use this "tragedy" to loot or threaten. "Healing instead of hate and justice instead of chaos are the tasks that have to be fulfilled."