[서울=뉴스핌] Reporter Kim Yong-seok = Nelly Coda took the lead in the 3rd LPGA season, and made a fresh start for the first ever'three consecutive sister championships'.
Nelly Coda took the lead on the first day. [사진= Getty Images]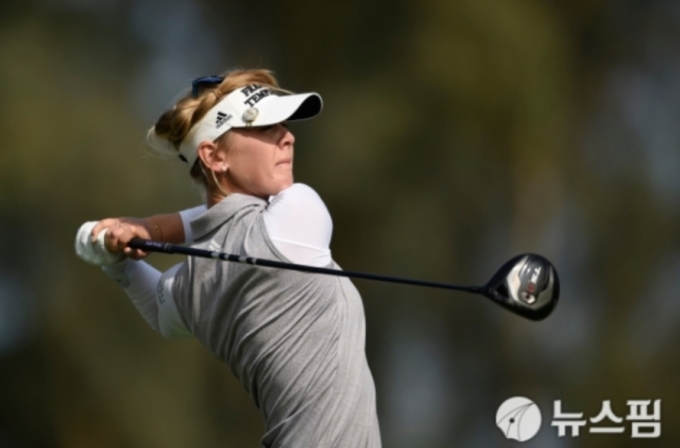 Jessica Coda, her older sister, who won the opening game.[사진= 로이터 뉴스핌]
Nelly Coda (23, USA) recorded 5 birdies without seeing the first day of the LPGA Tour Drive-On Championship presented by Volvic at the Golden Ocala GC (par 72, 6526 yards) in Ocala, Florida, USA on the 5th (Korean time). , With a total of 3 people including Jennifer Kucho, writing 5 under par 67 strokes, and took a joint lead.
Sisters Koda, who focused their attention by winning two consecutive victories this season, aim to win again.
After her sister Jessica Coda (28, USA) won the Diamond Resort Tournament of Champions, the opening game of the LPGA tour in January this year, her younger brother Nelly Coda rose to the top at the Gainbridge Championship, the second season of the season on March 1. This is a consecutive sister win, which came out 21 years after the sisters of Anyka Sorenstam (51, Sweden) and Charlotte (48) in March 2000.
On this day, Nelly Coda caught an average flying distance of 263 yards and a fairway hit rate of 71.42%, catching 5 birdies. The first day was finished by catching a birdie again at par 3 and 15 holes after reducing one stroke at par 4 (9th, 10th and 13th holes) starting with the par 5 5th hole.
Jessica Coda scored 6 birdies, 1 bogie, and 1 double bogie, and was tied for 6th with Lee Jeong-eun 6 and Heo Mi-jung with 3 under par 69 strokes. Lee Jung-eun 6 reduced 3 strokes to 4 birdies and 1 bogie and pursued the lead with 2 strokes. Lee Jung-eun 6 had a green hit rate of 72.22%, a fairway hit rate of 64.28%, and an average distance of 243 yards.
On the other hand,'world 1st' Ko Jin-young, who played with the same group, recorded 3 over par 75 strokes by writing down 3 buddies and 6 bogies, tied for 85th, and Seyoung Kim, '2nd in the world, tied for 42nd with an even par.
Jeonin-in was tied for 17th with a 2-under par with 70 strokes, and Park Sung-hyun (28) was tied for 53rd with a 1-over par.