The skull portion of the Palaeospondylus. Its skull features explain the evolutionary origins of the four-legged creature from 390 million years ago.
Nationalgeographic.co.id—In 1890, scientists were puzzled by the fossils of a mysterious extinct creature in Scotland. This little creature looks like fish and classified as Palaeospondylus gunni about 390 million years ago, during the Middle Devonian.
Recent research is revealing about this well-preserved fossil. Scientists estimate that this fossil is the earliest ancestor of evolution tetrapods, animals with four legs, including humans. They presented the findings in journal Nature on Wednesday, May 25, 2022.
"This strange animal has puzzled scientists since its discovery in 1890 as an impossible puzzle to solve," said Yuzhi Hu from the Research School of Physics and Engineering, Australian National University, quoted from Science Alert.
Palaeospondylus is a small, fish-like vertebrate about five centimeters long, and its body is like that of an eel. Fossils abound. However, their small size—and the poor quality of skull reconstruction on CT scans or wax models, and damage—make this finding difficult to study for placing in the evolutionary tree.
Scientists estimate that this creature has features in common with fish with jaws and fish without jaws. Still, there are some unusual features that are most perplexing, such as the absence of teeth or dermal bone in the fossil record.
"The morphological comparison of these animals has always been challenging for scientists. However, recent improvements in segmentation and high-resolution three-dimensional visualization have made this previously impossible task possible." "Finding a preserved specimen as good as the one we used is like winning the lottery or even better!"
So, to solve some of these problems, the researchers used the powerful RIKEN SPring-8 synchrotron. The goal is to produce a high-resolution micro-CT scan via synchrotron radiation X-rays.
This study is so different from most others, when the fossil head has to be excavated. The researchers chose to use certain fossils and observe them with their heads still completely embedded in the soil rock.
"Selecting the best specimen for micro-CT scanning and carefully trimming the rock around the fossilized skull allowed us to increase the resolution of the scan," said the lead author. Tatsuya Hirasawa dari Department of Earth and Planetary Science, Graduate School of Science, the University of Tokyo, Jepang.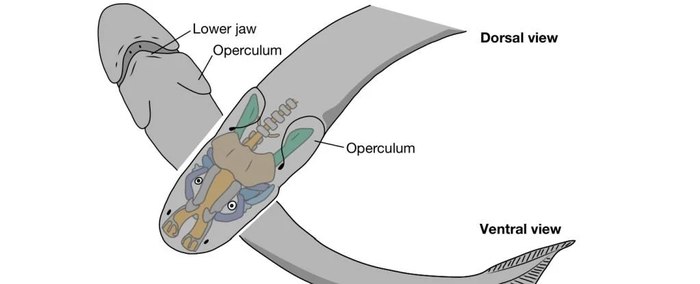 Hirasawa et al., Nature, 2022
Illustration of the head of the Palaeospondylus. There are a lot of missing features, so the related research is mysterious. It is believed that this eel-like creature is the ancestor in the evolution of four-legged creatures.
PROMOTED CONTENT
Featured Videos