Reduced to ten very quickly, Monegasques lost 5-1 against Strasbourg. Nice snatched a draw (1-1) at the end of the game against Reims.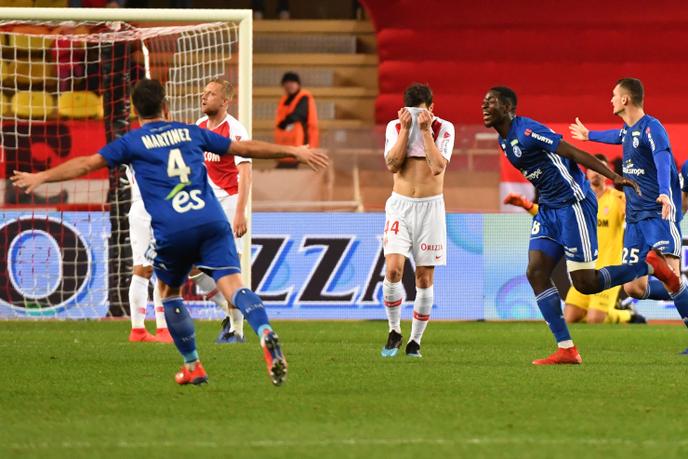 It took only ten minutes for AS Monaco to seriously complicate the task, and open the door to a tenth defeat this season. Faced with Strasbourg, Monaco still aligned his recruits, we had seen promising against Marseille (Naldo, Ballo Toure, Fabregas). Ironically, one of his winter recruits, the Brazilian Naldo, who penalized his team by being expelled, from the 7th minute, for a foul at the entrance to the surface.
Reduced to ten, Monegasques quickly conceded two goals from the lead and found themselves 2-0 after 17 minutes. The goal of Falcao, well served by Tielemans, has only postponed the deadline. In the second half, a magnificent goal from Ibrahima Sissoko and a second goal from Ajorque finished finishing Monaco, before Fofana put the nail in the extra time. The expulsion at the end of the meeting of Strasbourg Mitrovic has not changed much for the ASM, always 19th in Ligue 1. The Strasbourg, in great form, temporarily rise to fifth place.
Read also
Football: PSG ridicule Guingamp but loses Verratti
In this duel between two of the worst attacks of the championship, it is the Rémois who took the top first. Unable to make a difference, Patrick Vieira's players struggled to be dangerous. Nice, who was playing with a three-man defense at kick-off, was surprised by a goal from Rémi Oudin, superbly served in depth by Alaixys Romao. The coach Nîmes quickly responded, making out Malang Sarr to move to four defenders from the thirtieth minute.
Despite these changes, Nice has not found the flaw. Worse, the Aiglons conceded a second goal by Cafaro, but video refereeing later canceled this goal. For a long time harmless, the Nice have managed to equalize at the end of the additional time. Nice got a penalty on an opponent's hand foul, allowing Rémi Walter to equalize at the end of the match.
The Nimes lost their third match in the last four they played in Ligue 1. In front of Toulouse realists, Bernard Blanquart's players were surprised at the end of the first period by Yaya Sanogo. The players of the TFC were then able to count on a good Baptiste Reynet, who allowed his team to retain his advantage.
In the standings, Toulouse climb to the thirteenth place in the standings, a small point of their opponents in the evening, eleventh.
React or view all comments