Zlín had to do without Kašík and the usual goalkeeper number one was not ready even on the substitute. His substitute Huf collected after only 59 seconds, when he was shot by the escaping Kelly Klima.
Perret failed in the next chance. However, he soon approached Kevin Klíma, who was cleaning the disc into an empty goal. He helped the home team to reduce the hesitation of the Hradec Králové goalkeeper Mazance – in the sixth minute he was thrown into the net by Noska's throw.
Kelly Klíma from Hradec Králové.
Dalibor luck, ČTK
Hronek caused problems for Huf when Fřta was expelled, the dotted puck crawled out at the last minute. Hradec then wasted more than a minute of overpowering five to three. During the first numerical advantage of Zlín, Honejsek fired sharply, he did not come to the quickly moved Mazance.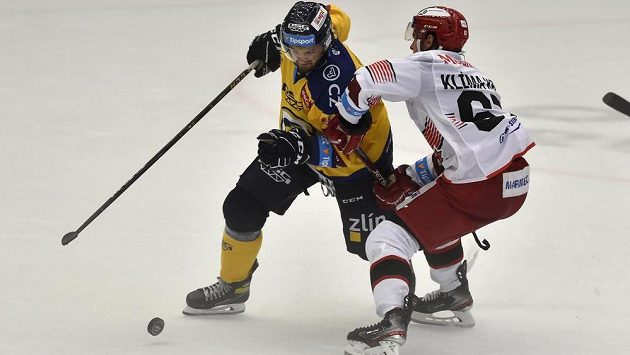 From left Jan Dluhoš from Zlín and Kelly Klíma from Hradec Králové.
Dalibor luck, ČTK
The Rams entered the second period actively, Mazanec was watching the hard blow of Řezníček from the blue line. The initiative was then taken over by the guests, and after a separate event, Cingel headed for Huf's trap. The Eastern Czechs mostly controlled the game. Radovan Pavlík could have added their fourth shot, but he was not aiming alone.
Zlín almost came up with a unique counterattack. He stirred Okál with the disc, and Šlahaře was betrayed by the processing in front of the half-exposed gate. The beater then traveled to the penalty bench and Hufa hammered Kelly Klíma. In the 39th minute, Hradec Králové's lead was reduced to a single goal for the second time, when Mazanec was not enough for Gazda's shot.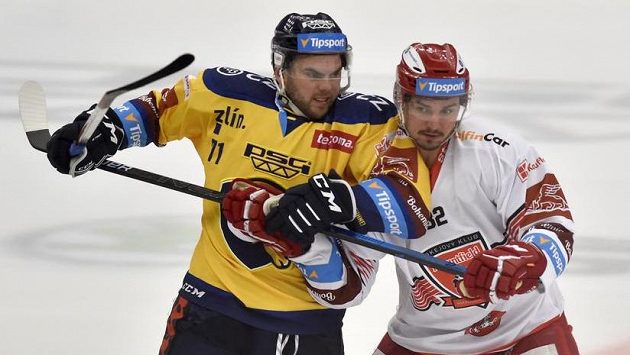 In the duel (from left) Jakub Herman from Zlín and Jakub Orsava from Hradec.
Dalibor luck, ČTK
The guests transferred the power play to the third part, but Smoleňák did not mature into a goalkeeper. Mountfield's onslaught continued in a five-on-five game, and Kelly Klíma, Nedommel's throw, was flowing and stamped his right post. Zlín then leveled off, but that didn't help either. He didn't manage to equalize in the rest of the match.
3rd round of the hockey extra league:
PSG Berani Zlin – Mountfield Hradec Kralove 2: 3 (1: 2, 1: 1, 0: 0)
Goals and recordings: 6. D. Nosek (Honejsek), 39. Gazda (Honejsek) – 1. Kelly Klíma (J. Sklenář), 5. Kevin Klíma (Perret), 24. Cingel. Judges: Šír, Sýkora – Špůr, Ondráček. Exclusion: 5: 2, in addition Kubiš (Zlín) 10 min. No use. Attendance: 499 (limited number).
Zlín: Huf – Gazda, Řezníček, D. Nosek, Suhrada, Ferenc, Matyáš Hamrlík, Dluhoš – J. Ondráček, Fořt, Herman – Šlahař, Honejsek, Okál – Karafiát, Fryšara, Köhler – Sebera, P. Sedláček, Kubiš. Coach: R. Svoboda.
Hradec Králové: Mazanec – Zámorský, Nedomlel, Blain, Hronek, F. Pavlík, Šalda, Pilař – Smoleňák, Cingel, Orsava – Kelly Klíma, V. Růžička ml., J. Sklenář – Lev, Kevin Klíma, Perret – Jergl, Koukal, R. Pavlík. Coach: V. Růžička st.
.