Jakarta –
The following is the latest MotoGP 2020 constructors standings update after Yamaha, along with its two teams MotoGP 2020 that is Monster Energy Yamaha and Petronas Yamaha SRT, subject to a point deduction sanction.
The Yamaha manufacturer was sanctioned by the FIM MotoGP Stewards for violating regulations. The FIM did not specify the details of the breach, saying only Yamaha had not followed protocol.
"Due to internal controls, Yamaha Motor Company failed to respect the protocol requiring them to obtain unanimous approval from MSMA for technical changes," reads the FIM statement.
According to Crash, sanctions are given because Yamaha uses illegal components in the Spanish MotoGP. Yamaha is claimed to use a valve that does not comply with the engine homologation rules set before the championship season.
As a result, the Yamaha manufacturer was sanctioned by a 50 point reduction in the constructors table. Meanwhile, the Monster Energy Yamaha team got a 20 point deduction, and the satellite team, Petronas Yamaha SRT, was also reduced by 30 points.
The riders are not sanctioned. Valentino Rossi, Maverick Vinales, Fabio Quartararo, and Franco Morbidelli sanction free.
With only the team and manufacturer being sanctioned, there will be a change in position in the MotoGP 2020 constructors' standings. Yamaha must step down from the top position.
The Motogp 2020 constructor standings after Yamaha were sanctioned by a point reduction. (Photo: wikipedia screenshot)
Yamaha is now in third place with 158 points, behind Ducati (171) and Suzuki (163). While in the team standings, Petronas Yamaha is still in second place with 198 points (should be 235 points).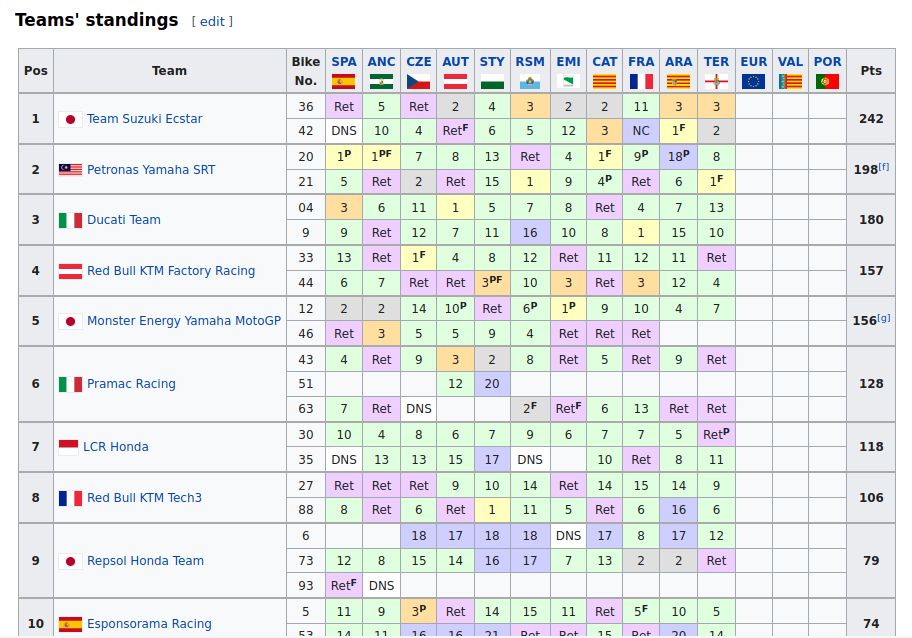 The MotoGP 2020 team standings after Yamaha were sanctioned by a point deduction. (Photo: wikipedia screenshot)
Meanwhile, Monster Energy Yamaha has also dropped to fifth place, from being in position 4. The Yamaha main team now has 156 points (out of 176 points), overtaken by Red Bull KTM Factory Racing which has risen to fourth.
This weekend, Yamaha itself will return to compete in European MotoGP. Victory must be won to be able to restore the team's position in the 2020 MotoGP constructors' standings.
(then / krs)
.