Real Madrid footballers have confirmed the post of leader of the Spanish La Liga. On Saturday, in the 13th round, they defeated Rayo Vallecano 2: 1 at home thanks to two goals from the first half.

TASR

06.11.2021 18:36, updated: 23:17
Photo: SITA/AP, Lalo R. Villar

Currently Celta Vigo – Barcelona.

At the top of the table, they have a two-point lead over Real Sociedad San Sebastian.
FC Barcelona did not recognize the taste of victory in the Spanish La Liga even in the fourth match in the series, when in the match of Saturday the 13th round he drew 3: 3 on the lawn of Celta Vigo.
After half time, the Catalans led 3: 0. The new coach Xavi Hernandez has not yet sat on their bench.
Ansu Fati, Sergio Busquets and Memphis Depay pushed for the "Barca" during the break, but after the change of sides, the Galician were able to equalize the match.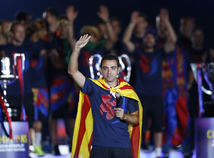 Read more It's time to go home, they welcomed him. Xavi has officially become the coach of Barcelona
The net was broken by Nolito and twice by Iago Aspas, who scored for the team in the sixth minute of the set time from the last shot of the duel.
The players of Espanyol Barcelona defeated Granada 2: 0. They scored fully after three duels.
La Liga – 13. kolo:
Real Madrid – Rayo Vallecano 2: 1 (2: 0)
Goals: 14. Kroos, 38. Benzema – 77. Falcao
Deportivo Alaves – UD Levante 2: 1 (0: 1)
Goals: 77. and 90. + 1. Joselu (first of 11 m) – 13th de Frutos
Celta Vigo – FC Barcelona 3: 3 (0: 3)
Goals: 52. to 90. + 6. Aspas, 74. Nolito – 5. Fati, 18. Busquets, 34. Depay
Espanyol Barcelona – CF Granada 2: 0 (2: 0)
Goals: 30. Pedrosa, 42.from Tomas
.