Tim Cook Apple CEO [사진=AP 연합뉴스]
Apple has announced that it will run a major anti-racism initiative against racism. Tim Cook, Apple's chief executive officer (CEO), said in an exclusive interview with CBS in the United States on the 13th (local time). It is an interview that attracted attention by saying that'Apple's major announcement' was scheduled.
Apple announced today that it is launching a $100 million anti-racism initiative. The Propel Center, a hub for preventing racial discrimination, will be established to provide education, internships, and mentoring to minorities. Historically, students focus on major black universities.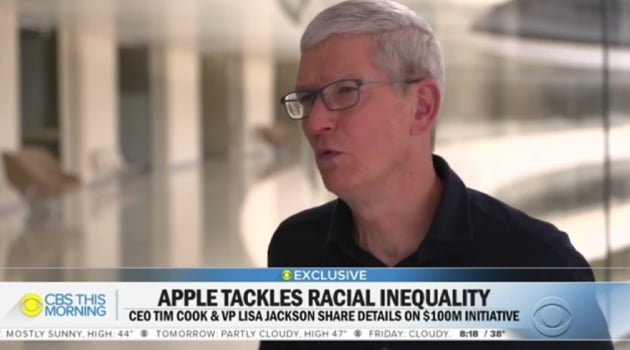 CBS broadcast capture
Apple will start an entrepreneurial camp next month for black founders and developers. It invests $25 million in a fund that focuses on supporting SMEs owned by people of color. "We will work together to empower those who have been hit by racism for so long," said Tim Cook, Apple CEO.
CEO Cook This interview attracted attention ahead of time both inside and outside the domestic stock market. This is the first time that Cook has been in an official interview since the 8th, which is known to be discussing cooperation with Hyundai Motor Company. For this reason, some forecasts that there will be comments about Apple's own electric vehicle business or its partners.
Gale King, the host of'CBS This Morning', who met CEO Cook, emphasized, "It's not related to new products, but there will be a big announcement," and "an important and very interesting story."
Reporter Sun Han-gyeol always@hankyung.com
Ⓒ Hankyung.com prohibits unauthorized reproduction and redistribution