Urban sketching is an international phenomenon in which people draw in public space – and that also in Hessen. The Urban Sketchers Rhein-Main celebrate their tenth anniversary in June. Since its foundation, the network of professionals and newcomers has been growing steadily.
Von Sina the Batanony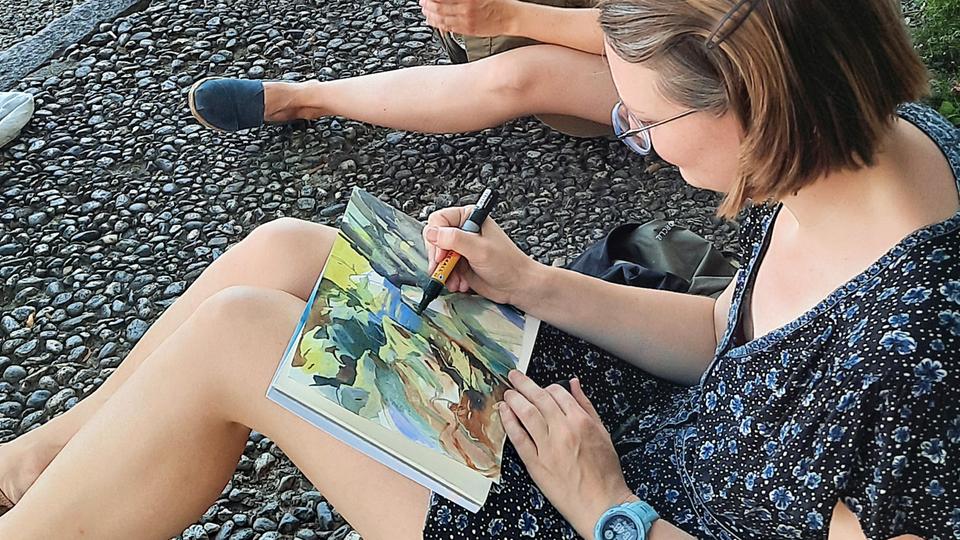 "Urban sketching" or "sketching in the city", the literal translation of urban sketching, describes quite well what happens in this phenomenon. Artists come together and paint the place where they are at the moment. The drawings do not have to have a specific style – but should be created immediately, capture the current time and atmosphere of a place and then be shared with the world.
Urban sketching: a growing movement
Combining drawing and togetherness is the essence of urban sketching. The movement has existed since 2007 and was founded by American illustrator Gabi Campanario. He began publishing drawings of his surroundings on Flickr, an online image platform, and later on a blog – and quickly found like-minded people.
Urban sketching is now an international phenomenon and network. There are over 300 chapters, i.e. offshoots, worldwide. With the exception of the Corona period, annual scene meetings of the Urban Sketchers take place, so-called symposia, which are organized around the world. There are several in Hesse alone, for example in Kassel, Fulda and in the Rhine-Main area.
The Urban Sketchers Rhein-Main
"You only need a pen and an old pad," says Jörg Asselborn. Then we can start. The illustrator and graphic designer is himself active in the Rhein-Main chapter and has been with it almost since it was founded. That means he not only draws a lot professionally – but also in his free time, especially outdoors.
External content
Show external content from Instagram?
Here is content recommended by our editors Instagram. Since you have deactivated Javascript in your browser, it cannot be displayed here. The following link opens the content on the provider's website.
Open Instagram content


End of external content
Ideas


The Rhein-Main chapter was founded in 2013 by Jenny Adam and Birgit Ruiz-Velasco. Illustrator Jenny Adam discovered urban sketching during her studies. At a scene meeting in Barcelona, ​​she met Birgit Ruiz-Valesco.
When they realized that they both come from the Rhein-Main area, they decided to organize their own chapter. If there isn't one, then you have to found one yourself, says Adam.
Jörg Asselborn from Wiesbaden joined the two artists from Darmstadt and Mainz. Over the years there have been more and more Urban Sketchers. At their meetings, up to 60 people sometimes come together to draw.
For example, on so-called sketch walks, i.e. walks through the city where people draw together. Although creative professional groups are often well represented among the participants, professionalism is not a must, according to Illustrator Asselborn. There aren't many strict rules when it comes to sketches anyway – it is particularly important that you draw from observation and not from a template.
"We show the world, drawing by drawing."
The results of the joint sketches are often exhibited at different locations. Most recently, the Urban Sketchers Rhein-Main organized a small exhibition in the art workshop in Wiesbaden – on the "Route of Industrial Culture".
The pictures of the draftsmen and women can not only be seen in analogue form – via Instagram and on her Blog the Sketchers post their works of art together or privately, in line with their motto "We show the world, drawing by drawing."
External content
Show external content from Instagram?
Here is content recommended by our editors Instagram. Since you have deactivated Javascript in your browser, it cannot be displayed here. The following link opens the content on the provider's website.
Open Instagram content


End of external content
Ideas


All are welcome
The Urban Sketchers Rhein-Main initiative is celebrating its tenth anniversary this year. To mark the anniversary, they are offering a whole program over the weekend of June 23-25 ​​in Darmstadt.
Adam and Asselborn are leading a few workshops over the weekend, but there is a lot of interest – apart from an open sketchwalk, the offers are already fully booked. Everyone is welcome at the Open Sketchwalk, no prior knowledge is required. The event is sponsored by the Hessian Ministry for Science and Art as part of the Kultursommer Südhessen.
Further information
10th anniversary of the Urban Sketchers Rhein-Main
In addition to exhibitions and workshops, an Open Sketchwalk is also planned for the weekend of June 23-25, in which anyone interested can take part without registering. It begins on Sunday, June 25 at 10 a.m. at Georg-Büchner-Platz in Darmstadt.
About their Website and your `s Instagram-Kanal The organizational team of the Urban Sketchers Rhein-Main also regularly informs about upcoming dates independently of the anniversary program.
End of further information
Although the Urban Sketchers Rhein-Main have grown over the years, the core remains the same for Jenny Adam: "Back then it was about hanging out and sketching together. And I think that's exactly what it's still about."
Further information
End of further information

#years #Urban #Sketchers #RheinMain #pen #pad