The renewed premiere of the Portuguese footballer Cristiano Ronald in Manchester United did not go without problems.
Photo: SITA/AP, Rui Vieira

Cristiano Ronaldo during the match against Newcastle.

The 36-year-old striker scored two goals in Saturday's home debut against Newcastle United and contributed to the 4: 1 triumph, but before the match, the feminist group Level Up reminded him of a sex scandal two years ago.
Before the opening whistle, a plane with the banner "We trust Kathryn Mayorg" flew over Old Trafford Stadium. The activists thus recalled the case in which Mayorg accused Ronald of rape.
According to media reports, the incident was to take place in 2009 at a hotel in Las Vegas. A year later, the two sides reached an out-of-court settlement, and Mayorg agreed to remain silent for $ 375,000.
But she turned to the police two years ago. However, she did not find enough evidence and did not accuse Ronald. The player himself did not deny meeting the incriminated woman, but insists that their contact was voluntary. The BBC website informed about it.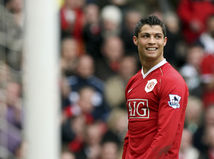 Read more Ronald's new jerseys earned almost twice as much as Messi's
.