The opening of Aldi's temporary outlet dump immediately caused a surprise on the first day. On Saturday, Aldi opened an outlet store in Deurne for non-food products that it was unable to sell during corona. It has been queuing since the opening. By midday it became so crowded that customers were held back at the door until things calmed down in the store.
ALSO READ. Aldi opens temporary outlet store in vacant warehouse in Deurne: "Heavy discount on non-food products"
As if all of Deurne and the surrounding area had received the memo that an Aldi outlet store would open on Saturday. From early in the morning there was a long queue for the temporary store where the supermarket chain sells non-food products at bargain prices.
Parking and security were provided and even Aldi staff was deployed to manage the flow of cars, but it was still difficult to get all the people through the store and past the cash register in a serene way.
Customer is injured
It became chaotic at Merksemsesteenweg, especially around noon. There was almost no room to maneuver in the store and one of the customers even suffered minor injuries. She cut her hand on one of the products in the middle of the crowd. The staff then decided to close the doors of the store for a while until it was quieter inside again.
This resulted in waiting times of more than an hour with queues of at least 150 customers whose patience was being tested very hard. Meanwhile, customer after customer poured out with a shopping cart overflowing with garden tables, music boxes, suitcases and more. Because that's what this outlet is all about, dirt cheap products that Aldi was unable to sell during corona.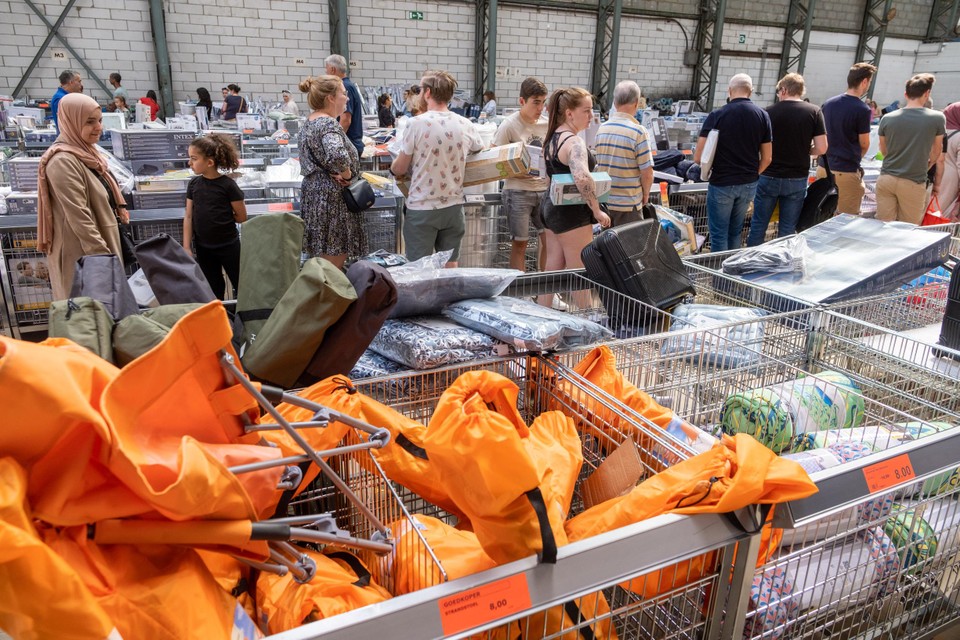 "Worth the effort to join"
"The prices are very attractive, so it's really worth waiting and queuing. We have bought garden tables, garden benches, bluetooth boxes, baby clothes, a bath mat and smoke detectors. Probably other things too, but I've already forgotten those. That bamboo bath mat cost only 6 euros, the garden bench 20 euros," says Nathalie Kiekens (34) outside, who herself works at Aldi.
"But we also just have to join as customers to be able to buy products. I'm glad I don't have to work here today because it's very busy inside. We were unable to do one aisle in the store because there were too many people. We will go home satisfied with all that new stuff."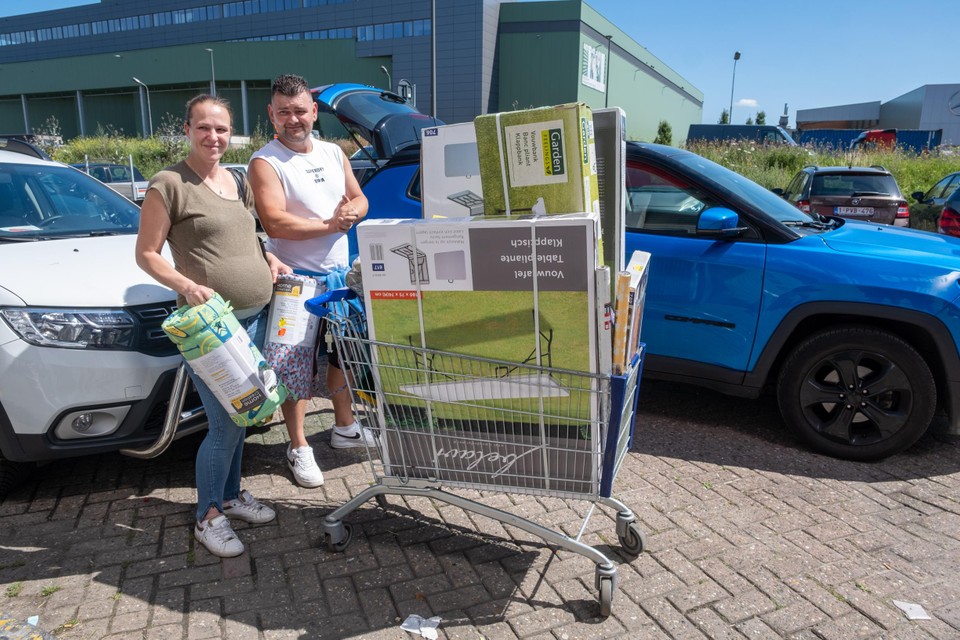 Corona figures
Meanwhile, Chris D. had been queuing for over an hour in front of the store. "They could have handled it a little better here. I'm thinking of more cash registers, for example. Or sell part of it online. Perhaps it is also more convenient to work with a product list in advance so that everyone knows exactly what is on sale. Now that the corona numbers are rising again, it doesn't feel so good to be here in this crowd," he says.
Why then does he want to spend his Saturday in front of a busy outlet store? "I'm a persistent person, sometimes you just have to persevere. And I would like a parasol for the garden."