The German journalist and doctoral chemist Mai Thi Nguyen-Kim's YouTube video is currently going viral. It recorded over four and a half million clicks in a week.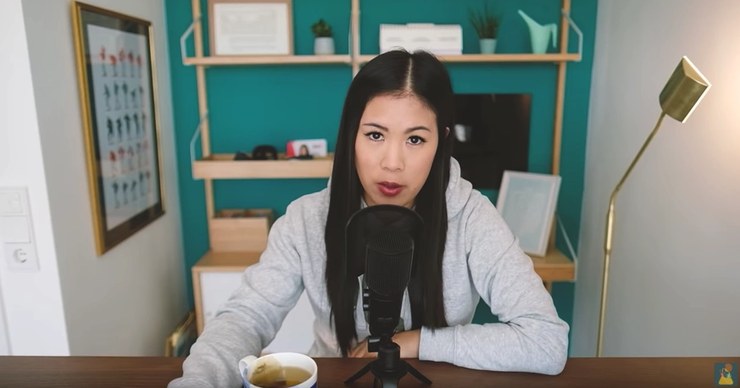 In a 22-minute video, she uses data from the German Society for Epidemiology and the Robert Koch Institute to explain "why Corona is just starting." How long the pandemic could continue has not been reported enough. «It is right and important to drive in sight in the fog. But we still want to know how long the road will be, right? »Says Nguyen-Kim, whose YouTube channel is supported by funk. funk is a joint offer by the German media companies ARD and ZDF.
Your analysis is bleak. But more on that later. In the video, she mentions three ways out of the lockdown: herd immunity, targeted isolation and vaccination. These are their advantages and disadvantages in detail.
1. Herd immunity
In the much-discussed herd immunity, 60 to 70 percent of the population has to become infected so that the virus cannot find enough new "hosts" and is therefore eradicated.
In Switzerland, these correspond to approximately 60 to 70 percent 5.1 to 6 million People who would have to go through this process. There are currently 21,737 people in Switzerland (as of April 7, 2020) who tested positive. So we would be close now 0.25 percent the presumed herd immunity value. But nobody knows how many are actually infected or have survived the disease without symptoms. There is currently a lack of clarity about this unreported figure. So, like the scientist Nguyen-Kim, we calculate with a ten-fold dark figure. Then we would only be with 2.5 percent Herd immunity.
There are basically two options (or a mixture of both) to infect 60 to 70 percent of the population with the virus.
1. The slow option
Massive measures currently apply to Switzerland. Thanks to them, we were able to reduce the number of people who tested positive to around 600 per day. If we assume that the number of unreported cases is ten times higher, this would mean that 6,000 people a day are infected with the corona virus in Switzerland.
So it would still take around 850 days until we have the 5.1 million infected people that are needed for herd immunity almost two and a half years! And of course only with the existing measures: closed schools, borders and shops.
Although our health system would remain stable and would guarantee the best possible care for the sick – this is not an option for the economy.
2. The quick option
Of course, one could loosen the measures and ensure that more people become infected with the virus again. So our society would be immune within a shorter time.
The problem here: Since many more people are sick at the same time, our health system would be completely overloaded. The question would quickly arise who is connected to a ventilator and who is not. How many lives we would have to put up with is hard to predict and difficult to represent ethically in a democracy.
The two options (and a mixed solution) in a graphical comparison
The graphic for Germany shows: With the fast option, 1 person infects 3 other people (more on this below). As a result, the epidemic in Germany is over after "just" a little over 100 days and herd immunity has been reached – but several 100,000 people would be dependent on a bed in an intensive care unit at the same time and would overload the hospitals.
the curve would be significantly flatter. Fewer people would be dependent on intensive medical care at the same time – the curve, however, is massive in length and is not over even after a year.
Advantages and disadvantages of herd immunity
Advantage: Society is immune (at least as long as the virus does not mutate)
Disadvantage: Great damage either to the health system (= many deaths) or to the economy
2. Isolate infected people and check contact chains
The aim of this method is to use a strict lockdown to reduce the number of infected people so that you have an overview of the new infections. The infected people are professionally isolated and their contact chains are broken. The virus would only move in a circle that you know very well. So you try to reach out to an infected person as few people as possible infects.
This number is the so-called basic reproduction number (R0). It says whether an infected person infects three more people or just one more person. If the number R0 falls below 1, the virus will disappear in the long term. For SARS-CoV-2, this value is currently between 2.4 and 3.3 according to the German Robert Koch Institute. If no measures are taken, each infected person infects two to three other people.
With currently over 20,000 cases in Switzerland, it is now impossible to track and test who is infected and who this person has had contact with. In the video, the Youtuber and scientist Nguyen-Kim assumes that this would only be possible in about 1,000 cases in Germany.
A reduction to less than 1,000 cases in Switzerland is only possible if drastic measures are followed. And currently the numbers are still increasing – due to a possible relaxation of the lockdown we would have to wait a long time accordingly.
Pros and cons isolation of infected people
3. Vaccine / drug
According to the WHO, 68 vaccine projects are currently underway worldwide. The projects that have made the most progress have already reached stage 4 or will soon reach them. In this, the vaccine is tested on volunteers.
However, the development, testing and approval of vaccines are not the only decisive factors. It also depends on the production capacities. It is therefore not primarily important who gets approval with the first vaccine, but also that as much of it as possible can be produced.
Although the researchers are working flat out on vaccines, they will until spring 2021 be ready, as the President of the Robert Koch Institute told ARD.
In addition to the vaccine, the virus should also be combated with medication. Almost 70 drugs are tested worldwide. But the WHO criticized the poor quality of the studies to date. That is why the World Health Organization announced that it would launch a large study together with ten countries under the name "Solidarity". The central question to be answered is whether one of the drugs can reduce mortality or time in hospital.
Advantages and disadvantages of vaccine
Advantages: Society and especially the risk groups would be permanently immune to the corona virus
Disadvantages: schedule difficult to estimate, probably not available before spring 2021
Celebs with coronavirus:
.