In most cases, surgery is performed to remove the tumor. (COURTESY)
The federal Secretary of Health reports a total of six cases of breast cancer in men, from January to the first week of this month of May.
Although malignant tumors are more common in women, men can also develop them.
As in the case of women, men are recommended to go to the doctor in case of detecting a lump in the chest, to be examined.
Two cases have been reported in the neighboring state of Durango. Nationally, the number of cases of breast cancer detected in men is 121.
ALSO READ America has depression but devotes few resources to fighting it
According to information from the Mexican Institute of Social Security (IMSS), breast cancer in men can be detected through the relevant examination.
Once it is detected, the procedure continues as a priority and urgent. The patient is referred to the Epidemiology service, where the procedures are carried out in the breast clinic.
In most cases, surgery is performed to remove the tumor.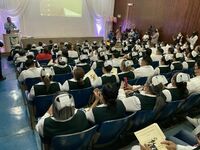 ALSO READ IMSS Monclova and Frontera nurses recognized
Faced with this situation, the Social Security staff urges the population, not only women, but also men to have their check-ups in person every month, as well as annually with preventive studies and check-ups.
Likewise, the health authority added that medical institutions throughout the country have trained personnel to carry out timely detection of this condition.