When Peter Møller answers the phone, he has just seen Sweden's U17 national team beat Denmark in the U17 European Championships. He would like to point out that Swedish football is successful. There are many talented talents, Malmö FF was in the Champions League last season, it was not a Danish team.
But of course he can talk about that things are going well for Denmark.
Denmark are the only ones in Scandinavia to go to the World Cup in Qatar – last year they charmed their way to a semi-final in the European Championships.
Peter Møller has overall responsibility for the national team in the Danish federation DBU. He points to two things that are behind the success of Danish football.
One is about the result of close and good cooperation between unions and clubs, where the union's licensing requirements have contributed to a high quality of talent development in the clubs. The second is that the national team has a clearly defined and pronounced style of play.
What is most in the call right now in top football is organization and identity. To choose which style of play you want to stand for and have a long-term strategy where you recruit coaches and players to fit into it – such ambitions characterize both the world's best clubs such as Liverpool and Manchester City and smaller associations in the Allsvenskan.
The mindset is also felt again in what Peter Møller says.
– We like to be a bit offensive, we like to be proactive, we like to have the ball, to play technical football, to try to create the match instead of waiting for the opponent to make mistakes. And the Danish audience wants to be entertained. In addition to the fact that the most important thing is to win the matches, we have created an identity, an expression that makes people want to see the way we play now. And it also creates results, he says.
The idea of ​​the Danish identity was what made Peter Møller recruit Kasper Hjulmand two years ago, the national team captain behind Denmark's semi-final success in the European Championships.
The national team captains of all national teams, for men, women and youth, must stand for a similar game idea.
While the Swedish national team captain Janne Andersson before the ongoing national team gathering announced pragmatically that Sweden will change its way of playing because the new generation of players play in a different way, Denmark has already formulated a clear direction on an overall level.
But they have not quite found their identity yet, says Peter Møller. Over the years, the A national team has not always followed the common thread, when short-term results, qualifying for the championship has become more important. And Denmark does not have as clear an expression as the Netherlands or Spain – Peter Møller also mentions Sweden with his 4-4-2, organization and loyalty.
But technical and offensive football is well suited for the players who develop in Denmark. There are creative players who want the ball.
– I do not think we have punctuated our expression completely yet, but we try to get there, because it means something to the players that we will develop, the way we will lead and communicate, and in the long run I think it gives us a competitive advantage.
But if there is a spirit of cooperation now, it was not long ago that conflicts characterized Danish national team football.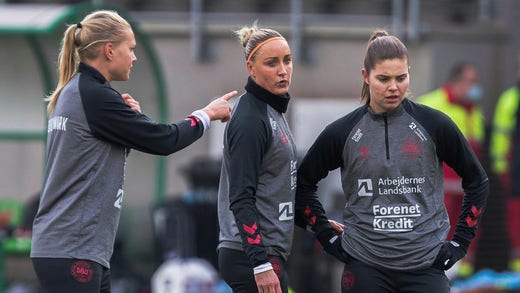 The refusal of the players to signing new agreements led, among other things, to the women's national team not appearing for a World Cup qualifier against Sweden in 2017. They missed the tournament.
The following year, substitutes were sent to a friendly against Slovakia when the men's national team went on strike.
– It is not more than three and a half years since we stood there. I am pretty sure that we are not close to ending up there again, because we have an understanding and respect for each other now more than before, says Peter Møller.
He points to the talent development that takes place in the clubs as central to the national team's success. On the men's side.
The same clubs have rarely women's activities. Denmark is far behind both Sweden and the largest football nations in Europe. Even if the national team is in the European Championships this summer and well on its way to being ready for the next World Cup.
Denmark must get more girls to play football, says Peter Møller.
– FC Copenhagen talks about it being "the city's team", but is it only for men? I think they have some considerations to make, about how they go into women's football, says Peter Møller, and also refers to the other Danish big clubs.
Read more: The Danish model behind the talent explosion