The collapse of the telescope was not unexpected; already in November, it was decided to terminate its work due to a break in the cable – the second one in three months – supporting the platform with the telescope's instruments. It was planned to be demolished.
As reported in the NSF release, the reason for the collapse of the platform above the telescope's canopy was the collapse of three towers supporting the structure. No person was hurt in the accident, but apart from the telescope itself, the building of the observatory's educational center was damaged.
In operation for 57 years, the radio telescope was the largest such instrument in the world until 2016, when the 500-meter FAST telescope was completed in China. The observatory survived, among others earthquakes and many hurricanes.
The radio telescope was used, among others, by for the discovery by Polish astronomer Aleksander Wolszczan of the first extrasolar planets (around the pulsar PSR + 1257). In 1968, it was used to obtain evidence of the existence of neutron stars. It was also used, for example, in studies of the solar system to obtain radar images of asteroids. The instrument was also used to search for potential signals from extraterrestrial civilizations, and it also sent a signal into space from the inhabitants of the Earth.
The telescope also has a film career behind it. He appeared in the 1997 films "Contact", "Genre" in 1995, as well as in one of the James Bond films ("GoldenEye in 1995), as well as in an episode of the series" From the X-Files. "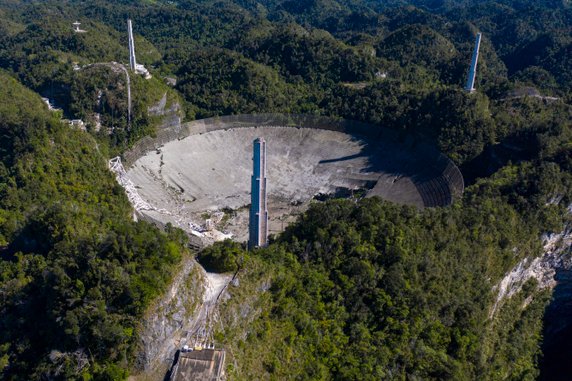 Ricardo ARDUENGO / AFP