How would you describe the situation of availability and prices of energy resources as a representative of the European Union Parliament? What is being said in Brussels on this issue?
One thing is absolutely clear and we must record it: we will never return to the situation we had before February 24, when we bought gas, oil products, also wood and coal from Russia at a relatively low price. Today's task for the European Union as a whole is to find solutions to obtain resources from other sources. Figuratively speaking: if in the past there was one highway on which everyone drives, and everyone thought it was quite good, now the question is: is it allowed to drive on this road at all?
It is clear that there will be electricity, gas, oil, coal in Europe, because Russia is not the only country in the world where energy resources are available, but the question is: how much will it all cost, and what will be the delivery routes?
Energy is the area of ​​greatest debate in Parliament, including the possibility of making Europe energy independent this year from other sources and via new supply routes. The EU has set a goal to fill all gas storages with natural gas to the extent of at least 80% by the end of this year. The second task is to reassure all Europeans by making it clear that gas will be available.
You mentioned new roads. How quickly can they be learned and where will they lead?
photo-left
photo
-size-p50
photo
-with-zoom" data-zoom-
photo
="https://zinas.nra.lv/_mm/photos/2022-06/1440px/569432_dc911bb121.jpg" data-zoom-
photo
-size="1440x960">
The development of new sources of resources and the creation of infrastructure that would allow the extraction and delivery of gas and other resources to European countries is not a matter of one or two years and requires huge investments. Instead of the usual single highway that was the Russia-European Union, several roads must now be built, because although other countries of the world also have large enough reserves of gas and oil, their extraction and logistics are not well developed enough to meet the growing demand. Today we can already talk about the highway connecting the Caspian Sea with the EU. One of the countries that can offer gas and oil is Azerbaijan, which has access to the mentioned Caspian Sea. Kazakhstan is also one of the countries with significant gas production, but it does not have access to the sea, so until now it used Russian infrastructure. In the new geopolitical situation, Kazakhstan could connect to the Azerbaijan highway to the EU. I would like to note that Azerbaijan already provides most of Italy's gas consumption. Greece, Bulgaria and other southern EU countries also use Azerbaijan's resources. It must be admitted, however, that currently Azerbaijan can provide only a third of the volume that the EU bought from Russia in the past. The quality of Azerbaijan's oil is also high – in fact on the same level as the oil produced in the United Arab Emirates.
Iran, Pakistan and other southern countries are also nearby. This means that in several EU countries, which vitally need gas for the maintenance and development of the economy, new infrastructure will have to be built, including liquefied natural gas terminals, which will open the possibility of receiving gas from Qatar and the USA as well. Clearly, the huge investment required to build new infrastructure is in the billions and will have an impact on the final price of the resource.
Germany feels the limited availability of gas very strongly. What steps is it taking to preserve its economy, which has relied heavily on Russian gas?
Looking at Germany, which is highly dependent on gas, we see that one of the largest EU economies is experiencing a deep crisis. This is deepened by the historical decisions that predicted the shutdown of nuclear power plants. Today, restoring their operation would be too complicated a process, therefore, in search of opportunities to preserve the national economy, the use of coal for the production of electricity and heat is being restored. Consequently, Germany has found itself in complete contradiction with the European Green Course it supports, because coal is the worst alternative from the point of view of environmental protection.
Gas prices in Germany have a significant impact on households, for example, if a German used to pay around 200 euros per month for gas supply to a private house, now it costs 800 euros. Of course, such a price increase causes different emotions in society.
Discussions are currently underway in Latvia regarding the construction of liquefied gas terminals in Kundziņsala and Skulte, as well as in the context of the Estonian-Finnish joint project in Paldiski. What are your thoughts on this?
Traditionally in Latvia, it is customary to discuss absolutely everything at length and extensively. What potential investors want to achieve are state guarantees that the state will purchase gas directly from this supplier within a certain period. And this is understandable, because the cost of the liquefied gas terminal is measured in billions and no businessman is ready to invest if he is not sure of the return for at least ten to fifteen years. I think that the Latvian government is not really clear about how much gas Latvia really needs, how much for the Baltics as a whole, and how much of it is already covered by Klaipėda and the future terminal in Paldiski. Latvia's advantage is the Inčukalna gas storage facility, and it could be one of the cornerstones that can play in favor of a terminal realized in Latvia.
What should the Latvian government do in this context?
The same as in the EU as a whole – to accumulate gas reserves as much as possible and to tell the public that there are people in the government who actively think and act so that there is enough gas in Latvia. We will see how well it will turn out in the fall, when the Saeima elections are over and the heating season begins.
photo-left
photo
-size-p50
photo
-with-zoom" data-zoom-
photo
="https://zinas.nra.lv/_mm/photos/2022-06/1440px/569430_6ed45d7601.jpg" data-zoom-
photo
-size="1440x960">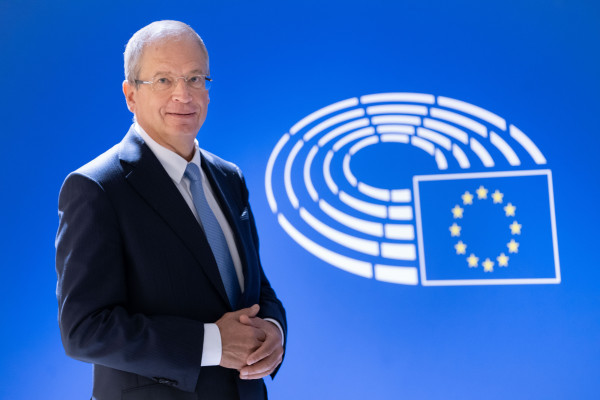 As the European Green Course envisages, maximum attention should be paid to the creation of infrastructure for renewable resources – solar and wind parks. If last year we discussed it purely theoretically, today it is a reality – all the solar panels have been purchased a year ahead. I can say with absolute certainty that support from EU funds is already available for the creation of such an infrastructure and will continue to be available in the future.
You have already said that in Latvia there is a year-long queue to be able to buy solar panels, but there is another problem – not all places in Latvia have access to electricity grids capable of transferring the produced electricity.
Yes, this is the biggest problem right now. If solar panels and other necessary equipment can be produced, then the replacement of power grids will require much larger investments and much more time – I would say that the currently available EU fund support should be directed to the improvement of power transmission networks. Everyone knew about this problem at least ten years ago, but it was ignored because no one thought it was relevant. However, no one thought that solar and wind energy would ever be perceived as a serious section of electricity production in Latvia. This is also another proof that we have entered a completely different reality and we need to reevaluate everything we have and how we can live in the future. Other EU countries are in a similar situation, so we talk about it both in the EU Parliament and the EU Commission, as well as in each country individually.
Recently, the EU Parliament voted that in 2035, light vehicles with internal combustion engines will no longer be produced in Europe – so we have a transition period, during which we need to create an infrastructure that not only ensures a sufficiently large amount of electricity production and availability, but also an infrastructure designed for electric cars for charging. Even now, the biggest problem why electric cars do not gain enough popularity is the unavailability of charging points. It seems that the problem can be solved simply – by installing an electric car charging point at every gas station, and the problem is solved. However, it does not happen, because the capacity of the already mentioned power transmission networks is insufficient – new substations are needed, transmission networks must be replaced, which would be able to provide simultaneous charging of several cars. This requires huge investments for entrepreneurs.
Is there a possibility that in order to overcome this crisis, deviations will be made from the European Green Deal, which envisages a 55% reduction in CO2 emissions by 2030?
In the short term, at least in the next few years, there could be deviations, but this cannot be a long-term solution. The EU's greatest emphasis will be placed on support for the creation of renewable resource technologies and infrastructure, which would allow reducing CO2 emissions at the same time, but would not create additional burdens for households and manufacturing companies. In July, the European Parliament will vote on the specially supported areas of electricity production from the Recovery Fund, including nuclear energy and gas cogeneration stations. For example, France has developed and wants to continue the started work in the production of nuclear energy, but Germany needs significant support for the improvement of the infrastructure of gas use. Let's remember that France and Germany are two of the seven donor countries of the EU, while the rest are recipients of EU support, so the economic growth of these countries is also important for those countries that receive EU support – including Latvia. At the same time, there are many in the European Parliament who do not support either of the mentioned types of electricity generation and consider it a significant departure from the Green Deal. At the moment it is difficult to predict the outcome of the vote, but personally I will vote in favor of gas and nuclear energy production as well, because it is important to use any resources that ensure energy independence. If the "green thinkers" win this battle of principles, it will be a big challenge for the economic sustainability of all EU countries. It must be understood that at the moment we cannot say for sure that by this time next year the crisis will be over and everything will be fine – no one can say that, so we have to foresee several scenarios already.
With the war in Ukraine, we hear more and more often about world hunger. How could this affect self-sufficient European countries?
Europe can provide itself with food, the only question is the price, because inflation takes its toll. The greatest concern is for the countries of Africa and South Asia, for which Western countries have been providing food for years as part of humanitarian aid. At the moment when this aid is no longer so generous and food shortages begin in the respective regions, we may face very serious consequences, including migration to richer countries and outbreaks of new internal conflicts, which may also threaten our peaceful existence. That's why it's essential to feed people who need it so they don't have to deal with the consequences later. The European Parliament has passed a resolution that humanitarian food shipments will continue to be delivered, but we are aware that it will cost us much more than a year ago.
Can we talk about Covid-19 today as a matter of fact and prepare for the fact that in the fall we will face various restrictions again?
I don't know if my opinion is popular, but I think that covid is not and will not be an issue anymore, except if the death rate increases. If the death rate from Covid-19 increases, then we will have to think about restrictions, but I think that covid has become a part of our daily life – it is no longer so deadly. From the point of view of the EU Parliament, in this situation, when we have so many threats, to introduce any more restrictions would be suicide.
EU member states received large sums from the Recovery Fund. Is it expected that a support program will also be opened to overcome the energy crisis?
Definitely no! In the early years of Covid, everyone realized that the economy would not survive without support, so the money printing machines were turned on all over the world. For example, in the EU, 7.8% of the total amount of goods and services was not covered by additional printing, which amounts to trillions.
Now the money printing machines around the world have been shut down and the real amount of euros in circulation has been fixed. For every euro in the digital environment, there is a real paper or coin euro.
At the moment, no additional funds are expected from the EU, other than those already earmarked for various forms of support, including the Recovery Fund. Today, the European Commission recommends evaluating the possibilities of reducing expenses – it is not clear to me how this could be done, but there will be no additional money!
Paid publication of the Group of the Progressive Alliance of Socialists and Democrats in the European Parliament https://www.socialistsanddemocrats.eu/meps/ameriks-andris