Marvel and Square Enix held a new one this week War Table presentation for its coming Marvel's Avengers. This time the focus was on the action game's upcoming beta test, and we got to know exactly what fans get the chance to experience.
During the test phase, participants get to take part in a selection of single-player assignments. It all starts with the first A-Day mission, which we have seen several times before. Then the trip goes out into the jungle, on two different Hero missions with Kamala Khan and Hulk.
Players who get through the campaign portion of the beta test unlock content that can be tackled either alone or with up to three friends. Here awaits the HARM Challenge Rooms – a type of horde mode where players battle waves with ever tougher resistance – and five different War Zones – missions that can last anywhere from ten minutes to two hours.
Several test phases
The first beta round kicks off on August 7, and offers two days of testing for those who have pre-ordered Marvel's Avengers on PlayStation 4. From August 14 to 16, all PlayStation 4 owners will be free, as well as those who pre-order on PC or Xbox One. Finally, the doors open to absolutely everyone between 21 and 23 August.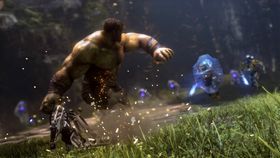 Progress, related to missions, equipment, experience points and so on, stays with you throughout the beta period. Square points out, however, that you will not be able to continue anything until the full version, which will be released on September 4.
The developer also has plans for the time after launch. On Wednesday, the team unveiled that Clint «Hawkeye» Barton becomes the first character introduced via additional content. Additional characters and other content will be released eventually, but plans for this are currently secret.