Lee Jung-woo went missing near Gayang Station on the 7th of last month.
A body believed to be Lee Jung-woo (25), who went missing near Gayang Station last month, was found.
According to SBS "I want to know" on the 24th, 10th, Lee's lower body, presumably Mr. Lee, was found on Ganghwa Island, Incheon. It has been about a month since the last apparition was captured near exit 4 of Gayang Station on Line 9 in Gangseo-gu, Seoul on 7 last month.
It was a fisherman who found the body. A fisherman accidentally found the body on a tidal flat near Gwangseongbo, Buleun-myeon, Ganghwa-gun, and reported it to the police.
Lee's family recently learned the news that unidentified bodies, believed to be males between the ages of 20 and 30, were found one after another on Ganghwa Island and contacted the Incheon Maritime Police Station out of fear.
According to Mr. A, Lee's maternal cousin, following a direct visit to the police, found that the pants and shoes the body was wearing were identical to those Mr. Lee wore on the day of his disappearance. Person A said the body was so decomposed that it was impossible to determine whether it was a suicide or a homicide.
Person A expressed his frustration, saying, "The initial police investigation was insufficient." Person A said, "At the latest, the body will appear in three or four days, but the body must have surfaced at least once."
Person A said, "(Lee) didn't play stocks or bets, so why do you see him as a mere runaway" and "There was no evidence of a suicide note or depression. He didn't investigate why he was a man. in his 20s ".
Under current law, adults over the age of 19 are referred to as "escaped" if they go missing because there is no legal basis for a mandatory investigation. Detective agencies cannot track the whereabouts of fugitives or inquire about card usage details unless a warrant is issued.
Meanwhile, on the 7th of last month, at 2:15 am on the 7th of last month, Lee was last captured walking from Exit 4 of Gayang Station to the Gayang Bridge. Lee's cell phone was turned off after talking to his girlfriend around 2:30 am.
Lee is 172 centimeters tall and weighs 60 kilograms. On the day of his disappearance, she wore a black short-sleeved T-shirt, beige pants and white sneakers. He is known to have tattoos with lettering on his right wrist and left collarbone.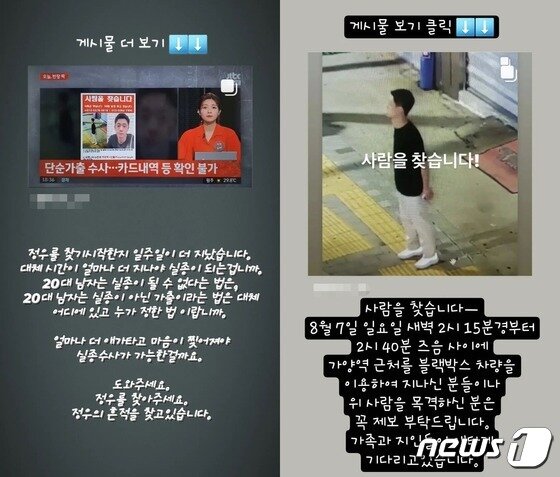 (Instagram acquisition)
–