Status: 02/20/2021 01:01 p.m.
If you follow Josephine Teske on Instagram, you will find neither hackneyed church content nor stylish influencers: she shows the normal everyday madness as a working mother – who is always a pastor too.
The 34-year-old sits in her living room, between floor-to-ceiling bookshelves and a carpet full of children's toys, and films herself with her cell phone in hand. She shares everything that moves her on the image-focused social media platform Instagram. In addition to the classic posts, the pastor prefers to make so-called stories: photos or short videos that disappear after 24 hours. Each video is a maximum of 15 seconds long, she writes the most important statements in white on pink. "For me this is the place where I can freely say what I think," says Josephine Teske. "I created the place myself. I show my whole Christian life on Instagram, how I live as a woman, as a single, as a pastor, how I work and how I also live my faith."
Pushing boundaries as a pastor
In addition to the pulpit, the smartphone is also her workplace. Josephine Teske shares her life on Instagram.
She has been active on Instagram for a good three years and has also been a pastor in Büdelsdorf for almost three years. A total of around 10,000 people live there, and it reaches more than 24,000 via Instagram. "That really happened by chance. I started Instagram privately and when I noticed that people were interested in how I address things, I also provoked them. For a while, I had topics like the vulva and menstruation," said Pastor Teske. "Simply because I wanted to see how far I can explore the limits. In the meantime, this has leveled out. My topics are also celebrating devotions online, giving prayers and giving blessings for others." Josephine Teske is very open on her channel: without make-up, dancing and crying.
Reach completely different people
"That is also pastoral care, what I'm doing there." The pastor spends three to four hours a day on Instagram, most of the time in dialogue with her followers. The fact that she can take so much time for this is also possible thanks to the support of her provost, Matthias Krüger. He hired her to devote a quarter of her working time to digital church, including her Instagram account. "You can't do that by the way, that's really work," explains Propst Krüger, who himself runs an Instagram account that is small compared to Pastor Teske and has almost 500 followers. "The great attraction about it is that Pastor Teske has made it out of the 'mini church bubble' and can reach people in a completely different way, even with a fairly low threshold."
Criticism and hate speech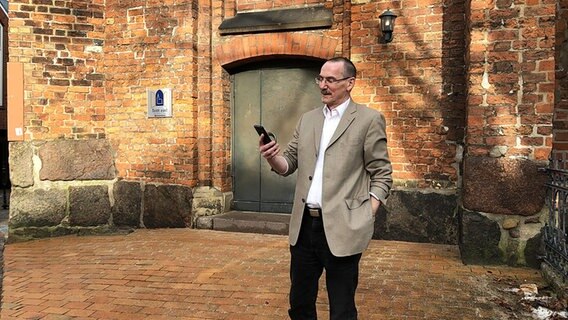 Probst Matthias Krüger enables the pator to dedicate a lot of working time for her Instagram channel and for the digital church.
Not everyone sees it that way, says Pastor Teske: Colleagues often do not understand what she is doing and how such a young pastor with just a few years of professional experience can become a face of the Church across Germany – past hierarchies and traditional career paths. Even believers who literally interpret the Bible criticize and abuse Josephine Teske for her posts on homosexuality or menstruation. Propst Krüger sees no contradiction to the church, even with provocative content: "As pastors, there is little stranger between heaven and earth. Fears, joys, hope, lust, passion – the full program. What Pastor Teske does is exactly what she is doing Picking up topics that they think should be discussed. " The support of her provost encourages Josephine Teske to deal confidently with negative reactions.
Adapting the church to the zeitgeist
She creates something on Instagram that the church usually finds difficult: She reaches 20 to 40-year-olds and people who actually have nothing to do with the church. Like Adriana Kontou: She lives in Büdelsdorf, but does not belong to Teske's parish because she was baptized in Greek Orthodox. "Although I am not a believer, I follow her and learned a lot about faith from her," explains Kontou, adding: "It helps me to see things differently sometimes – and I find her way so beautiful. That it is not just this sloppy Preaching is, it tells stories. And who doesn't like to listen to stories? "
Josephine Teske's Instagram channel thrives on her personality. "Of course I am always a pastor, no matter what I do," says Teske. "But most of all, I'm always Phine and with all my heart." She chooses the content freely from her gut. Church topics do not have a missionary effect for her either, but are naturally part of her life.
Digital offers are becoming more and more important in corona times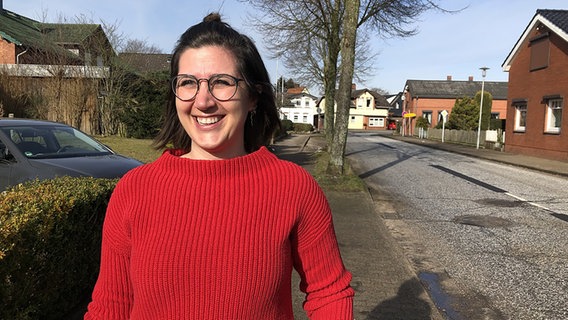 Büdelsdorf's Adriana Kontou has nothing to do with the church, in her own words. But she learned a lot about faith through Joesphine Teske.
During the Corona era, digital offers became increasingly important in the church, and Teske is at the forefront with digital devotions on Instagram. "For me this is a new way of preaching. I want to use Instagram to ensure that people can live their relationship with God, that hurdles are removed. I want to show that one cannot believe wrongly and that one cannot pray wrongly." Her Instagram success is not only felt digitally, but also in the analog world: More and more young people come to her church service because they know the pastor through Instagram. Josephine Teske gives insights into her work as a pastor, brings church content into the everyday life of her followers and thus manages to bring the church into the 21st century via social media.
In the current podcast episode of "It's up to me", moderator Maja Herzbach learns a lot more about Josephine Teske and her life as an "Instagram pastor".

.