Dr. Sahar Selim recently led a scientific project to reconstruct the king's face Rameses II Using the CT scan of the king's mummy, in collaboration with Dr Caroline Wilkinson, an anthropologist from Liverpool, England.
The mummy of King Ramesses II underwent many scientific studies in Egypt and France in the seventies of the last century. [ملك سابق] He was received at the airport with an official honour.
The mummy of King Ramesses II was also CT examined in 2009 as part of the Royal Mummies Examination Project of the Egyptian Ministry of Antiquities, established by Egyptologist Dr. Zahi Hawass and Dr. Sahar Selim, professor and head of the Participated in the Department of Radiology of the Faculty of Medicine of the University of Cairo and a member of the Scientific Committee for the Museum Exhibition of the Museum of Civilization in Fustat. Where CT scans and advanced techniques allowed mummy radiologist Dr Sahar Selim to examine the mummy of King Ramses II, as well as forty other royal mummies. And by making thousands of thin sections of the ancient Egyptian royal mummy and installing it, Dr. Sahar obtained many two-dimensional and three-dimensional radiographs, which provided a lot of information about the mummy, such as the age at death, health status, and embalming method . Sahar Selim with information and CT scans in the museum exhibition design in the Royal Mummies Hall of the Fustat Civilization Museum.
Dr. Sahar Selim used the CT examination technique of King Ramses II's mummy to restore the king's face during his lifetime. Dr. Sahar Selim made a three-dimensional electronic model of King Ramses II's skull. electronic image of the face of the king and a visualization of the face of the king at the time of his life.
Dr. Sahar Selim chose the color of the skin, hair and eyes based on the archaeological and scientific data of the mummy, and with digital technology the scientific project showed the face of the king at the age of forty at the peak of his his strength and gradually until he reached the age of ninety when he died, and a project was recorded Reconstruction of the face of King Ramses II in a documentary film produced by French national television (Channel 3), on the occasion of the bicentennial of Egyptology .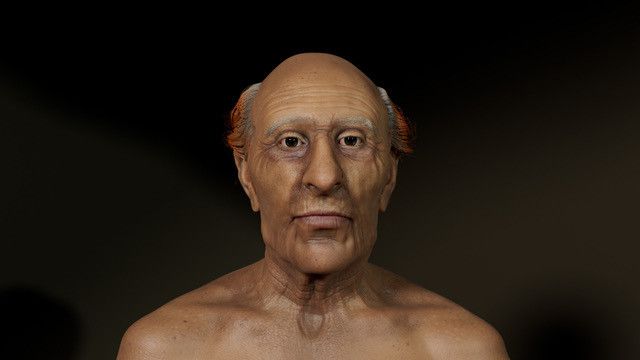 Rameses II