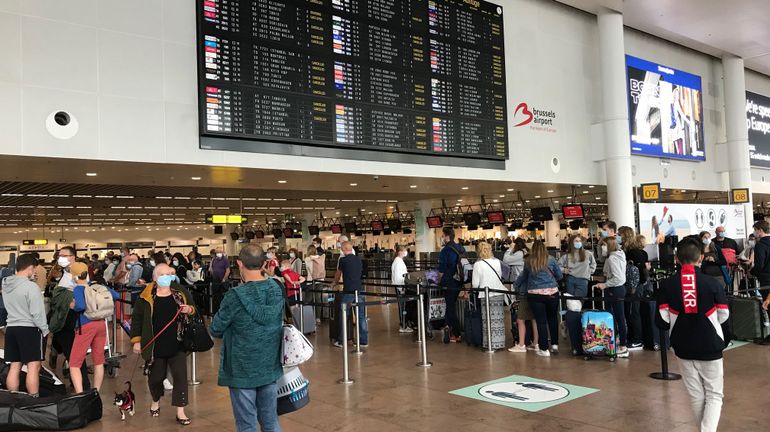 At Brussels airport, the milestone of 10,000 passengers per day was crossed on Wednesday, a first since March. A total of 140 flights arrived or took off at Brussels Airport (compared to 650 in normal times). These are almost exclusively European destinations. The objective of the airport, which intends to welcome 20,000 passengers by the end of July, is to increase its capacity as the weeks go by, reaching 140 destinations by the beginning of August. Among these: Tunisia, Morocco or Canada.
Charleroi airport recorded 80 flights (half departures, half arrivals), which represents 50% of its usual traffic.
As for tour operators, the recovery is starting. At Tui, customers prefer Spain, Greece or Italy.
Other solutions
Going by plane is certainly not the only solution for this summer. Why not favor other means of transport. It's good for the planet… and for health. The group of experts "Corona & Psychology", which also assists the one in charge of "l'exit strategy"(GEES), published on July 1 a series of recommendations"to recover from this intense period, to breathe new life into our social relationships under pressure and to resist uncertain times"from the second part of the year. This is scientifically based advice, brought together by psychologists from Belgian universities (notably from ULB, ULiège, UCLouvain and UMons).
According to these experts, it is important to choose activities "invigorating"to overcome the"fatigue corona". And a good way to"recharge its batteries"is to immerse yourself in nature."Just enjoy the flowers in the garden. But being active in nature, with gardening or walking, offers an additional boost", detail the recommendations.
Cycling (near or far from home)
This group of specialists repeats another essential piece of advice: get moving. Exercising regularly makes it easier to cope with stressful situations. So why not leave home… by bike? There is no shortage of solutions, starting with the RAVel, of which all existing roads and sites under construction are to be discovered on an interactive map by clicking here.
Do you want to go further, still on two wheels? Head to the Eurovelo website, the European cycling network. There are no less than 17 cycle routes which, put together, represent thousands of kilometers across Europe. Belgium is crossed by several routes that allow you to reach, for example, Brittany (EuroVelo 4 or Central Europe Cycle Route) or even Spain (EuroVelo 3 or Pilgrim Cycle Route).
Note in passing that the transport of bicycles is free on SNCB trains until the end of 2020. "Passengers will however need to obtain a 'bicycle supplement' ticket so that SNCB can analyze the influx of two-wheelers on trains", said a spokesperson for the company last June. In addition, group bookings with bikes are not authorized for logistical and security reasons, specifies the railway company.
No need either to pay a fortune to stay on the road, provided you like camping. In some cases, it's even free. The welcometomygarden.org site brings together "a network of citizens offering their garden as a free bivouac space for slow travel travelers".
The train, all over Europe
Traveling in Europe does not necessarily mean low cost flights. The European rail network links most major cities, from Stockholm to Gibraltar and from Edinburgh to Budapest. Provided you take the time. Allow around 15 hours for the Brussels-Vienna night train (after checking this Wednesday, however, there were only very few places available for the next two months).
Backpacking enthusiasts are familiar with the interrail pass. This is, according to its official website, "the only travel pass to discover more than 40,000 destinations and take the train in 33 different countries, including France, Germany, Italy and Switzerland". Different formulas exist and the prices vary according to the number of days of travel and the period of validity of this rather special train ticket. Good to know also: the interrail pass is free for children up to 11 years old . More details by clicking here.
---
►►► Also read: Are you planning to go by car to France? Tips for saving tolls
---