The home team started actively, but the Zlín defensive block was ready for their game and did not let them go to any major opportunity. On the other hand, the guests were threatened by a break in the 16th minute, Poznar headed Filla in the center after 16 minutes.
The key moment of the duel was the 23rd minute. Procházka fouled Sadílka and Judge Pechanec immediately gave him a red card. This evoked passions both on the field and in the premises of both inverters.
From left: Lukáš Vraštil from Zlín, Lukáš Sadílek from Slovácko, Václav Procházka from Zlín and Filip Vecheta from Slovácko.
Dalibor luck, ČTK
The power play further accentuated the pressure of Slovácko, Kalabiška got into the goal chance after the center of Reinberk, but only hit the crossbar with his head. On the other hand, after the break, Poznar failed in a promising ending.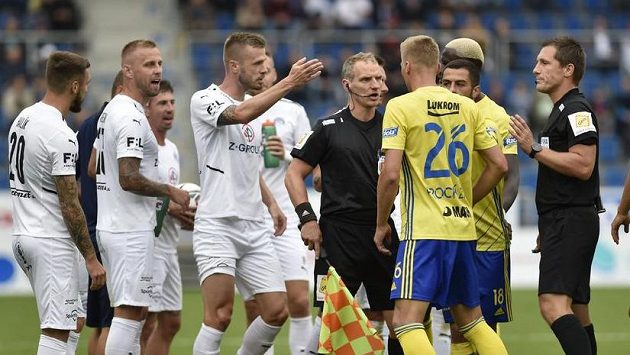 Václav Procházka from Zlín is arguing with the players of Slovácko.
Dalibor luck, ČTK
The Zlín defense capitulated for the first time four minutes after the change of sides. After the siege of the visiting goal, Havlík hit the pole from about 18 meters. Six minutes later, Hofmann took advantage of Holzer's center and added a second goal with his head.
Holzer scored in the 62nd minute, who hit the gallows of the helpless Rakovan from the penalty area. Slovácko scored in the fourth of the last five rounds and Zlín defeated in the fifth of the last six league duels. The "shoemakers" lost outside in the highest competition after two victories.
Round 8 of the first football league:
1. FC Slovacko – Fastav Zlin 3: 0 (0: 0)
Goals: 49. Havlík, 55. Hofmann, 62. Holzer. Judges: Pechanec – Kříž, Poživil – Machálek (video). ŽK: Hofmann, Kalabiška, Havlík, Kohút – Vraštil. ČK: 23. Procházka (Zlín). Attendance: 4,926.
Slovácko: Nguyen – Hofmann, Daníček (46. Jurečka), Kadlec – Reinberk, Havlík (86. Mareček), Sadílek, Kalabiška – Petržela (75. Kohút), Vecheta (68. Navrátil), Holzer (68. Šašinka). Coach: Witness.
Zlín: Rakovan – Cedidla, Simerský, Procházka, Vraštil – Conde, Tkáč (69. Nečas) – Fillo (80. Hrdlička), Hrubý (69. Dramé), Čanturišvili (62. Janetzký) – Poznar. Coach: Kalivoda.
.