Do you remember where, according to your calculations, Hradec should have been in the current phase of the competition, when you took over the team in the summer and completed the summer training with the newcomer to the competition?
I will not claim that I was convinced of the current point gain. However, there are good players in the team. And when combined with the work process in the sports sphere, humanly and relationally, the result can be surprising. It's about a lot of work on video, about learning. About high training doses in summer training. Our big advantage is that we don't play cups and we have a weekly training cycle. There is plenty of space to work individually and in groups.
The club does not have a suitable stadium, so you play matches in the asylum in Mladá Boleslav. Is this a big disadvantage? Would the point gain be even greater in the case of the arena itself?
Out of six matches at home, we played three draws and three wins, which is decent for a rookie. Boleslav Stadium is an excellent solution. A few hundred people come every time, and because the arena in Boleslav is not so large, we get decent support. The only major downside is that we keep pulling things and we're constantly on the move, which takes strength.
Do you see one particular moment or the moment that started the team behind the extraordinary autumn performance so far?
The first three matches. We always drew, but in two cases we were better and we could, or even should have won. The boys have confirmed that they are competitive.
Your team in the highest competition was the only one not only to take for points, but even to beat Pilsen. Are you proud of the team?
We took full advantage of the fact that Pilsen was not in an ideal mood after performing on the European stage. Last week, Pilsen and Jablonec and České Budějovice and Slavia did the same. We took advantage of Victoria's fatigue and great disappointment. I was able to get used to their club atmosphere. But again, I wouldn't overestimate it. However, I must admit that for our team, winning over Pilsen was an unbelievable doping of self-confidence.
Whatever the reason for the hesitation of the West Bohemians in the match, they generally have problems with opponents from the middle or bottom of the table. Why?
They play a much different football than under the previous coach Gula. Relying more on solid defense, they simplified the implementation of the offensive phase. In their current style, holding the ball and playing from side to side is not so great, which was characteristic of the previous coach. And it may have been more true for weaker teams. It may have seemed that they were winning more smoothly. But now, as they play easier, they can't get into the tight defense so much. They prefer an open game with strong opponents who want to play football.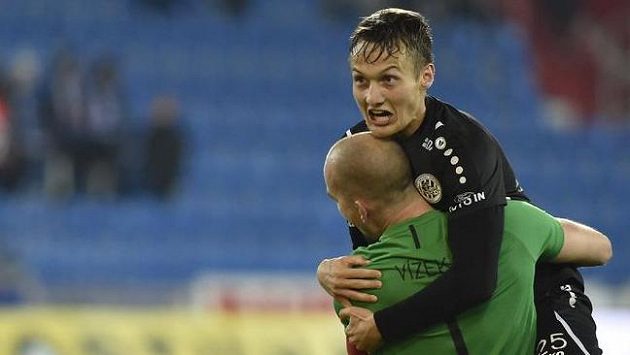 From left, goalkeeper Patrik Vízek from Hradec Králové and František Čech from Hradec Králové rejoice in the victory.
Jaroslav Ožana, ČTK
You compared yourself to the defending champion from Slavia and the confrontation in Eden ended with a 4: 1 result for the home team. And the duel with Sparta brought the victory of Letna 4: 0. So are Prague clubs stronger than Pilsen?
In my opinion, both clubs have a higher individual quality. They have a superstructure of European character. And it's no wonder they have boys from national teams in the staff. In both cases, despite our sympathetic and courageous speech, we made too many mistakes. Once the boys gain confidence, we can succeed in such matches.
From the very top, you already have a duel with Slovácko, to which you also lost, even by a single goal. Can the team from Uherské Hradiště speak for the title fight?
Slovácko is a little different, it's a well-coordinated team, a machine that systematically puts opponents under pressure with a press. Hats off as they are trained and ride. It's not about absolute individual quality, but about the coercive power to which the opponent will sooner or later succumb. However, I think that the first three teams are a little different in terms of performance.
Slavia is currently losing four points to Pilsen, with which it will compete on Sunday. In case of failure of the citizens of Prague, the deficiency of the lawyer can be seven points. Who is the biggest candidate for the title for you?
Slavia. They went through a difficult preparation, because a large part of the staff was marked by representational duties. When they dropped out of the Champions League and the European League, it shook them. Ondřej Kúdela is still missing from this. They're not just in a good mood. But this is a long-term competition. Slavia gets out of trouble. When things are put together, they will have room for quality preparation and all the injured will jump, they will be strong. In my eyes, they are the biggest favorite.
Are you glad you don't have to deal with worries at the other pole of the table? With nineteen points, you undoubtedly live very well and your rescue worries have been practically resolved.
It is essential for us to make points in duels when we need it. We defeated Pardubice, Teplice, České Budějovice … Sparta, Slavia and Plzeň are a holiday for us. And when we make points with these teams, it's a bonus. But other gains are significant. However, exaggerated euphoria is out of place. I am not subject to enthusiasm. We are only in the third of the competition and we did nothing.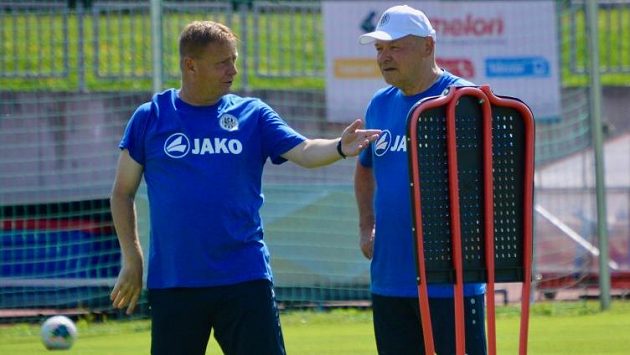 Hradec Králové football coach Miroslav Koubek and his assistant Stanislav Hejkal (left) during training.
FC Hradec Králové
Are you happy a few months later for the opportunity Hradec gave you?
Definitely yes. I did not enjoy the life of a pensioner limited by all restrictions. When the peak of the activities was a walk in the woods or a shopping trip, it wasn't much fun. Work was the only purpose. So I'm very happy.
In the summer, you made no secret that your decision to accept the offer of East Bohemians at home did not provoke a positive reaction. Has your wife taken you at your mercy?
To be honest, he keeps cursing. There, significant progress for the better, unlike the boys in the team, cannot be expected …
.