At least fourteen people were treated for injuries in Guatemala City, the capital of Guatemala, on Saturday after protests against the government budget for 2021 turned into clashes with the police. Shortly before that, hundreds of protesters had stormed and set fire to the parliament building.
The Guetamala Red Cross had to treat protesters intoxicated by the smoke. During the storm and the fire, the building was empty.
Police used tear gas to disperse the rioters. The fire brigade was then able to extinguish the fire. It is not yet clear how great the damage is to the building. At least 33 protesters were arrested, according to a list published by the government on Saturday.
The protesters are angry about the government's budget plans for next year. In that budget, the national debt of the Central American country is greatly increased by ambitious infrastructure projects. According to the protesters, hardly any money is going to fight poverty or malnutrition.
The corona crisis and the lockdown that was introduced have left hundreds of thousands of people unemployed and the weak economy has come under further pressure.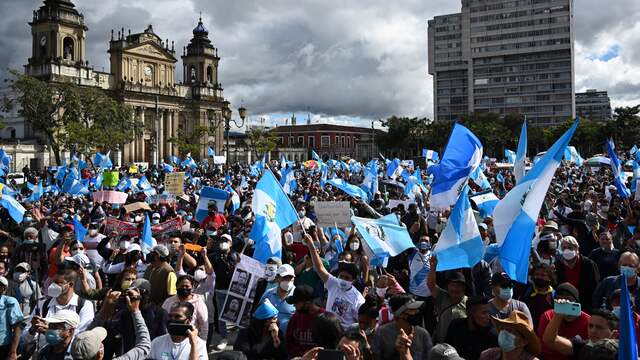 In other places in the capital, including the main square, the demonstrations were quieter. (Photo: ANP)
Budget negotiated in secret
The budget was approved while the residents of the country were still reeling from the tropical stormen Eta and Iota. The terms of the budget were negotiated in secret and approved early on Wednesday.
The protesters accuse President Alejandro Giammattei of misusing the distraction to push his budget through parliament quickly. They demand his resignation.
The vice president of the poor Central American country, Guillermo Castillo, asked all his president to resign on Friday "for the good of the country". Castillo says he will resign if Giammattei does the same.
.