The winner of 12 stages on the Tour de France, Peter Sagan, has to wait for the thirteenth. He was close to it on Saturday, but finally crossed the finish line in 6th place.
Photo: – / Shutterstock Editorial / Profimedia

In the final sprint, Peter Sagan (third from the right) also tried for the best possible result.

The final sprint of the second stage was completed by Sagan in the third, or fourth position, just before the finish line, two more rivals passed him. The Slovak driver almost fell in the sprint when he came into contact with the later winner Fabio Jakobsen.
"Everyone was waiting for something to happen on the last bridge, while we were driving against the wind, so everything was 'cracked'. There were also some falls, but it was slow, only in the last three kilometers did it pick up a bit," Sagan told RTVS.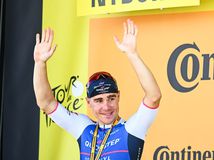 Read more They almost fell off the bridge. Jakobsen dominated the second stage of the Tour
In the final tens of meters, it was just a battle between the best sprinters on the Tour. "When we got into the sprint, I was a bit closed behind Jakobsen. When I wanted to start, Jakobsen blocked me. Fortunately, we didn't fall," said the 7-time winner of the scoring competition.
Immediately after the finish, he had a heavy heart for the Dutchman: "I get along well with him, we should just drive a little more carefully. Sure, it's the Tour, everyone wants to win a stage, and it's Jakobsen's first Tour, but you have to be careful. However, I congratulate him on his victory," Sagan acknowledged the qualities of his opponent.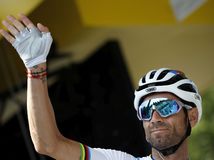 Read more He missed the Tour due to training. The Spanish champion was hit by a car
In the overall ranking, the Slovak rider still ranks 140th (+1:33 min). Thanks to the fifth position in the speed premium, the three-time world champion won the first 25 points in the points competition, in which he currently holds the fourth place. Wout Van Aert leads with 60 points.