Valencia
–
MotoGP Valencia this weekend will be the last stage Valentino Rossi. Fabio Quartararo is waiting for the King's final dance!
Valentino Rossi has finally decided to retire from MotoGP, with Valencia MotoGP on Sunday (14/11) tomorrow will be the last event.
Rossi is a living legend MotoGP in the last 26 years. 'The Doctor', as his nickname is still loved by fans around the world.
Valentino Rossi (AP / Antonio Calanni)
Valentino Rossi has won 9 world titles, 7 of them in the 500cc/MotoGP class, and once each in the 125cc and 250cc classes. During that time, he has taken part in 431 races, winning 115 times, 235 podium finishes, taking 65 pole positions and 96 fastest laps.
In addition, there are many achievements of the 42-year-old man. Even the racers MotoGP Now, not a few are Rossi fans!
One of which is Fabio Quartararo. Both riding a Yamaha, Quartararo admitted that he learned a lot from Rossi.
"I'm at a loss for words….congratulations on your amazing career!" wrote Quartararo on his social media, while uploading his photo with Valentino Rossi.
"I will remember for the rest of my life the first race I ever watched at Jerez 2005 and you motivated me to be where I am today."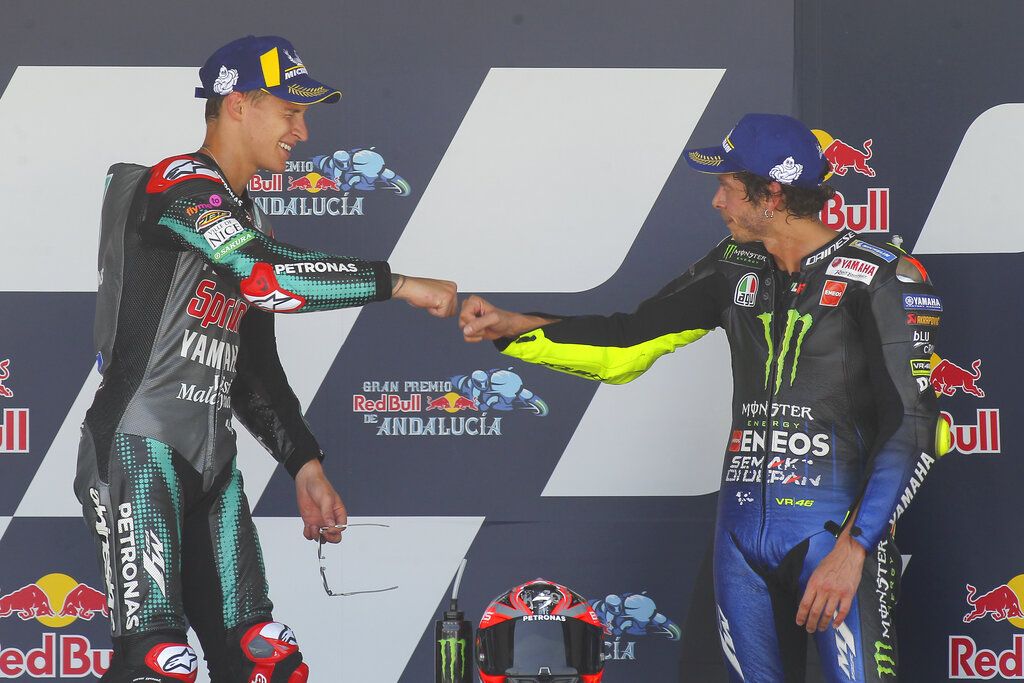 Quartararo and Rossi (AP / David Clares)
Valentino Rossi also happy to see the junior's actions. Rossi wants, Fabio Quartararo even better!
"Time flies. Honestly, I think bringing Quartararo to the first team is the right decision," said Valentino Rossi as reported by Motosan.
"Quartararo deserved the world title, he jumped fast, he didn't make many mistakes, and he deserved it. I'm very happy for him and also for Yamaha," he said.
Fabio Quartararo via his personal Instagram,upload group photo Valentino Rossi on the racetrack. While giving information, waiting last dance the king (symbolized by a crown emoji).
(aff/adp)
.