The iconic villain from the book and movie classic One Flew Over the Cuckoo's Nest will get its own Netflix series from Friday. Sarah Paulson plays the title role Ratched, in which a neat-looking clinic becomes the arena for manipulation, horror experiments and sexual oppression. NU.nl has already watched the first episodes.
Ratched is set in 1947, about fifteen years before the events One Flew Over the Cuckoo's Nest. Where that Oscar-winning film was about a group of detained patients, we now see the other side of the story. Sister Mildred Ratched is not yet in charge of the mental institution, but appears to have devious and depraved ways of setting herself in that direction.
The nurse, who always dresses impeccably, walks into the clinic exactly on the day that a notorious serial killer is admitted. Why that timing is important becomes clear later in the series. The makers let various complications run together. A blackmailable hospital director, the campaign of a power-hungry governor and a murder plot are important links in the story.
Bloody experiments in clinic
Ratched is set in a time of experiments on people with alleged disorders. For example, women with lesbianism should be cured through hydrotherapy or a lobotomy. In practice, that means a boiling bath or brain treatment with an ice pick. Unsurprisingly, Sister Ratched is suppressing her own feelings of love. Although sometimes she also has compassion for the tortured women.
Paulson has previously successfully shown the human and vulnerable side of a hated person. For her role as O.J.Simpson prosecutor Marcia Clark in American Crime Story she won a Golden Globe in 2016. The actress tells in a press release how she sought more nuance in the filming of One Flew Over the Cuckoo's Nest.
"You wanted to spend time with them and you encouraged them," says Paulson of the male patient group in the film. "Sister Ratched keeps popping up, and in the eyes of the public, she's obstructing all possibilities for fun. But I now believe she was actually doing her best to help."
"She may have been limited in her thinking and strictly adhered to the rules of that hospital, but she was trying to do the right thing. It lacked humanity and that's very hard to look at, especially if you've come to love those characters where she's in charge. "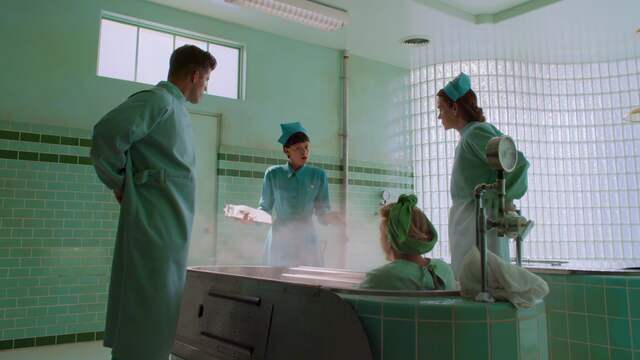 Hospital staff in Ratched are experimenting with hydrotherapy. (Photo: Netflix)
Classic thriller atmosphere and bright colors
At the cradle of Ratched was Emmy winner Ryan Murphy, known for Glee in American Crime Story. He casts his latest series in a classic thriller atmosphere, with hard string music and locations reminiscent of Hitchcock films such as Psycho in Vertigo.
The striking colors are striking: many shades of green and red can be found in the sleek styling. Not only in costumes and sets, but also in nightmarish scenes in which the image is completely discolored. To give the psychiatric clinic an old-fashioned chic look, filming was done in Arrowhead Springs, an old hotel where many celebrities used to stay.
Ratched consists of eight episodes of approximately one hour, the first two of which are directed by Murphy. A second season has now also been announced.
.