Yellow vests movement, demonstrations against the pension reform, protests around the world, global warming, feminicides, poverty, confinement… The jury of the Science Po Prize for political photography, of which Public Senate is one of the partners, had a problem with leave to select five images from among the 870 received, from 40 countries.
The Sciences Po Prize for Political Photography, open to everyone, rewards each year a photograph that takes into account both the aesthetics of the photograph and its political significance.
Alain Genestar, member of the jury, agreed to comment for Public Senate on the 2020 winners. « These five photographs reflect the political year that is ending », considers the director of the publication of Polka Magazine.
The first prize (the photo that opens this article) was awarded to Paul Dza, for As long as it's planted like this, a photo of the Belarusian government palace protected by armed law enforcement Minsk, August 16, 2020 :
« This photo expresses everything about the situation at that time. While the revolution is taking place peacefully, the dictator Alexander Lukashenko is inside the Palace, protected by his special forces, the "Omon". We don't see the crowd, but the photo suggests the clash. While in August we don't know if the dictator is going to be overthrown or not, there are two ways of looking at these special forces: the first is the representation of authority, with this shield, and this verticality that makes all the majesty of the photo, thanks in particular to this parallel between the windows of the building and these steel figures. The second way of looking is to see a weakness, represented by the shield placed on the ground, almost symbolizing the laying down of arms. We feel both the power of the police and their relative weakness. It's a big picture. When a photo is perfect, well framed, it imposes itself. »
2nd prize awarded to Adnan Farzat: Sorority, International Women's Day – Paris, March 8, 2020
« The murder of Sarah Halimi, then the questioning of her police and judicial treatment, has mobilized and continues to mobilize public opinion. Of the 860 photos received, many concerned slogans. Most were dismissed because a slogan does not make an image. There, however, there is a slogan. But he is behind. It is essential to say what is happening, it serves as a legend. The main actors are however these two women. And these two women express at the same time a very strong conviction, a commitment, and tenderness. This tenderness sums up part of the struggle of women. It is militant and comforting: we hold each other in the arms to withstand the shock, and to be strong. It is a tenderness that expresses strength. In this sense, this tenderness serves the message expressed behind. This photo is an accusing tenderness. »
3rd prize awarded to Stéphane Lemouton: Applause and support for hospital staff during confinement – Paris XVIIIe – March 20, 2020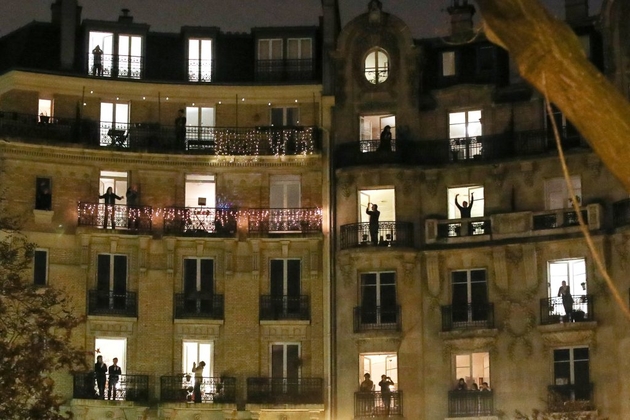 Stéphane LEMOUTON: Applause and support for hospital staff during confinement
"This photo shows people's privacy. She does without permission to photograph. This rope and this branch [en haut à droite] make this image a little wobbly, but these imperfections give it a great naturalness and an astonishing spontaneity. And, precisely, what happened during the first confinement, with the people at the windows and on the balconies, was spontaneous. Stéphane Lemouton seized this moment. We also think of this famous advertisement by Jean-Paul Goude for the Egoïste perfume of 1990: at the Carlton's windows, models open and close the shutters screaming "selfish!" ". Unlike this very elaborate scene, here we have a beautiful natural photo, with perfect light. We liked it and moved us. We needed a symbolic photo of this period. "
VU's favorite awarded to Charmaine Lee: Hong Kong: The City of Protests and Lights – Edinburgh Place, Central, Hong Kong – August 2, 2019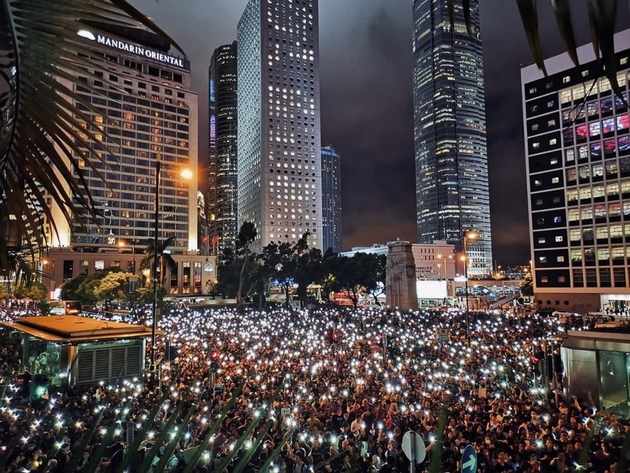 Charmaine LEE : Hong Konger : The City of Protests and Lights
"You can immediately see that this is an urban event, in a large international city. If you know Hong Kong, you know it's Hong Kong. The place is identified. This photo says it all: first, this protest movement is taking place peacefully, with no identified leader, and anonymity is guaranteed in this shot. An anonymous crowd which demonstrates and protests by brandishing its weapon of expression: the telephone, which allows us to make contact, to take photos, to transfer and distribute these photos… And that we can turn on to say "we are there you can count us ". The number of phones and lights shows the multitude of people. In this night photo, if it weren't for the telephones, we would only see the buildings and their lighting. At the bottom, it would be black. There, we see the protesting lights and the city lights. The word photography comes from ancient Greek Photós grappo, literally "to write with light". That's what this crowd does, with these hundreds of thousands of lights. "
Special mention Sciences Po awarded to Thomas Arrivé: Alioune Diagne dances for Fariba Adelkhah – Place du Trocadéro, Paris XVIe, February 10, 2020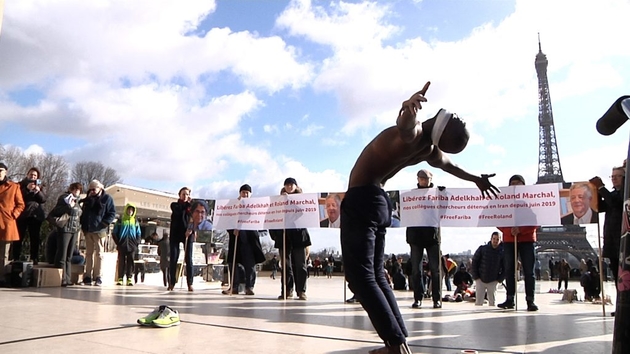 Thomas ARRIVED: Alioune Diagne dances for Fariba Adelkhah
"This event is a tribute to the anthropologist Fariba Adelkhah, researcher at Science Po and detained in Iran for a year and a half. Fariba has just received the Irène Joliot-Curie Prize. Our prize for political photo of the year is also that of Science Po: so we decided to choose this photo to get involved and be behind Fariba. A political photo expresses analysis and commitment. Thanks to this award, we are talking about Fariba Adelkhah again. "