BANDAI NAMCO Entertainment Inc. wishes to eat, exercise, play games, and enjoy every day with everyone together with PAC-MAN. We are sending out various plans based on. This time, we will deliver news about the activities of "Pac-Man", such as the Twitter campaign "Pac-Man and Midsummer Independent Research Week!" .
"Pac-Man and Midsummer Free Research Week!" Campaign will be held on Pac-Man's official Twitter!
Pac-Man official Twitter (@BNEI_PACMAN_JP) will hold a campaign where you can play with Pac-Man at home during summer vacation. During the campaign period, the ghosts will issue 4 themes such as paper crafts, sweets making, and coloring. We will present original stickers to 50 people by lottery from among those who participated in one of the themes and posted photos of the results.

【How to participate】
● Follow Pac-Man official Twitter (@BNEI_PACMAN_JP)
● RT + like the question post of the theme
● Reply to the question post with a photo of the work you have worked on, along with the hashtag "#Pac-Man and Free Research".
Choose from 4 fun-filled themes and spend a fun summer vacation with Pac-Man.
*The contents and period of this campaign are subject to change without notice.
"Pac-Man World Re-Pack" The latest information such as the opening video has been released!
The opening video of the 3D action game "PAC-MAN WORLD Re-PAC" scheduled to be released on August 25, 2022, and the latest information on "Quest Mode" have been released.
Uncut release of the opening video of "Pac-Man World Re-Pac", where you can see why Pac-Man is going on an adventure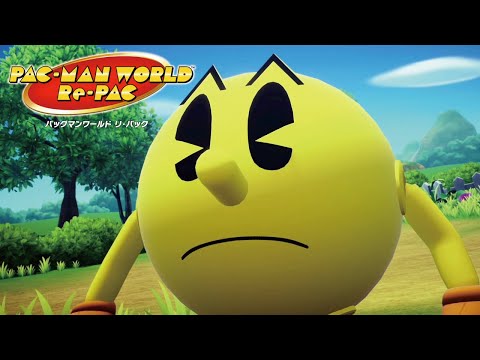 ■ 6 areas and bosses of "Ghost Island" released
Clear various gimmicks and confront bosses in six stages: "Pirate Ship Area", "Ancient Ruins Area", "Space Area", "Surprise House Area", "Factory Area", and "Boss Yashiki Area". prize.
■Introducing a wide variety of actions!Added "Easy Mode" for peace of mind even for first-time play
In addition to the variety of actions unique to PAC-MAN WORLD RE-PACK, two new actions have been added from this work, "Pumping Jump" and "Gigantic".
In addition, in the newly added "Easy Mode" from this work, "Easy Blocks" are placed at the drop point of the stage, and you can use the Fubari Jump for a long time. Whether you are playing for the first time or are not confident in the action, you can enjoy it with confidence.
"Funbari Jump"

"gigantic"

"Easy block"

For more information, please visit the official website:https://pcwdrepac.pacman.com/
* This product is a product developed based on the PlayStation (R) version software "Pac-Man World 20th Anniversary" released in 1999. (Some specifications are different.)
*Xbox Series X|S/Xbox One supports "Smart Delivery". Buy the game once and play it on any Xbox Series X|S/Xbox One console.
*If you have the PS4(R) version, you can download the PS5(R) download version at no additional charge.
"Pac-Man" LINE emoji released!
"Pac-Man" appears in LINE Emoji! Send messages to your friends with cute Pac-Man and ghost emojis in pop colors!

40 kinds 120 yen (tax included)
Purchase here:https://t.co/9DJ1sO9wJq
"Pac-Man" Official SNS
What is "Pac-Man"
"Pac-Man" was released as an arcade game machine in 1980 and is one of the most famous game characters in the world, recognized by the Guinness Book of World Records as "the most successful arcade game machine". IP (Intellectual Property) that we are proud of. Not only in Japan, but also in the United States in the 1980s, it sparked an unprecedented boom called "Pac-Man Fever", and even today, it is 98% recognized in the country, and more than 90% in many countries and regions other than the United States. I am proud of my degree.
("Pac-Man" overseas recognition: from our own survey results)
*Information is current as of the date of announcement. Contents are subject to change without notice after announcement. Please note.
PAC-MAN™& (C)Bandai Namco Entertainment Inc.