Slovak footballer Marek Hamšík has made a competitive premiere in a Trabzonspor jersey.
Photo: SITA/AP

Marek Hamšík applauds the fans after the match of Trabzonspor with Molde.

The captain of the Slovak national team played the whole match in the opening duel of the 3rd preliminary round of the European Conference League against Molde FK.
His team lost the lead three times and finally only drew 3: 3 at home.
Anastasos Bakasetas was the first to reach the corner kick, but his header was blocked by the keeper.
"It was an incredible match. We led three times, but in the end we didn't win, "commented Hamšík on the duel for his official website.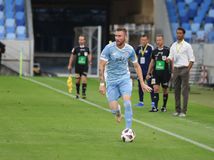 Read more
Play off is close. Slovan confirmed the role of the favorite, Weissa froze the collected goal
The match started with great taste, in the first ten minutes he had two solid shooting attempts.
"We had a big advantage during the whole match. We sent a lot of shots on the opponent's goal, we worked out a lot of chances, we hit the construction of the goal, "said the 34-year-old midfielder, who had the most passes of all players on the field – 91.
Trabzonspor had the entire match. He sent up to 24 shots (7 to the goal), six guests, three of them to the goal and all ended up in the net. The home team won 15: 1 on the corners.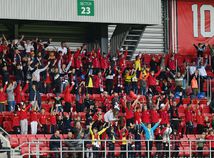 Read more
Žilina has the scalp of the Kazakh vice-master. Children also helped Trnava to a draw
"What if we didn't win. In addition, we did not change the penalty at the set time. The guests were at our goal twice in the second half and scored two goals, "said Hamšík.
The match was watched by 17,000 spectators at the stadium. "It was not sold out, but the stadium had a great atmosphere.
We are sorry that we did not please our great fans with the victory. We believe that in retaliation we will succeed and move forward. "
.