Information Policy Advisor Ukrainian delegation in TKG Alexey Arestovich reacted to the statements of the deputy head of the administration Vladimir Putin Dmitry Kozak about Donbass. In particular, the representative of the president of the Russian Federation in the "Normandy format" threatened to use military force in the event of Ukraine joining NATO or attempts to conduct a military operation against the occupiers.
On my page in Facebook Arestovich wrote that Kozak gave a rather harsh assessment of the internal affairs of Ukraine and the activities of the team of the President of Ukraine Vladimir Zelensky… He also noted that threats from the Russian Federation do not frighten Ukraine, and thus the aggressor aggravates his situation.
"We were not afraid of these threats in the spring of 2014, much less in the spring of 2021. RF leadership with a tenacity worthy of a better use, goes the way of international isolation, into which it drives itself by its actions and the policies they conduct. This path is futile, "said the adviser to the Ukrainian delegation.
According to Arestovich, any attempt by Russia to go over to open aggression against Ukraine is dangerous for itself… Both NATO and the Ukrainian leadership make this fact to the Russian Federation.
In addition, the representative of Ukraine in the TCG stressed that nothing will help the Russian Federation to avoid fulfilling the agreements on Donbass.
"No verbal balancing act will help the Russian Federation to avoid the need to fulfill the agreements in the Normandy and Minsk formats, which it has concluded since 2014. Or the onset of international political responsibility for evading their implementation," Arestovich said.
We will remind, the deputy head of the administration of Vladimir Putin Dmitry Kozak said that the beginning of hostilities in Donbass will be "the beginning of the end of Ukraine"… Kozak also recalled the desire of the Russian Federation to "defend Donbass".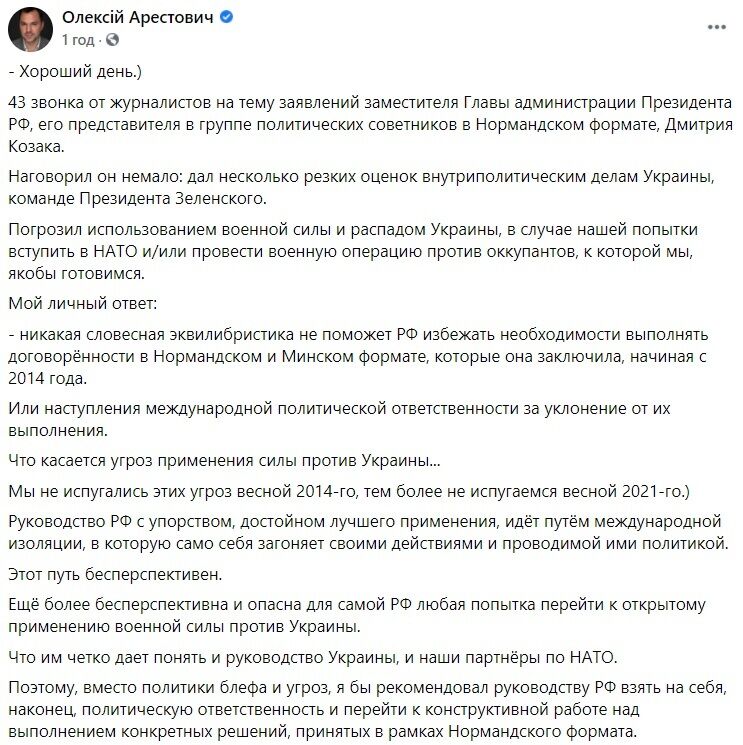 As reported OBOZREVATEL, the representatives of Russia in the TCG again want to achieve the implementation of additional control of the ceasefire regime. It looks like their old scandalous the initiative to inspect the positions of the Armed Forces of Ukraine near Shumov.