Did the invitation lift your spirits a lot?
Certainly. Of course, I'd rather play in the title extra league now, but unfortunately when the playoffs turned out like this for us, I was very happy that they called me from the national team and I can be here. The best boys from the extra league arrived, the players from the KHL have already arrived, so it can also move me and the experience will help me for the next seasons.
Do you carry in your head that you could go to the world championship as a goalkeeper trio?
I don't really think that way. It's a cliché, but I'd just like to stay here as long as possible, go week after week. You never know what's coming … But I'm definitely not thinking about the World Cup.
You have not guarded the national team goal yet, so it is certainly tempting for you to catch in the most valuable jersey in one of the preparatory duels, which will take place from April 25 …
Sure, as I say, I want to go step by step now. It is definitely a goal that I am sticking to, and I would be very happy if I could last at least two weeks and maybe I would get an opportunity in the goal.
Goalkeeper Dominik Frodl at the training of the Czech national hockey team.
Czech hockey, Jan Beneš
How did it feel when you first slammed the door of the national team cabin?
I was a substitute twice last year, so I could taste it before the boys left for Russia or Sweden, for example. Of course this is a dream, I already have a jersey at home, but I would like to add some smudges from the puck on it. I wish it worked.
How did family and girlfriend react to the invitation to the representative camp?
They were happy, they are the closest ones who support you. My parents have been playing hockey with me since I was three years old. Her girlfriend was happy too. He studies pharmacy, finishes, has state exams and has to learn. So she's probably glad I'm going to camp for a while now and she's going to get rid of me for a while. (smile)
Has a quick elimination in the playoffs with Hanák already hurt you?
It's better now, but somewhere in the back it's still in me … Now, when I always watch hockey on TV, it annoys me.
Looking back on the series, why did it end so soon?
Tough question … You haven't thought about it much, it's probably not worth it. We just couldn't do it and Olomouc deservedly deserved.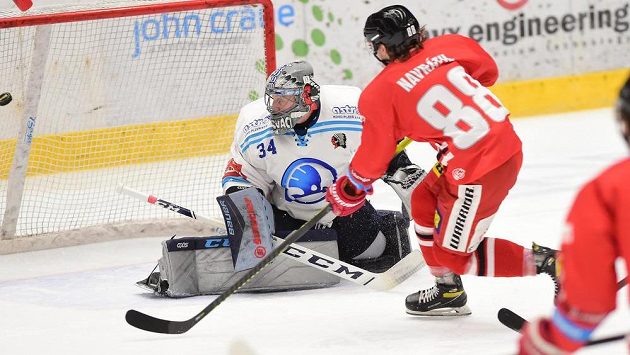 Jakub Navrátil from Olomouc overcomes the goalkeeper of Pilsen, Dominik Frodl.
Ludek Perina, ČTK
Are you satisfied with the season individually?
It is said that the season makes the playoffs. I had a good start, the middle part of the season was not ideal from me and the end was good again. The team performances were similar. The beginning is good for us, the middle is not very good and the end is good. We finished fifth in the basic part and made a lot of points, which was a good success. Unfortunately, the playoffs ruined the whole thing and the season looks terrible from this point of view.
Are you leaving with Pilsen after three years, what was the farewell at the club?
It was no secret that I was leaving. The boys and I had a beer. I'm glad that there are a lot of guys from Pilsen here at this camp, so we can see each other and keep talking. But I definitely said goodbye to the other boys, coaches and all the people in Pilsen. I still go there, I still live in the city, so I'm still in contact with some Pilsen players.
You change your engagement within the extra league. You will probably not miss moving from Pilsen …
It will be his turn around May.
Did you discuss the national team with the coach of the Pilsen goalkeepers Rudolf Pejchar?
Yes, he wrote to me on Wednesday, so we exchanged something together. When I learned that I was going to a national team meeting, he was on the ice with me in Pilsen.
Did he advise you on what to do differently on the international stage?
No, he wished me good luck and told me to go. That you never know at this time what might happen.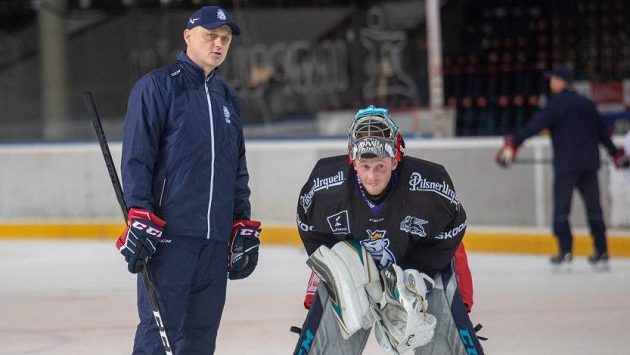 Dominik Frodl at the training of the Czech national hockey team with goalkeeping coach Zdeněk Orct.
Czech hockey, Jan Beneš
You worked with him for three years. Will you stay in touch together even if you leave Pilsen?
Definitely yes! Our relationship does not end when I leave Pilsen. I will be happy to write to him or he to me, we are in contact and we will keep him. The friendship will last, we had a lot of fun together. We will communicate with each other via WhatsApp probably often.
Will there be mentoring?
I will be in another club, Pechta will now also be the coach of another team, so of course the boundaries will probably be. But if I wrote to him, called him and asked for some advice, he would definitely help me. He is not the type that when I was there for three years, now I finished in Pilsen, so he will not advise me anything else. It will make him very happy if I continue with the good performances that I have given so far in the extraleague. He will support me.
Follow Sport.cz also on Instagram >>>
.