The monument consists of columns with illustrations of the faces of the band members, as well as a concrete bench with their butt prints.
Needless to say, the song "Rompa mi" is one of DDE's most famous songs.
Among the locals, the installation is already known as the "butt bench".
The discussion about the location has created temperature in Namsos – because the place chosen is close to the July 22 monument.
– Umusikalsk
Kenneth Ledang is one of the people who has reacted to the location of the installation.
A Facebook post in which he expresses himself negatively to this, has created engagement.
– I think it is unmusical and unwise to place a DDE monument so close to the memorial for the July 22 terror, Ledang says to Namdalsavisawho first mentioned the case.
Ledang did not want to be interviewed by NRK.
Artist: Not in conflict
Knut Høihjelle is the artist behind the DDE installation.
He says that the initiators originally wanted to place the installation at Festplassen in Namsos, close to the sculpture by Åge Aleksandersen. When they were offered a location near Rock City, they accepted.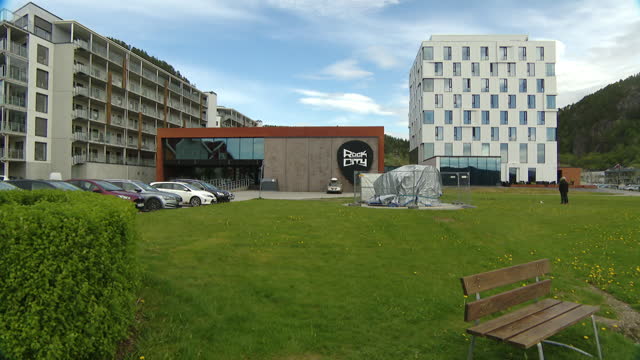 – We think this has more potential and can be a great area further, by the beach promenade here, says Høihjelle.
The artist does not see that there may be a conflict in placing the "butt bench" at the July 22 monument.
– I think it can be an enrichment for both. This can lead to more visits to both the installation and the monument, says Høihjelle.
Supports location
The mayor of Namsos, Frode Båtnes (Labor Party), has respect for the fact that many believe the location of the installation is unfortunate.
He still believes that DDE represents more than partying and bullshit, and that Trønder rockers should just as well be associated with serious topics.
– They have a number of songs that deal with having fun, but they also have a lot of seriousness in the lyrics and melodies, says Båtnes. He points out that songwriter Frode Viken has also written a song about July 22, called "It was a long, long day".
Båtnes believes it is important to get the DDE installation near Rock City and another already built installation, which is a tribute to the DDE song "Vinsjan på kaia".
– I think of that as a natural thing, says the mayor.
There have been no formal complaints about the location, Båtnes states.
The artist Høihjelle agrees that a DDE monument can also represent seriousness:
– It is a worthy installation, and it is an honor to DDE