The CES is a trade fair with screens in the spotlight. Every year new TVs attract a lot of attention and this time there were also folding PCs as eye-catchers. Monitors are less in the spotlight, but the developments in this product group are therefore no less interesting. This year there were interesting new models at CES. We can roughly summarize the developments as 'faster, deeper and fiercer'. In this article we discuss the new models and techniques.
Faster
Monitors for gamers received higher and higher refresh rates until a few years ago, but developments in that area have now stopped. Screens with a refresh rate of 240Hz have been on sale for more than three years and for the time being that is the maximum. Asus is changing that with the introduction of a 360Hz monitor in the ROG series, which is due later this year. The screen was developed in collaboration with Nvidia and therefore also equipped with G-Sync.
Asus does not yet disclose all details about the 360Hz monitor. The screen gets a 24.5 "panel with a resolution of 1920×1080 pixels. The panel is almost certainly from AU Optronics, because Asus works closely with that manufacturer. The type of panel is also not clear, but probably it is a tn panel, just like the predecessor.
The new 360Hz monitor is the successor to the ROG Swift PG258Q, which has been sold since 2017. That screen has a 24.5 "panel with a refresh rate of 240Hz. The big question is of course whether the difference between 240 and 360Hz is visible in practice. At the CES we were able to compare the screens to get an impression.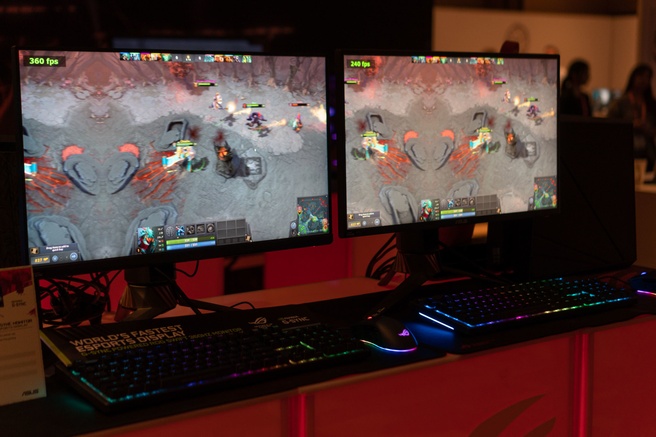 Asus placed the new 360Hz monitor on its stand next to the old 240Hz model. In collaboration with Nvidia and the Blur Busters website, a test was developed to show the difference. It was a demo in which the image was scrolled at high speed with a Dota 2 display. And indeed, if you looked closely, you could see that the display at 360Hz looked a bit sharper. This was especially evident in the text, which was easier to read on the new screen. In the demo setup, the image could also be compared with lower refresh rates such as 144Hz and 60Hz. The difference was considerably larger.
The Dota 2 test did not really appeal to our imagination, because it is not a practical test. At the Nvidia stand there were also demo setups where we could get started with the 360Hz screen in combination with tests in CS: GO to test accuracy and response time. Nvidia placed the new screen next to a 60Hz monitor. The difference turned out to be as large as between day and night.
In the reaction time test we were barely able to hit the target on the 60Hz monitor, resulting in a score of 1 out of 10. Switching to 360Hz made hitting the target a lot easier and we achieved a score of 9 out of 10. However, this test says nothing about the difference between a 240Hz monitor and the new 360Hz screen.
After some insistence, Nvidia changed the demo setup for us, so that we could experience the difference between 144Hz and 360Hz in a demo focused on accuracy by taking headshots. The difference was clearly visible and playing on the 360Hz screen felt noticeably smoother, which also translated into a somewhat better score.
A practical test to compare 240Hz with 360Hz was not offered; for that we had to make do with the Blur Busters view. Nvidia did say that own tests have shown that professional e-athletes score about four percent better on a 360Hz screen in the reaction test than on a 240Hz monitor. That is perhaps a small difference, but relevant for that target group.
Increasing the refresh rate ultimately allows gamers to respond faster, because frames are displayed earlier. With a 360Hz screen, a frame is displayed every 2.8ms. With a 240Hz monitor that is about every 4.2ms and with a 60Hz screen every 17ms. To benefit from this, games must run at very high frame rates. With competitive games such as CS: GO and Overwatch, this is possible with the current hardware.
Asus is currently the only manufacturer that has announced a 360Hz monitor, but more will probably follow later. What the Asus screen will cost is not yet known. An Asus employee told us that the screen will become a little more expensive than the current PG258Q. That screen currently stands at around 550 euros in the Pricewatch.
Currant
The first appeared in 2017 32: 9 ratio monitors, including Samsung's 49 "model. With such dimensions, a curvature is not a superfluous luxury, and especially in games, it comes into its own. The first 49" monitors still had a curvature of 1800R and now Samsung is introducing a new version with a curvature of 1000R, equivalent to a circle with a radius of one meter. Samsung showed the screen with images of the game Overwatch. We were able to sit down for a while and became quite enthusiastic. The large curvature makes it easier to see the corners of the screen and the image corresponds nicely with the human field of vision.
Samsung's new Odyssey G9 monitor is impressive in more ways. The 49 "panel again has a resolution of 5120×1440 pixels, just like its predecessor, but the refresh rate is now up to 240Hz and the response time is 1ms. The screen is based on a va panel with low quantum dots and suitable for HDR playback with a maximum brightness of 1000cd / m².The screen has FreeSync 2 support and is therefore compatible with G-Sync.
The appearance of the monitor is also impressive and that is not only due to the dimensions. At the back there is a round hole with LEDs. Combined with the glossy white finish it gives a futuristic look. When Samsung's monstrous game monitor will be released and what it will cost is not yet known. The predecessor with a 120Hz panel and a curvature of 1800R currently costs around 1200 euros.
MSI also brought a monitor with a curvature of 1000R to the CES. It was about the Optix MAG342CQR, a 34 "monitor with a 21: 9 ratio and a resolution of 3440×1440 pixels. This screen has a somewhat smaller aspect ratio, so the curvature is less noticeable. However, this monitor is considerably more curved than other 21 : 9 screens, which until now were available with a curvature of 1800R or 1500R, MSI also targets gamers with its screen.The panel has a refresh rate of 144Hz and a gray-to-gray response time of 4ms.
Feller
Last year we saw at the CES at Asus the first monitor with a mini backlight. That screen had a maximum brightness of 1200cd / m² and around a thousand dimmable zones. By placing many small LEDs behind a screen panel, the manufacturer makes high brightness and good HDD display possible, because the image can be made locally light or dark. This year various new monitors with a mini backlight were on the show, and we saw examples with more dimmable zones and a higher maximum brightness.
At Asus we took a seat behind the ROG Swift PG32UQX. That is a 32 "monitor with an ips panel, a resolution of 3840×2160 pixels, a refresh rate of 144Hz and a G-Sync Ultimate module. The mini backlight can dim the screen to 1152 different zones and the screen has a DisplayHDR 1400 certificate, so it can display up to 1400cd / m² In the dark room where the screen was located, the hdr display looked impressive.
An Asus employee told us that the panel and backlight are based on the previously announced PA32UCG from the ProArt series. This is a 4k120Hz monitor that reaches a maximum of 1600cd / m², with 1152 dimmable zones. When the game monitor will be released and at what price is not yet known. We do know that Asus' first monitor with mini-backlight, the ProArt PA32UCX, is now for sale for around three thousand euros.
Acer has announced a similar monitor with the Predator X32. This is also a 4k model with a 144Hz panel, a mini-backlight and a G-Sync Ultimate module. Acer speaks of a maximum brightness of 1440cd / m² and says that the monitor will be released in the second quarter of this year, with a retail price of 3299 euros.
It is striking that both Asus and Acer announced monitors with mini-backlight for gamers at the Computex fair more than half a year ago, but have not yet released them. It then involved 27 "variants with also a 4k resolution and 576 dimmable zones. Asus planned to release his model at the end of 2019, but that did not happen.
Dell showed its first monitor with mini backlight at CES. It was about a 31.5 "model focused on designers. At 1000cd / m², the maximum brightness is lower than what we see with Asus and Acer, but Dell promises two thousand dimmable zones, almost double what the competition has to offer.
Laptops with mini backlight
We conclude with a literal look behind the scenes at Asus. The manufacturer showed a prototype of a laptop screen with a mini-backlight from AUO and showed the mini-backlight, without the screen panel. The demo setup also showed a full laptop with backlight and screen. The image was synchronized to show how the mini backlight works.
This was a 17.3 "screen with a 4k resolution, a refresh rate of 120Hz and a brightness of up to 1000cd / m². The mini backlight consists of thousands of LEDs, but with the current timing controllers a maximum of 240 zones can be controlled for laptop screens. Asus does not put this screen in laptops that are for sale. Maybe that will happen in the future. Incidentally MSI announced a laptop with a mini screen and similar specifications. Perhaps the company uses the same supplier for this.