Today to create an account on an online service, you often have the choice between entering your personal information manually or using an authentication system such as Facebook Connect or Connection with Apple. Tomorrow, a new solution pushed by three French operators could be added to these options.
Through the French Mobile Multimedia Association (AFMM), Orange, Bouygues and SFR presented Mobile ID, a "Digital trust service offer for online service providers and e-tailers. "
SIM Verify
Mobile ID includes four facets, with each operator at the heart of the device. First there is SIM Verify, which is the association's response to SIM swapping, this practice which allows usurping a person's phone number by obtaining a new SIM in its place and then committing various frauds.
The sites which will integrate SIM Verify will be able to verify the age of a SIM card before sending by SMS the second identification factor necessary for the validation of the payment or other. If the SIM card has just been activated, it is more likely to be fraudulent than another.
It is a way for operators to defend the use of SMS as a second identification factor, while a European directive, the DSP2, provides for their replacement by methods deemed more secure (biometric authentication, security key, etc.) . The directive should have entered into force on September 14, 2019, but not all players being ready, France and other countries have extended the deadline to 2022.
Form ID
Second facet of Mobile ID, Form ID, a service aimed at simplifying the entry of personal data when creating an account. On participating sites, a new button will automatically fill in the fields with the information held by its operator.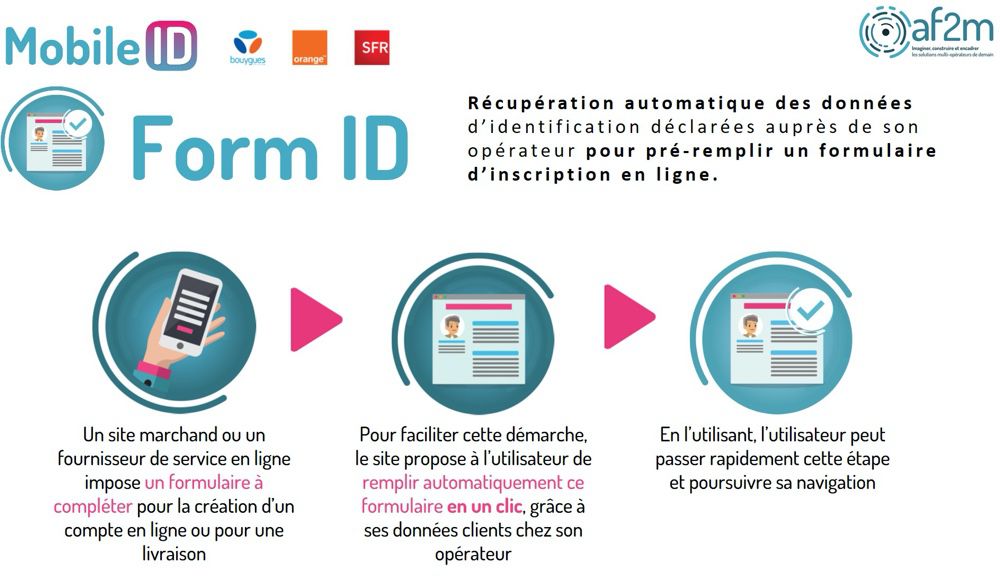 Two scenarios to validate the transmission of data: connected via Wi-Fi, we will receive an SMS with an identification code; connected on a cell, authentication will be automatic thanks to the network.
But is it really useful when Safari already has a handy autofill function for forms? The operators claim that their system not only facilitates registration for users, but also serves to combat fraud, since the personal data they have in their possession is that of the holder of the mobile line, or a document identity is requested during subscription.
Home Verify and Match ID
The third facet is in cases where an online service requires proof of address. Home Verify will allow the user to send the operator's invoice directly, without having to download or scan it first.
Finally, Match ID will also be used to combat fraud by comparing the identification data entered on the partner website with those hosted by the operator.
"It's a win-win. For internet users, this is a guarantee of a gain in fluidity and simplicity. For e-tailers and online service providers, this means better conversion rates and reliable data ", sums up Christian Bombrun, the president of the AFMM. The association also stresses that its system, which prompts partners a "Enriching customer data" and an "Increased conversion rates", is in compliance with the GDPR.
Mobile ID is already deployed at Orange Bank. The AFMM remains unclear about its future partners. Other services, including banks, may adopt the system in the coming months. As for Free, which is not part of the association, the troublemaker has "Shown interest in the project", according to a member interviewed by JDN.
.