A salute to Mark Cavendish. Our cycling analyst Christophe Vandegoor looks back on the career of the British sprint bomb and outlines his controversial persona. "He was often grumpy to journalists, but on the other hand very grateful to his teammates," it sounded.
"2023 will be my last year as a cyclistsaid Mark Cavendish during a press conference on the second rest day of the Giro.
It comes as no surprise that Cavendish has announced his retirement from cycling. I expected that he would stop after his second year under the wing of Patrick Lefevere.
In the end he finished an extra year at Astana, but his results and form uphill were still writing on the wall.
At Quick-Step, Cavendish has almost achieved the impossible.
It was in stark contrast to the first five or six years of his career, where he only won stages. Cavendish triumphed six times in one Tour de France.
Then that train came to a standstill, but – as mentioned earlier – Quick Step fished it out again in 2021. And then Cavendish has actually almost achieved the impossible. In his Tour for The Wolfpack he actually won four stages and thus equaled the record of Eddy Merckx.
He said he wasn't chasing that record, but such athletes have an inexhaustible desire to be immortalized on honor rolls.
In 2012 Cavendish was already named the best sprinter in the history of the Tour by L'Équipe – long before the record was reached. That means a lot.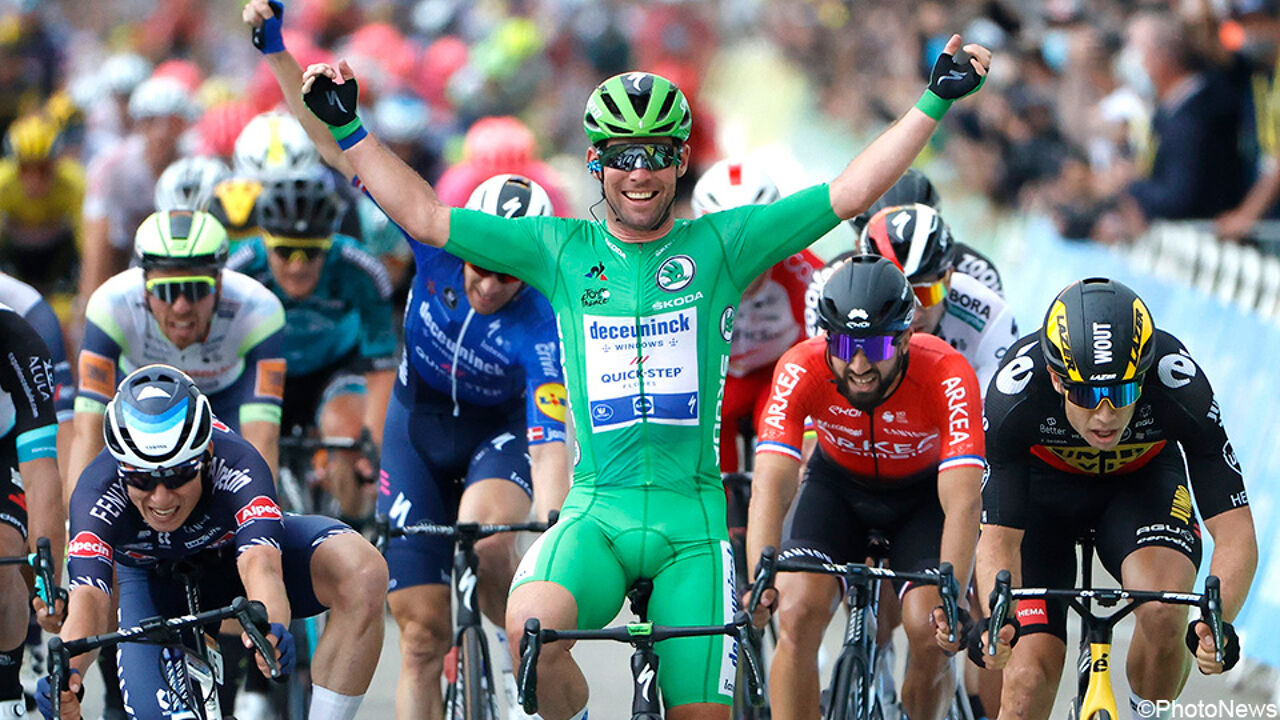 Cavendish showed off in green for Quick-Step.
Looking for "more" in Milan

"What has been the best moment of my career? I haven't dealt with that yet. I enjoyed my time as a rider and I am satisfied with what I have achieved, despite my limited talent", it continued at the press conference.
His cat jump to victory in Milan Sanremo (2009) was the best. Especially because he wanted to be more than just a sprinter, which I often noticed in interviews. Therefore, the victory of such a monument was very important to him.
So he didn't just want to be put away as a sprinter. He also refers to this when he spoke about "his limited talent" at the press conference. But in his career – you can see that in this Giro too – he was often among the first to solve uphill. So in that respect he has achieved a lot from his career.
It was someone with an incredible sprinting talent, who always gave 200%. That has been a credit to him and ultimately also resulted in a nice palmares. Not only did he win 34 stages in the Tour, he also won 16 times in the Giro.
Hat.
Two faces

Off the bike, Cavendish was gruff at times, not always polite to the journalists. If he didn't like it, he just answered with "yes" or "no".
But I found out along the way that it was because he was so focused. Then he couldn't imagine a journalist wanting to get away with a question like: How are you?
He wanted the people in front of him to be 300% motivated and prepared. When he felt that wasn't the case, he just wiped his feet on it.
When he lost a Scheldeprijs, Quick Step's Italian pressman didn't even dare to approach him.
But towards the end of his career, we got to know a different Cavendish. When he came to the Six Days of Ghent, he actually started making jokes about cuberdons. And then you also heard from his teammates that he was actually a very grateful and friendly man.
He was sometimes grumpy with journalists, but in that respect it was a real winner.
There was a huge difference between a Cavendish who had just won and a Cavendish who had just been beaten. When he lost a Scheldeprijs, Quick Step's Italian pressman didn't even dare to approach him.
Anyway, he had and has personality. He provided allspice and spice in the course.
Christophe Vandegoor

Daniel Friebe: "Cav has taught a generation of Brits to believe in themselves"

Daniel Friebe, who has already written three books on Cavendish, looks at the goodbye of Cavendish from a British perspective.
"This farewell has huge resonance for British cycling," the journalist told The Cycling Podcast. "Cavendish was the key that opened the door for many British cyclists."
"Bradley Wiggins, Geraint Thomas, Sky or Ineos would all never have happened without him. He taught an entire generation of British cyclists to believe in themselves."
2023-05-22 18:22:00
#Christophe #Vandegoor #waves #goodbye #Mark #Cavendish #added #allspice #race