"Milan Gulaš will not participate in the preparation of the national team for the World Cup. He apologizes, is exhausted after the season and has no juice to prepare for the World Cup. He wants to prepare for the next season, "said Pešán about the participant in the last championship in 2019, who was the third most productive player in the extra league this season with 56 points, whose scoring he had previously mastered for three years in a row.
Nestrašil will not appear at the tournament in Riga with almost one hundred percent probability. Also due to the covid situation, the tournament will take place this year at the turn of May and June, and the forward Magnitogorsk has planned a wedding with his American girlfriend in the United States long in advance.
Andrej Nestrašil at the training of the Czech national hockey team – stock photo.
Vlastimil Vacek, Right
"If he hadn't been allowed to enter the States by chance, he would have joined the national team. But we support him so that it will turn out well with the wedding, "said Pešán.
This week, five KHL compatriots (defenders Mašín with Jordán and attackers Robin Hanzl, Hynek Zohorna and Radil) joined the national team preparing for the World Championships in Prague, so Pešán has 25 players in the field and three goalkeepers.
He would like to keep this number, so it is clear that as more players come to prepare, others will have to leave. "We will keep five fives plus three goalkeepers. I would not want to go through this number, this number is already high and the training is demanding on the organization, "reports Pešán.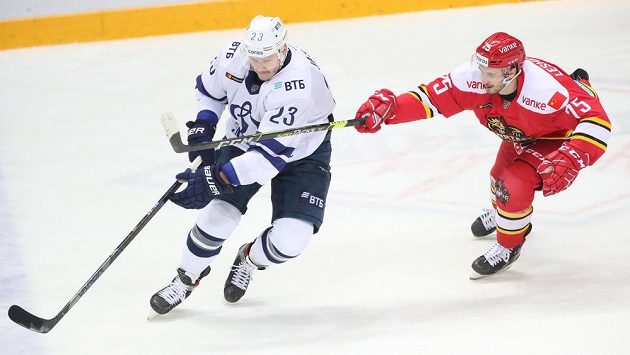 Dmitry Yashkin (left) in the jersey of the Moscow Dynamo.
dynamo_ru, Twitter
"I still can't say 100% who will join us next week, we are constantly communicating with the players. So far, it is 100% with Tomáš Zohorna, "said Pešán, who is in regular contact with the striker of the Moscow Dynamo Dmitry Jaškin, who this season, as the third Czech hockey player after Jan Mark and Roman Červenek, dominated the Continental League scorers' table.
"Dima is still connected to the Dynamo team, he has not been able to leave Russia yet and is solving a certain health problem," Pešán is not yet able to say if, and if so when, a native of Omsk will join the national team.
.