Turin –
Juventus start Italian League 2020/2021 with their new coach, Andrea Pirlo. Can the 41-year-old man maintain the Bianconeri's dominance in Serie A?
Pirlo was appointed as coach Juventus replaces Maurizio Sarri in early August 2020. His appointment as coach of the Old Lady was quite surprising, considering that the legend of the Italian national team did not yet have a classy CV in handling big teams.
Pirlo only joined the UEFA Pro coach license in August 2019 and graduated the following year. Before being appointed to handle Cristiano Ronaldo et al, he only had experience caring for the Juventus U-23 squad in July 2020.
Although not a few doubt Pirlo's capacity as a coach, many are optimistic that the former AC Milan and Juventus star can bring Bianconeri maintain its dominance in Italy. Pirlo is considered to have an extraordinary understanding of the game, considering that he was once one of the best playmakers in the world, and knows very well the ins and outs of the Turin club.
The team composition hasn't changed much
Pirlo's efforts to maintain dominance Juventus of Italian League also supported by a squad that has not changed much from last season when they embraced the Scudetto. Some of the core players remain at the Allianz Stadium and only a handful choose to part ways and leave for other clubs.
Launch data Transfermarkt, Blaise Matuidi, Gonzalo Higuain, and Miralem Pjanic will be players who will no longer be in Juventus uniform next season. Matuidi and Higuan continued their careers at Inter Miami, while Pjanic was exchanged for Arthur Melo from Barcelona.
As for the addition of new players besides Arthur, Juventus have recruited Weston McKennie from Schalke 04. Pirlo reportedly still wants to target a new striker to replace Higuain and the strikers who have entered his target include Luis Suarez and Edin Dzeko.
The new striker is indeed an urgent need Andrea Pirlo because throughout the last season, Juventus relied on their trio of attacking lines to break into opponents. Of the 76 goals scored Bianconeri in Serie A 2019/2020, 50 goals were contributed by the trio of Ronaldo, Higuain, and Paulo Dybala.
Ronaldo became Juventus' top scorer with 31 goals in the Italian League. Dybala followed behind with a score of 11 goals, while Higuain had eight goals.
Cristiano Ronaldo and Paulo Dybala are still the foundation of Juventus. (Photo: AFP / MARCO BERTORELLO)
Beware of Rival Threats
Though Juventus already dominating Italian League for almost a decade, but they continued to face rivals from their rivals. In the last season, The Old Lady competed with Inter Milan and Lazio.
Juventus and Inter compete for the top of the standings in the first half of 2019/2020. Maurizio Sarri's squad at that time managed to win the competition because of this The beloved one many stumbled on the draw in the second half, which is seven draws to the three they achieved before entering the 19th week.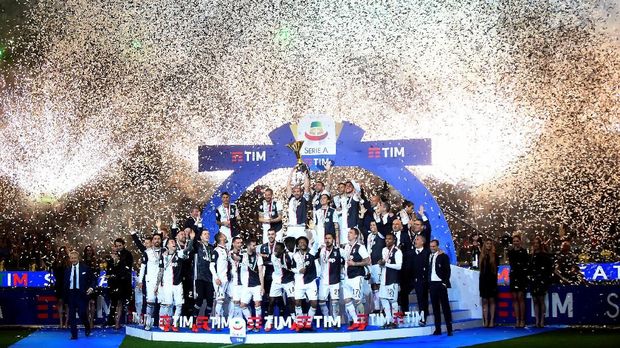 Juventus ended the 2019/2020 season with a one point advantage over Inter Milan. (Photo: Doc. Reuters)
Lazio also had time to stalk Juventus in the second half by evicting Inter from second place from 23 to 31 weeks. leadersHowever, the Capital City Eagle was sluggish after being hit by a storm of injuries and had to settle for finishing fourth.
Andrea Pirlo As the new coach of Juventus, you must be aware that Inter or Lazio have learned from their mistakes last season and try to appear consistent throughout the 2020/2021 calendar. It is not impossible, either of the two can stop domination Bianconeri.
(bay / cas)
.